It is 100 years since the Representation of the People Act (1918) passed into law, bringing with it partial voting rights for women. She Bangs The Drums is a punchy and proud celebration of Manchester's heritage of the rebellious, strong and determined people who made it happen.
Presented by the dynamic Contact Young Company with the People's History Museum, directed by Louise Mothersole and Rebecca Biscuit of Sh!t Theatre, in association with the Museum of Science and Industry and as part of Wonder Women Festival 2018 She Bangs The Drums explores those voices we recognise in the fight for voting rights such as the Pankhurst's, but also delves deeper into those activists who are less well documented.
Focussing on how societal change needs a multifaceted approach and diversity to make real progress, we hear the tales of working class feminists like Hannah Mitchell, feminists of all genders who supported the cause like Frederick Peckwith-Lawrence, of BAME activists such as Sophia Duleep Singh whose anger at British tyranny in India fuelled her activism in Moss Side. We hear of the torture, strategy, anarchy and sacrifice of so many feminists fighting for progress.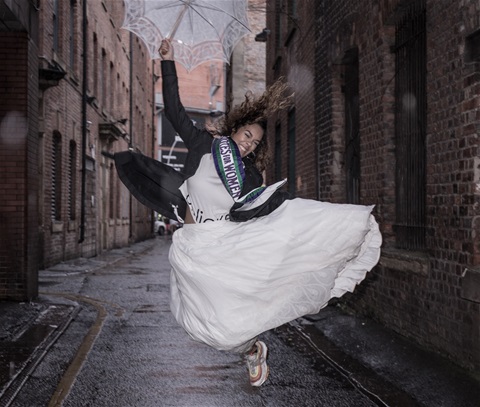 We also hear personal testimony from the exceptionally talented cast of Contact Young Company; modern day examples of why we still have a long way to go for gender equality. Performers wear punk DIY T-shirts with slogans like 'I don't want kids', 'Currently bleeding' and 'Oestrogen fuelled'. Brave individuals tell us how their assault claims and trauma have been erased, how they've been slut-shamed, victim blamed, how their families react to their politics and activism. We hear of the anger at how we are still having to fight so hard 100 years on.
"Why are we celebrating 100 years when we should be commiserating it?"
We are given an interdisciplinary romp through history within the walls of the historic 1830 building of the Museum of Science and Industry, which serves to add to the authenticity of the documentary. There is no clash between the coming together of the times, it is handled deftly by the production team with devices such as using bicycles as horses to the sound of trampling hooves, using projectors on the bare brick walls to show original old photographs and documentation and a mixture of chants and songs of old.
The music and sound was key to weaving the multidisciplinary piece together, three musicians calling themselves 'Powerful Women' filled the space with stunning original songs and moving reimagining's of songs like 'This Is A Man's World' and 'If I Were A Boy'. The whole cast repeated old chants and even referenced the Manchester Arena Attack last year demonstrating how singing together 'makes heartbeats synchronise'.
Covering topics such as #MeToo, midwifery, victim blaming, racism, erasure, safe spaces, women supporting women, gendered advertising, classism, personal experience, politics, domestic abuse, self-defence, gendered language, the male gaze and even the impracticality of skirts… You might worry that She Bangs The Drums has tried to cover too many strands of women's issues in one short hour. I can assure you, it hasn't. Somehow, via the exciting event space, exuberant and confident performers, multimedia delivery and polished production the piece is exactly the right balance to strike a chord, make an impact and get you all riled up to start a riot. You will want to cry, certainly laugh and hopefully go away assessing how yes, one person can make a change.
This is a fierce and polished depiction of Manchester's proud suffragette and socialist history, showing them as the true radical activists they were, ones who were willing to die for women's rights.
Reviewer: Jo Flynn
Reviewed: 9th March 2018
North West End Rating: ★★★★★