Potentially one of the wittiest plays in the English language, The Importance of Being Earnest is an iconic play. Audience members undoubtedly attend with certain expectations - for a sophisticated, witty, enchanted evening; and while this production did not disappoint on these accounts, it also did not seem to offer us anything new. It is a quintessential celebration of The Importance of Being Earnest.
The farce begins with the introduction of Algernon Moncrieff (an idle but cheeky young gentleman) and Jack Worthing (a serious gentleman). Brother's at heart, Jack announces that he has come to town to propose to Algernon's cousin, Miss Gwendolen Fairfax. Algernon however refuses to give his consent until Jack explains the description on his cigarette case, "From little Cecily..." Jack is forced to reveal that he has a ward in the country, and has created a fictional brother named Earnest who he must visit from time to time in the town, and once in the town adopts the name of Earnest. Unfortunately for Jack, the formidable Lady Bracknell refuses to allow his engagement to Gwendolen when she learns that he has in fact lost both parents, and was found in a handbag! In the country, Cecily meets Algernon who she believes to be Jack's brother Earnest, and the two declare that they too wish to be engaged.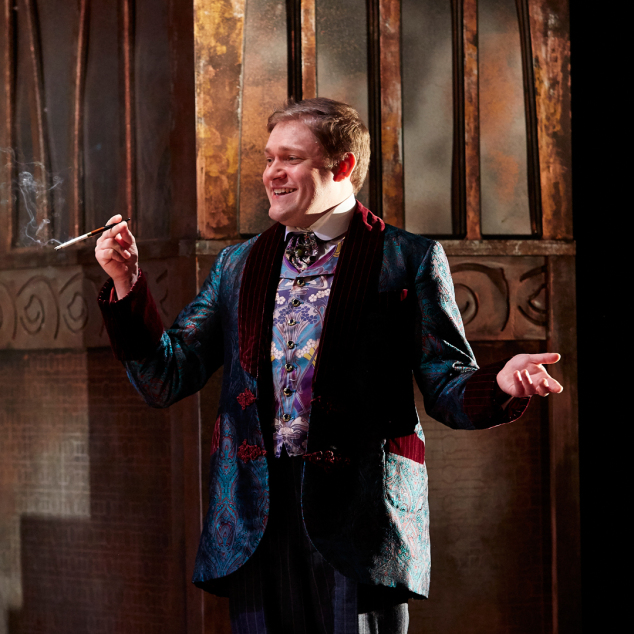 Lady Bracknell decides this to be a desirable match, since Cecily is a wealthy heiress, but now, Jack refuses to allow their marriage until Lady Bracknell permits his to Gwendolen. Whether the two couples shall ever be matched lies in the fate of Miss Prism, military records, and a handbag....
This production is played to the three act structure with two intermissions. But the show does not seem long, the intermissions serve well to discuss the twists and turns of the plot, and immerse you further into the Wildean alternate reality on stage. This Wilde world is fantastically created from the very beginning by Thomas Howes (Algernon), perhaps best known for his stint on Downton Abbey as William Mason. He sets the fun farce tone, and his depiction of Algernon plays in perfect contrast to Peter Sandys-Clarke earnest Jack; the two have a clear camaraderie which is charming. Gwen Taylor as Lady Bracknell commands her scenes, and Kerry Ellis does a superb job of playing the spoilt but determined Gwendolen, while Louise Coulthard provides a joyful edge as the determined and youthful Cecily.
The three act structure with intermission also allowed for seamless set changes; each act having its own intricate box set design which served to frame the action. Particularly in Act Two, the outside of Jack's country home is beautifully created by simple use of bistro dining set and an ornate swinging hammock, used to comedy effect between Miss Prism and Rev. Canon Chasuble. The set design is ornate enough to characterise the bold characters who live there, but simple enough as to let the language breath and take centre-stage.
So, it is with earnestness that I urge you to see this production, whether you are new to Wilde, or would like to rekindle your love for him. This production will not disappoint. Although nothing new is offered from the text, should an iconic classic ever be tampered with anyway? Go, laugh, and be enchanted by this quintessential celebration of Oscar Wilde.
Reviewer: Amanda Hodgson
Reviewed: 13th March 2018
North West End Rating: ★★★★