If you cast your mind back to the year 2000 you may remember a TV series about a group of women in a slimming club struggling to lose weight. Fast forward 18 years and the show's creator; Kay Mellor has brought the ITV drama to the stage, keeping all the characters from the TV series.
The show is mostly upbeat and promotes the message of being happy with who you are no matter how big or small you are. The story follows Kelly (Jodie Prenger) in her pursuit to fit into her dream wedding dress. Prenger has what it takes to play the lead role - a great voice and good comic timing.
Set in Headingley, Yorkshire the production is certainly full of northern humour. The set is a row of shop fronts that you would typically see in an outer city suburb - Fergus' chip shop, Lauren's bridal wear shop, which opens out a bit like a doll's house and the parish hall - where the slimming club takes place.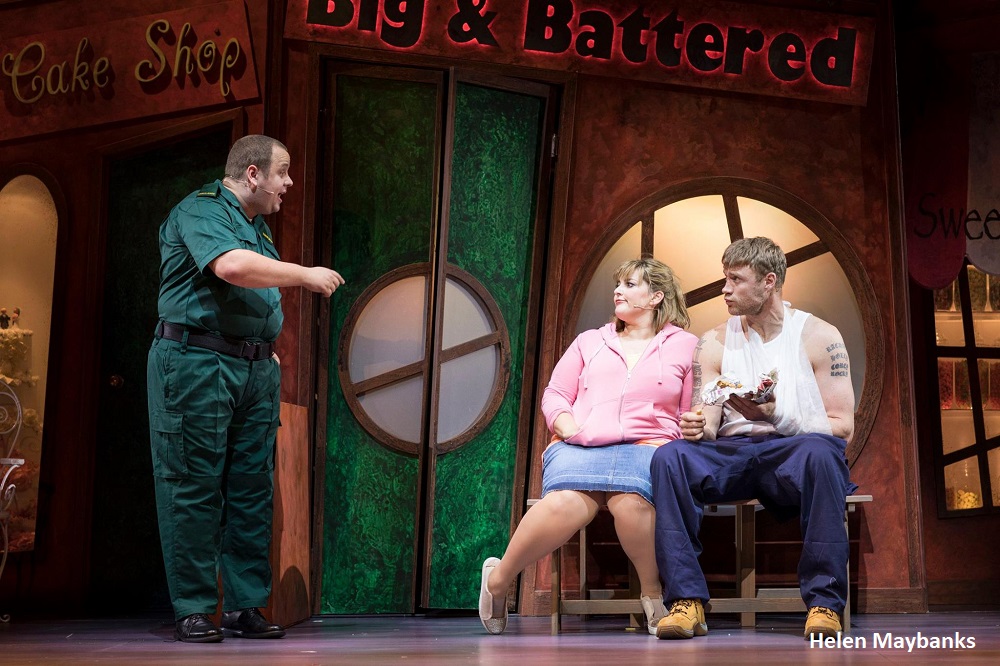 X Factor winner; Sam Bailey takes on the role of Kelly's mother Betty and is certainly the strongest vocally among the star-studded cast. However, Prenger does give her a good run for her money.
There were some nice touches in the show most noticeably the bridal shop mannequins coming to life and dancing during Beautiful. The confetti at the end also created the atmosphere of a real wedding.
Probably best known for playing cricket Andrew 'Freddie' Flintoff plays the role of Kevin, Kelly's finance. His lack of experience is evident from the moment he steps on stage, looking awkward and out of place.
The songs are surprisingly good and carry a lot of the humour in the show. The highlights for me were 'Diets are Crap' and 'If You Don't Want to Marry Him'. I was even more astonished to discover the songs were composed by Nick Lloyd Webber - the son of Andrew. He has certainly inherited some of his father's gift for music.
Although on the surface this appears to be a musical about fat people, it goes a bit deeper than that and explores the themes of self-image, family, anxiety, break-ups and marriage - all the necessary ingredients for a musical.
While Fat Friends: The Musical is certainly entertaining I think the show would benefit from a bit of fine tuning, with a cast cull being the first priority. With the exception of Bailey I wasn't blown away by any of the well-known faces.
Reviewer: Brian Madden
Reviewed: 19th March 2018
North West End Rating: ★★★