This evening I have been totally overwhelmed with emotion as Cameron Mackintosh presents Miss Saigon, a musical by lyricist Alain Boublil and composer Claude-Michel Schönberg, based upon Giacomo Puccini's Madame Butterfly, performed at The Palace Theatre, Manchester.
This tale of an ill-fated romance between an innocent young girl in Saigon and an American marine unleashes passions, unfulfilled dreams, loss and ultimately their union brings tragic consequences. You can feel the depth of hope and despair endured as the tragedy of war enforces separations and the desperate fight for survival.
The Engineer (Red Concepción) runs Dreamland, a sleazy bar and brothel, where the American marines are partying hard in the knowledge that they will soon be returning home, 'The Heat is on in Saigon', brings a brilliant lively opening song, full of life and vitality and with excellent choreography which continues throughout the show. With bombs falling around, the Engineer plucks Kim (Sooha Kim) from the street offering her shelter at the bar. Kim is just 17, a young and naive girl and is immediately set to work there. The Dreamland Vietnamese showgirls all dream of a better life in America, with many begging the soldiers to take them back with them, 'Movie in My Mind'.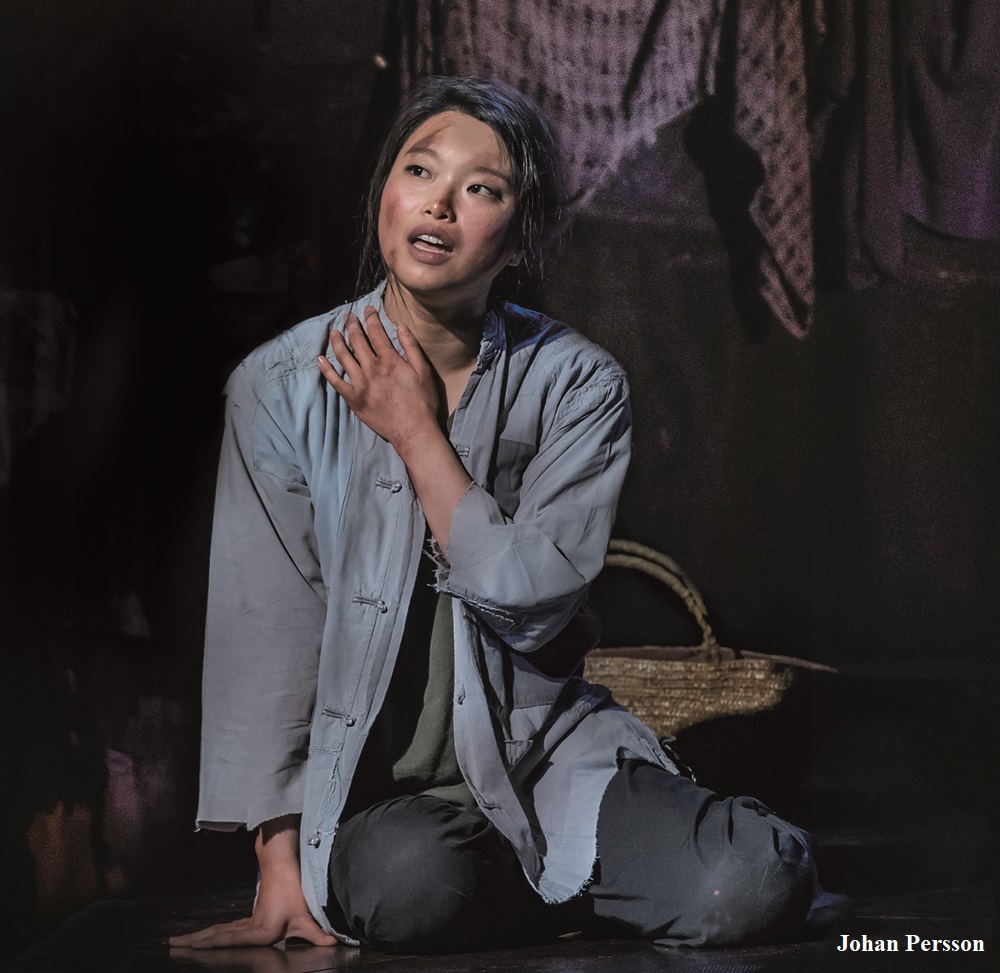 Chris (Ashley Gilmour), unlike his fellow marines, is disenchanted with partying although his buddy John, (Ryan O'Gorman) believes a night with a woman is what Chris needs and pays for Kim and a room for him. Reluctantly he spends the night with her and despite his unwillingness finds himself falling in love with Kim and the feeling is mutual, leading to a moving 'Why God Why?' from Gilmour. The showgirls hold a wedding of sorts for the two but Kim is already betrothed to another, Thuy (Gerald Santos) who is furious to find her with Chris and there is a confrontation.
Roll on three years to1978 and we see Chris now married and living in America with his wife Ellen (Zoë Doano), his dreams haunting him with thoughts of Kim, whilst Kim, struggling with life in Vietnam, is desperate for news of Chris, still believing she is married to him and he will come for her. Will the two ever be reunited? Although Doano appears late in the story, scenes between her and Kim are touchingly sensitive and performed with passion.
This musical is powerful and emotive with a cast that are more than competent to fulfil the demands of their roles. The affair between Kim and Gilmour is believable and Kim's vocal numbers ranging from sweet to passionate are fabulous, as we see her evolve to enforced maturity, 'Kim's Nightmare' is a showstopper. There are many tear-jerking moments, a particularly strong and poignant rendition of 'Bui Doi' from O'Gorman bringing home the reality of the aftermath of war for those left behind.
Red Concepción's performance as the Engineer is superb, a real star of the show, always on the make, bringing a likeability to his villainous character and some humour to what could be a heavy and brooding show without.
The special effects and surround sound are amazing, none more so than at the fall of Saigon as helicopters whirr in the skies as the marines are airlifted to safety from the embassy with the locals desperately clamouring to join them. Set changes are fluid, almost unnoticeable as they depict the sordid nightlife of Saigon, the clubs and bars and the Embassy. The many musical numbers this evening are wonderfully performed by a full orchestra, enhancing the power of the songs, under the musical direction of James McKeon.
Miss Saigon is gritty, evocative, and authentic and holds the attention throughout, not to be missed.
Reviewer: Lorna Weekes
Reviewed: 23rd March 2018
North West End Rating: ★★★★★
Miss Saigon continues at the Palace Theatre until 12th May before continuing on its UK tour. http://www.atgtickets.com/shows/miss-saigon/palace-theatre-manchester/