My Dad Wrote a Porno started back in 2015 as a podcast lead by Jamie Morton (writer and director who's dad indeed wrote a porno) and his two friends, producer James Cooper and BBC Radio 1 presenter Alice Levine, reading, discussing and having a jolly good laugh at his dad's attempt at erotica Belinda Blinked.
Three series in, 100 million global downloads and a spinoff book later comes the live show which is currently on a world tour; It's safe to say Belinda is a hit.
The show is presented as a casual chat around a kitchen table drinking cans of G&T, as close to their original set up as possible on the large Opera House Stage. I was pleased to see they hadn't tried to jazz it up too much; the homemade charm is a great part of their success. In the live show they discuss a previously unseen chapter, set on a team building away day.
For those of you who haven't listened to the podcast let me clarify, Belinda Blinked is utterly wonderful garbage. Not only does the writing not make sense but the metaphors, adjectives and punctuation used are often so horrifyingly wrong they are quite frankly genius. Morton's dad, under the pen name 'Rocky Flintstone' has created a beautiful monster in Belinda and her misadventures.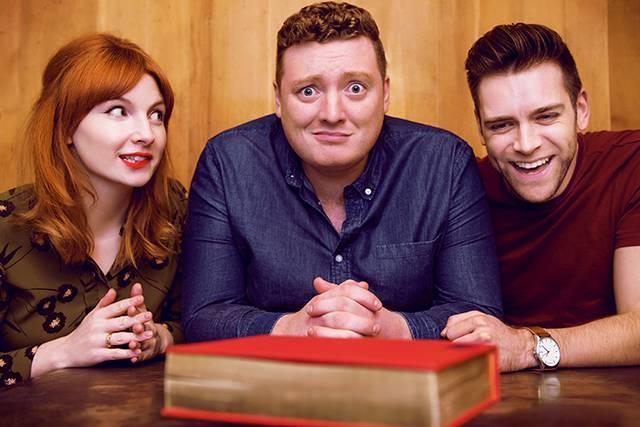 The audience in Manchester were, as ever, well up for it. Drinks in hand they were immediately on board and it was clear to see there were a lot of Flintstone fans in the audience. This by no means determined the enjoyment, I took my sister who had never even heard of the podcast and she absolutely loved it.
This is an evening of pure fun, big belly laughs and communal groans of disbelief. I wasn't sure how the podcast would translate onto stage, feeling that perhaps the spontaneity and charm of the homemade podcast would be lost but I was wrong. Sharing the horrific delights of Belinda with a packed room of tipsy Mancunians only enhanced the experience. The audience displayed typical Northern pride in giving the biggest cheers of the night to any mention of 'Ken Dewsbury' Regional Sales Manager for Northern England, despite him being a fictional supporting character in an erotic novel; brilliant.
Morton, Cooper and Levine are brilliant at what they do. Each is funny, warm, likeable and as at ease on stage as in their own kitchen. I particularly enjoyed Levine's presentation on the female anatomy as a response to Rocky's clear lack of knowledge (there is more than one misused mention of a cervix within these novels). Hearing the whole theatre call out 'Ovaries', 'Uterus' and 'Vagina' in response to some audience encouraged labelling was actually really refreshing, especially when paired with the worrying fact that 50% of millennial women don't actually know where their vagina is. In fact getting a whole room of strangers to sit and listen to a two and a half hour show about sex without a tut or an awkward silence is remarkably progressive and very unbritish of us. I'm a big believer that comedy can be used as a vessel for bigger issues and this is a prime example; tonight friends, family and strangers laughed and talked about sex for the evening. 'My Dad Wrote a Porno' isn't only a riotous night of entertainment, it could open a conversation about sexuality, consent or sexual health.
Do yourself a favour and grab a ticket whilst you still can; Belinda will be waiting.
My Dad Wrote a Porno is on tour until 3rd September www.mydadwroteaporno.com
Reviewer: Robyn Grant
Reviewed: 11th May 2018
North West End Rating: ★★★★★