I'd like to tell you "it's not true" but I can't. Blood Brothers is certainly a force to be reckoned with. From the moment that the orchestra played the first note of the overture, we were taken on a journey. A journey of a single mum and her kids, well mainly two of them... "one was kept and one given away"...
Firstly, let me start with the role of Mrs Johnstone, a massive undertaking... Superbly performed by Lyn Paul who shone all the way through with her vocals and acting abilities mirroring each other. You believed her story, her plight and that if she could, she would have made things a lot different. A fabulous performance throughout leading to the emotionally charged "Tell Me it's not True" at the end. She was simply fantastic.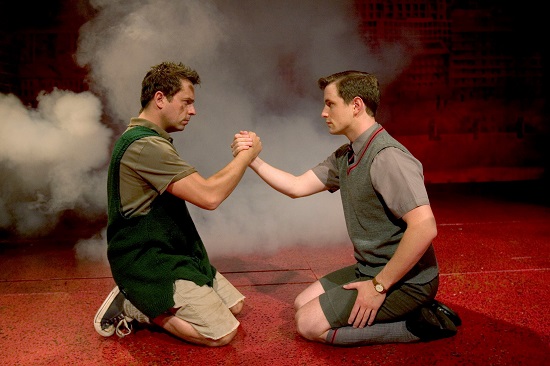 Next, I must mention Sean Jones who played Michael 'Mickey' Johnstone, youngest son of the above character and part of a pair, even though he doesn't know it. Jones was brilliant in this role and excelled at the mimicking of the child like qualities his character first brings to the stage. Took you back to your own child hood days of playing cops & robbers, cowboys & Indians... His transformation throughout the 'years' was again, brilliant but none more so than his last one, into a depressed, nervy, pill dependant, desperate soul and it was acted perfectly.
The narrator was played by Matthew Craig, and he played it very well. You felt that you were included in the journey that the family were going on and that is down to the story telling done by both Craig and Paul... His vocals were fantastic and his stage presence commanding.
Jones was matched extremely well by Mark Hutchinson who played socially awkward Edward 'Eddie' Lyons... Hutchinson was so lovable as this character and you believed he just wanted a friend to play with. You could see just how happy he was when he was around Mickey and you wanted it to continue for them. His performance of "I'm Not Saying a Word" was absolutely beautiful and you could feel his hurt and his love.
The whole company looked comfortable in their roles (and in some cases, multiple roles) and there wasn't one who didn't deserve to be on that stage. I really hope that the packed houses continue and tonight's standing ovation isn't the only one.
Sound and lighting teams did well tonight with no issues at all. Well done team... The stage was simple yet simply brilliant and all changes were executed very well by the cast themselves. I do find that cast changing sets makes a show flow a lot better. Seemingly making it seamless.
Costumes really were very good and spot on for the era with the mini skirt and the high heeled court shoe making several appearances. Very well done to the costume department.
This fabulous score was played extremely well by a relatively small orchestra that packed a big punch... Sounds were fantastic.
This is another successful Bill Kenwright production and as always, with his shows, it leaves you wanting more. A truly memorable experience. I would encourage you to go and see this wonderfully emotional piece of theatre, if only to see Lyn Paul... She really is outstanding. Blood Brothers continues until the 26th May. Enjoy the praise guys, it was really was amazing. http://www.atgtickets.com/shows/blood-brothers/palace-theatre-manchester/
Reviewer: Hazel Bumby
Reviewed: 15th May 2018
North West End Rating: ★★★★★
*Image from previous tour