When a 19 year old Salford girl called Shelagh Delaney went to see 'Variation on a Theme' by Terence Rattigan in 1958, she came out of the theatre thinking she could do something far better. Just TWO weeks later she had written 'A Taste of Honey' and this raw and powerful story of poverty, race and sexuality became a crucial part of the 'British New Wave' and later supplied Morrissey with half the lyrics on the debut Smiths album! This revival at the lovely Coliseum Theatre in Oldham, marks the 60th anniversary of the inaugural production by Joan Littlewood at the Theatre Workshop, with the witty and savage heart of this show still capable of bringing a lump to the throat after all this time.
The beating heart of this play is the relationship between Helen (Kerrie Taylor) and her teenage daughter Jo (Gemma Dobson), first seen arriving in squalid lodgings in a Salford backstreet with little money and even less hope.
Helen is described by Delaney as a 'semi whore', a harsh description, but it is fair to say she is a good time girl who takes doesn't take her maternal responsibilities too seriously. Taylor plays the brittle and harsh elements of the character to great effect moving between seductress and fishwife with dexterity, but I would like to have seen more of the vulnerable parts of Helen and why 'she is at the steering wheel of her own destiny, careering like a drunk driver' accentuated.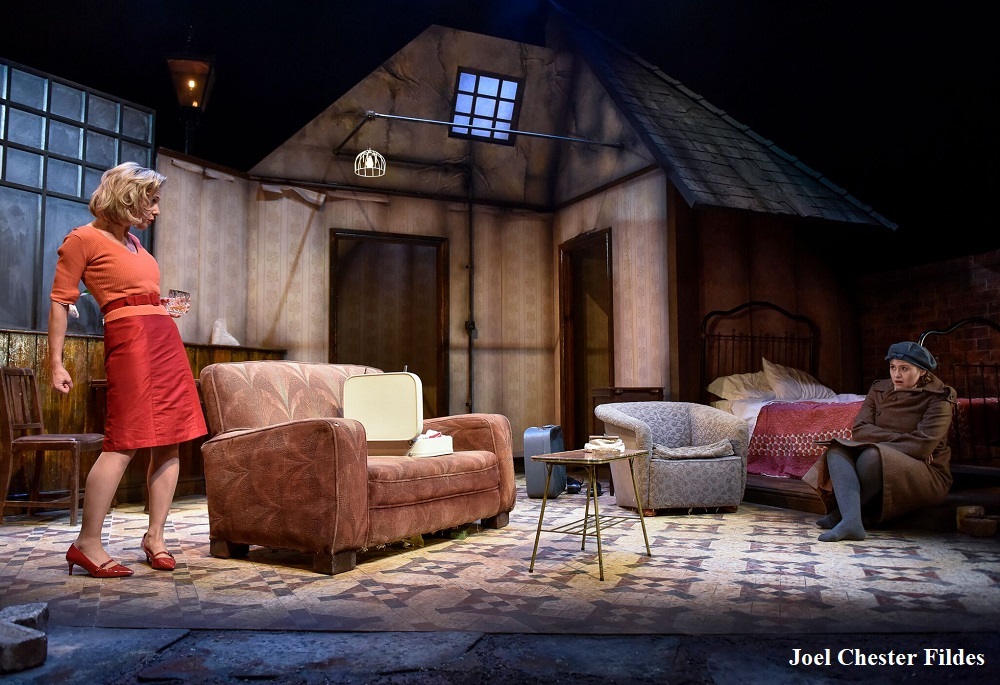 Dobson is wholly convincing as Jo and plays the awkward teenager unsure of her place in the world and in her mother's affections, with an extraordinary naturalistic style. Her character is doomed to repeat the mistakes that her mother made, being left alone with an illegitimate child in poverty, and this portrayal leaves you willing her to rise above these circumstances and succeed in life.
Flitting (to use Salford slang) in and out of the lives of the two women, are the remaining roles which offer different versions of hope and salvation from their plight. Peter (Phil Rowson) promises Helen marriage and Jo security, his descent from superficial charmer into a drunken philanderer with a hint of menace is well rounded. Sailor Jimmie (Kenton Thomas) allows Jo to love and laugh before disappearing back to sea leaving her pregnant and alone. Despite this abandonment, Thomas gives Jimmie a sympathetic and engaging personality illustrating how Jo would fall for his easy charm. And finally poor Geoff (Max Runham), the gay art student befriended by Jo, who wants nothing more than to act as a surrogate mother to Jo and father to the unborn baby. A great rapport is evident when he and Dobson are on stage together and the dialogue took on a conversational style that was compelling to watch.
The direction of Chris Lawson manages to combine both the tragedy and comedy inherent in the writing very well. The dark nature of the situation is interspersed with comedy sparring between all the main protagonists and the debt shows like Coronation Street and Shameless owe to Delaney is well drawn. My only criticism would be the play ends with Jo crying rather than defiantly smiling when left alone, and the constant breaking of the fourth wall by characters was distracting in such a realistic interpretation.
The show was staged throughout in a claustrophobia inducing one room set by Sammy Dowson and the crooning music used during scene and costume changes (Lorna Munden) invoked the pre-Beatles era perfectly.
Inevitably a play tackling contemporary social issues written 60 years ago will show some clunky moments with illegitimacy, homosexuality, sexual behaviour and mixed race relationships no longer having the power to shock. My positive outlook on this is to say it shows how far we have come as a society in the intervening years, this is something to be applauded and gives hope in these divisive times.
If you broke this play in half it would have 'Salford' running through the middle like a stick of rock. It is tough on the outside, soft on the inside and the message that both financial poverty and lack of ambition are corrosive is still relevant as it reaches pensionable age.
Verdict: Shelagh take a bow, a powerful version of a modern British classic.
Reviewer: Paul Wilcox
Reviewed: 25th May 2018
North West End Rating: ★★★★