In a collaboration between Portuguese theatre company mala voadora and writer and performer Chris Thorpe, Your Best Guess is an exploration of the big 'what if'. Written by Chris Thorpe, directed by Jorge Andrade, and performed by both.
The inspiration behind the play is the way that we all live our lives in the future; planning ahead, sending out invitations, booking flights etc. However, what happens tomorrow, or the day after that, is never guaranteed, and cannot truly be planned. For every one scenario, there are so many possible outcomes that can hang on the result of just one action, which leads us to wonder, 'what if'…
The set was bare and extremely minimal, with just one table in the centre of the stage, two chairs behind, and a microphone stand positioned to the side. The simplistic nature was echoed in the lighting of the piece, which was largely just bright white lights on stage.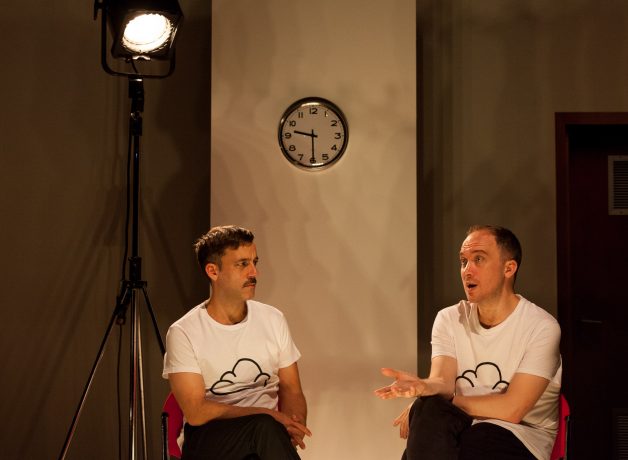 These devices were reminiscent of Brechtian qualities, for example the distancing effect (Verfremdungseffekt), which removes the 'smoke and whistles' behind a piece, meaning the audience concentrate solely on the story and what is being said. It is thought that the purpose of Brechtian devices is to make the audience think more actively about the piece rather than merely spectating, which is resonated in the fact that the actors talked freely to the audience as they were entering the theatre, and the house lights stayed on throughout the performance.
The play consisted of a collection of stories, with one narrative running through tying the piece together, and songs/music interspersed throughout. All the stories were presenting different developments of the unpredictability of life and how 'what if' moments can haunt them all. Sometimes we can live out a scenario in our minds just as much, or even more so, than we are actually living our life – thinking how things could have been or how the grass is always greener on the other side.
Although it sounds like a heavy topic and there were some chilling moments, there was an overall uplifting tone to the piece, and there was some comedy throughout with one-liners. Thorpe and Andrade held the audience captive with their story telling; there were moments when you could have heard a pin drop. It was simple but so effective - theatre in the purest form, no distractions, just a story that stays with you long after the show has ended.
Reviewer: Becky Mottershead
Reviewed: 11th June 2018
North West End Rating: ★★★★