As part of refugee week 16th – 22nd June 2018, a unique theatre performance plays at Home in Manchester.
The stage is set for an orchestra. The seats are filled with musicians and singers from Stone Flowers. People who are themselves refugees who have survived torture and more than likely without family or without hope.
Stone Flowers are supported with regular therapeutic music sessions so they are able to bravely tell part of their stories through this music and poetry, alongside the theatre company Box Tale Soup who use physical theatre and puppetry to highlight their plight.
An impressive range of musical instruments are being played tonight, guitars, drums, a mandolin, a cello and a violin. This is a performance where you have no idea what to expect. The cast wear kaftans with beautiful fabric which has been designed and hand painted by members of Stone Flowers with the help of Cabasa Carnival Arts.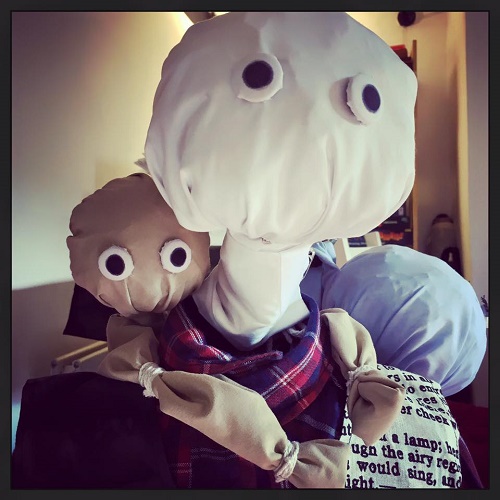 Fabric is also used to illustrate the pain and trauma by Box Tale Soup who take centre stage. Alongside handmade puppets, cardboard boxes and a range of terrify masques and strange feral macabre howling. The infernal noise of a manic clown with a faceless mask serve to create unease and discomfort, you can only begin to imagine how bewildering and terrifying being a displaced person must be and how the whole process must dehumanise.
Music is well crafted and haunting and interspersed with moving poetry readings. Topics are powerful, The 'King of Madness,' is powerful written by Romain who describes the world as a 'giant psychiatric hospital.' Afshin reads how 'torture and prison became our memory.' The silence in between readings is palpable, as audience uncomfortably digest the painful journey of the refugee.
I scan the performers' faces and wonder what they might have been through. Their solemn faces give nothing away. It's a privilege to see something so unique and special and be giving an understanding of the world of those whose 'Liberte Confisque' in the words of Frank. Also moments of hope sung by Solange who hopefully says everything will be alright.
The physical theatre by Box Soup was powerful, the puppet bird who resembled back to times when life was good. Antonia Christopher's' face was strong in denoting the pain and anguish. A scene representing the faceless administrative red tape world of asylum seekers was particularly notable. Fellow Soup member Noel Byrne is fantastic as he peers through a cardboard window, shrieking.
Stone Flowers members singing had the audience transfixed, with haunting images of loss and pain, it's touching to think how brave they must be to be here on stage.
The finale has a positive message and a standing ovation and some beautiful African rhythms fill the theatre with a great funky bass and the audience join in with clapping. What a night, a true rare spectacle and reassuring to know that theatre is so innovative and alive in 2018, challenging ideals and invigorating minds.
Reviewer: Rachel Foster
Reviewed: 16th June 2018
North West End Rating: ★★★★★