In a collaboration with Oldham Coliseum Theatre, writer Ian Kershaw was asked to write a play about all the things that are going on in the world right now – a "state of the nation" play. Faced with this daunting task, Kershaw states in the programme the long list of issues currently facing contemporary society and how he wanted to include and pay tribute to them all: somehow he has managed to do just that with Bread and Roses.
Set in 1912, Bread and Roses tells the story of the Industrial Workers of the World (I.W.W) through a community in Lawrence, Massachusetts, made up of all kinds of people from all kinds of nationalities who migrated to the United States in the hopes of a better future. Sadly, instead of that future, they were met with appalling living and working conditions.
The mill setting is made apparent before the play begins, through turning cogs hanging down from the ceiling and a manufacturing soundscape clanging gently in the background. The story is based on a minor pay dispute between mill workers and owners that erupted into one of the most significant labour clashes and biggest industrial strikes in history.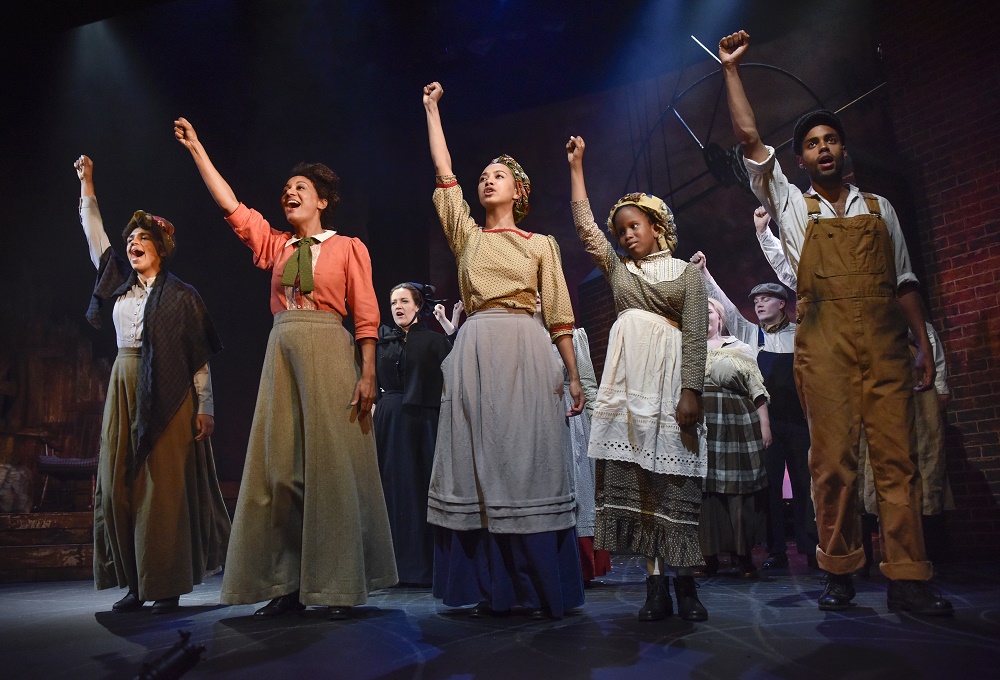 A dominant element of Bread and Roses was the Folk-style music featured throughout, played by on-stage actor-musicians on piano, guitar, banjo, and percussion instruments. Musical Director Howard Gray's arrangements of Joe Hill's original tunes and lyrics are truly astonishing, and goose bump-inducing. The songs were poignant, soulful, and haunting at times, particularly when hummed quietly to underscore a scene. There was an exceptionally high standard of singing both through solos and as an ensemble with intricate harmonies.
Emma Naomi (Lucy-Rose Atkins) capably led the show with her rousing speeches and passionate performance. Naomi's relationship with Oliver Wellingham's gentle Cal was extremely authentic. Another notable partnership is that of Claire Burns (Anna) and Lauryn Redding (Martha) who performed with vulnerability and thoughtfulness. Tupele Dorgu as Elizabeth Gurley Flynn provided high energy and occasional comedic relief. Rupert Hill (Joe) was consistently strong throughout and also effective at involving the audience – at times coming down from the stage and directly addressing audience members. This tool helped to make the audience feel like they were a part of the action of the strike. Supported by Matthew Ganley's compelling performance as William Dukes, and Sophie Mercell's raw, soulful voice as Abbie, the whole piece was a real team effort.
Although the issues Kershaw raises in the piece are in the context of a different time and era, it resonates true with a contemporary audience, leaving many audience members wiping a tear from their eye. Bread and Roses is a clever reflection of what's happening today without pointing any fingers.
Overall, a powerful and sincere piece of theatre that truly cannot be faulted in any way. From the cast Q&A session after the show, it is clear to see the whole team are proud of the work they have created and the story they are telling, and quite rightly so too. To miss seeing this show would be to miss an invaluable experience.
Reviewer: Becky Mottershead
Reviewed: 28th June 2018
North West End Rating: ★★★★★