With temperatures in Manchester rivalling those in Greece worldwide hit musical Mamma Mia has arrived at the city's Palace theatre for a two week vacation. Fast approaching its 20th anniversary this show about a daughter's quest to find her real Dad ahead of her wedding shows no signs of getting old and can quite comfortably be called a modern classic.
Written by Catherine Johnson the story seamlessly intertwines Abba's most popular hits into a glorious two hour spectacle. I remember taking my son to see a previous production of the show back in 2011 and him thinking that the songs were written specifically for the stage show!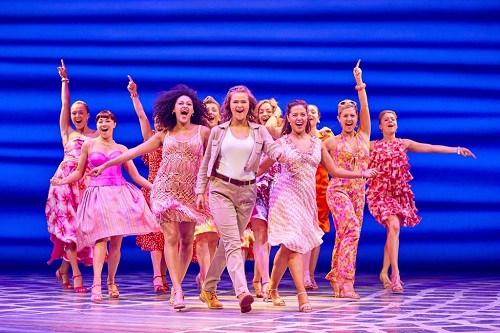 On this continuing International Tour Lucy May Barker returns as daughter Sophie, a role she last played in the city in 2016. Barker is one of the best I have seen in the role as she struggles to work out who her father is after inviting three possible candidates to her wedding on a Greek island.
Sophie's mother, Donna played by Shona White, kept a journal 21 years ago during a wild summer which resulted in Sophie's arrival 9 months later. The three potential fathers played by Daniel Crowder (Harry), Matthew Rutherford (Bill Austin) and Tamlyn Henderson (Sam Carmichael) all have their own reasons for wanting to be the father. Sadly, for me in the numerous times I have seen this production I feel this is the weakest threesome to take on these roles.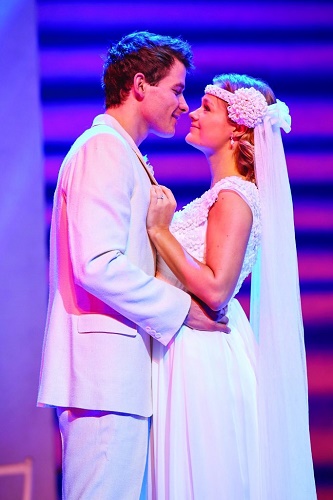 On the flip side Donna's two best friends and fellow members of the "Dynamos" a singing group they sang in 20 odd years ago. Both Rosie (Nicky Swift) and Tanya (Helen Anker) play their roles with gusto and make the most of the comedic moments gifted to them, the highlight being "Does Your Mother Know" which Anker performs alongside Pepper (Matt Jordan-Pidgeon) following his attempts to seduce her.
Sophie's husband to be (Sky) is played by Phillip Ryan and the couple display an electric connection from the moment you see them on the stage. This may be in no small part to the fact that just before tonight's performance Ryan and Barker announced their real life engagement on Twitter.
Sophie's best friends Ali (Leisha Mollyneaux) and Lisa (Lottie Henshall) both play their roles confidently and I would have like to see them feature more in the story.
A strong ensemble supports this hard working principle cast and the 7-piece band under the direction of Carlton Edwards replicates the famous Abba tunes perfectly.
My one bug bear at this evenings performance was the lighting. Yes, the final sequence is nothing short of spectacular as two huge banks of lights appear from the roof of the stage to create a true disco feel. However, there were many points during the performance where characters were not picked up in good time by their spotlights. For an international tour of this calibre that for me, is quite honestly inexcusable.
Mamma Mia continues at the Palace Theatre in Manchester until the 14th July before jetting off around the world once more with stops in Toronto, Jakarta and Singapore to name just three. The show also continues in London's West End. For more information and to book visit www.mamma-mia.com
Finally, on behalf of everybody at North West End I would like to congratulate Lucy and Phillip on their engagement and wish you a long and happy life together.
Reviewer: Paul Downham
Reviewed: 4th July 2018
North West End Rating: ★★★★