I'm at Home Manchester, for a performance of the intriguingly titled The Search for a Black-Browed Albatross by the also intriguingly titled Backpack Ensemble, a company of actors from Lincoln.
Tonight is part of Home's Incoming Festival, (by New Diorama) a week of exploration of the latest new and exciting theatre companies from across the UK, all tickets are £5.
Entering the theatre, Mike Oldfield Tubular Bells plays, creating a mysterious atmosphere that only serves to make the audience wonder what to expect (as if they weren't already). I was convinced it was going to be weird (in a good way) and the hypnotic music seals the deal.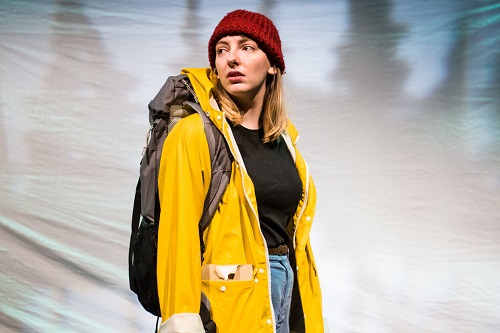 The story unravels, centring on Charlie, a young girl who has tragically lost her father, feeling as many do that words were left unsaid and journeys and dreams incomplete, she sets on a journey to the 'Middle of Nowhere,' on a train. Charlie is wonderfully played by Samantha Miles, she just had this natural way that made her character so likeable, and utterly believable.
The cast enter like a troupe of gap year students with rucksacks and they even hang them up on set. The props tumble out of the actors bags and they are used innovatively to great effect. Imagine a train journey, a near drowning and flash backs to child hood interpreted through them. They have a live keyboard player – for more Mike Oldfield on the stage, which is an excellent touch.
What follows is a sensitive, funny, raw, tale about grief and loss, relationships and communication. I must admit I wasn't expecting it to deliver in such a powerful and unique way. A combination of the singing, the shadow puppetry, storyline and explorative writing combined to a dramatic cocktail of greatness.
A bonus of the Backpack Ensemble performance is it's very unassuming and far from pretentious. A daughter sets to complete her late father's 'life list,' and to find the Black-browed Albatross. It was an enigmatic journey where she meets a crazy woodman comically played by Elliot Bagman, who she worries is an axe-yielding maniac, thankfully he isn't, although Charlie's brother isn't convinced.
A bit of impromptu audience participation didn't go a miss, with some clicking to represent a storm, as well as thigh slapping and foot stamping – brilliant!
This play resonated so powerfully within, I spent the end sobbing uncontrollable, not keen normally to be so emotional. It was such a moving powerfully acted play that touched on things that humans instinct is to avoid. In a way that if someone offers you something that's good for you, you might run away. The innocence of the shadow puppets and flash back to childhood added to the mish mash of wonderfulness.
I recalled the film of The Grand Budapest Hotel which had a unique similar quality in its storytelling, innocence and honest characterisation. The Black-browed Albatross was a fantastical journey of charm and magic, using imagination to full potential.
Reviewer: Rachel Foster
Reviewed: 4th July 2018
North West End Rating: ★★★★★