'Half A Sixpence' is the well known, much loved British musical which is inextricably linked with Tommy Steele as Arthur Kipps. It has recently undergone a revival in the West End with new songs and a youthful, energetic cast.
Manchester Musical Youth (MMY) are the first amateur theatre group in the world to perform the new version of 'Half A Sixpence' which is quite an accolade and they have done the musical and themselves proud with some show stopping numbers and genius casting.
The story is a rags to riches tale about Arthur Kipps who, on inheriting a fortune, tries to become a gentleman and leave behind his working class roots...much to the dismay of his childhood sweetheart, Ann.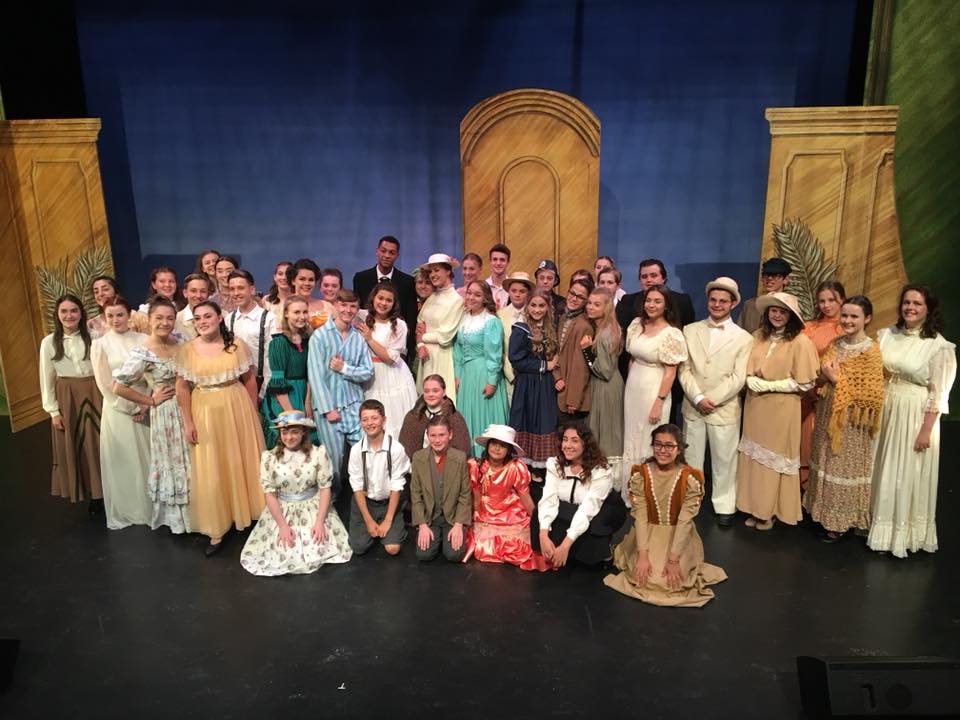 I have to say that Harry Warburton as Arthur Kipps could not have been better cast. His energy and enthusiasm are boundless, he doesn't flag at any point and he has a winning, cheeky smile which would put Tommy Steele to shame. His cheeky 'cockney sparrer' swagger and vernacular are perfect, not to mention his jaw dropping back flips! He has the confidence and nonchalance of a natural born performer and he did the role complete justice.
Arthur's colleagues at the Draper's are excellent in their supporting roles, particularly Mia Serracino-Inglott as Flo, who epitomises the brash and brazen shop girl of the time, not backwards at coming forwards. She put me in mind of Jodie Prenger with her confidence and the full-on way she assumed the character. She sings 'Just A Little Touch of Happiness' with Ann (Beth Kevern) and this is a joy to watch – the two of them are confident, cheeky and absolutely bring the song to life with their interpretation.
Before I go any further, I need to report Max Lawrence (who plays Kipps's thespian friend, Chitterlow) for theft....because he STEALS every scene that he's in! The stage almost wasn't big enough for the flamboyant character that he was projecting, and he had the entire audience in stitches without even having to say anything. He completely understands how to play a comedic role and he has a certain something about him which added so much more to this character than anyone else could have done.
Emma Wilcox as Helen Walsingham brought a calm demureness to the role and she was a lovely antidote to her desperate social climber mother (Sarah Barron) and obsequious brother (Charles Edwards). She played the role very sweetly and with a professional ease.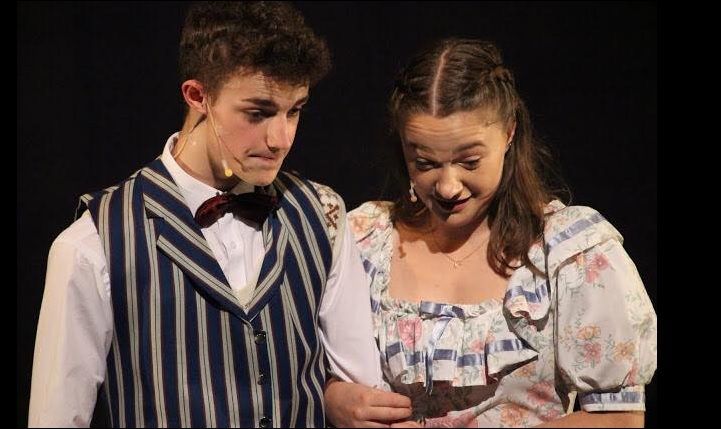 I was very impressed by Daniel Meyer who played Mr Shalford and the Butler. He has such presence and a maturity almost beyond his years. He played both roles with great conviction and it was an absolute pleasure to watch him.
I was eagerly awaiting 'Flash Bang Wallop' and it didn't disappoint – the choreography, timing and overall effect were wonderful.
There is no 'I' in team and there's no 'I' in MMY either – and as always, the ensemble numbers were fabulous and showstopping. 'Pick Out A Simple Tune' is directed and choreographed so well, I almost want to lodge a complaint because there is so much to look at and not enough time to take it all in! Everyone's performance was outstanding and I loved the humour and the wonderful group choreography. It was an absolute feast for the eyes. Also the costumes for this scene were particularly fabulous.
There were a few tiny hiccups which haven't detracted from my overall star rating because I am putting these down to first night glitches which I am sure will be smoothed over as the show progresses. I would like to see the slight delay between scenes tightened up, simply because it just lost a bit of pace at times as a result.
As ever, I congratulate the creative team behind yet another sure-fire MMY success. I don't know how you manage to produce such amazing theatrical delights time after time but what is very clear is that every single MMY member is there for the love of what they are doing and that is down to your encouragement and nurturing. The theatre going public and I thank you – long may it continue!
Arthur Kipps won't be packing up his banjo until Saturday 21st July so don't miss the chance to see this glorious, toe-tapping, spirit-lifting, joyous production!
Reviewer: Nicky Lambert
Reviewed: 18th July 2018
North West End Rating: ★★★★★