I have to admit being an amateur actress, I love being in plays but I don't go to watch enough of them and the main reason for me wanting see this one, was the incredible Robert Powell (I have loved watching him since I was a young) but the talent on that stage this evening, was without a doubt, some of the best I've seen.
It truly was a master class in 'old' acting. Proper professional acting. No individual microphones were used (to be honest, I don't think any were used at all) and the cast just didn't need them. Out came the projection, the pronunciation and the diction. Yes, we were able to hear and, more importantly, understand, every word out of every mouth.
The set was simple but yet stunning and very well used. Scene changes with just the use of a single curtain, flowed seamlessly into one another. Innovative, yet with an 'oldy worldy' effect. The main set was beautifully designed with everything that needed to be there, old lamps, candles, pictures, books – everything you would expect to see in a study cum parlour of its time. The music used was correct for the time period and could be heard during the swift scene changes.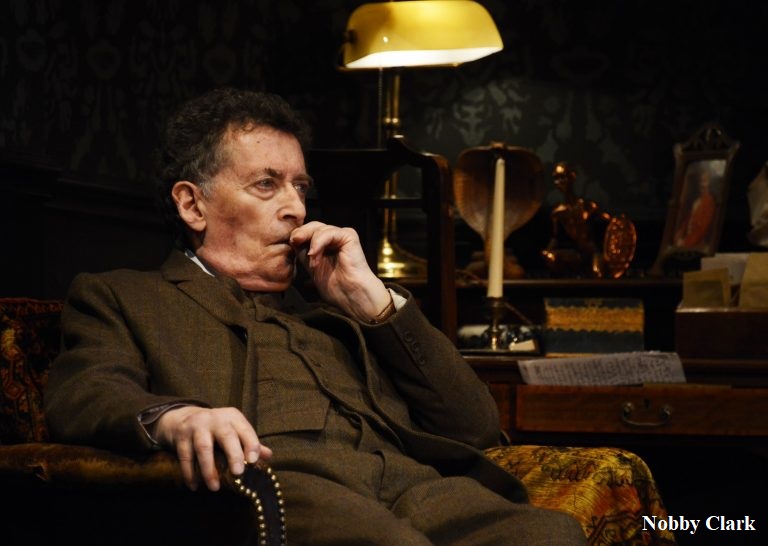 Hair and costumes were superb and the attention to detail completely on point. From shoes to watches on chains and lockets round necks, nothing was lacking details.
Now as I have mentioned earlier, my main reason for wanting to see Sherlock Holmes: The Final Curtain was to see Robert Powell. And boy, he did not let me down. He was fantastic as Holmes, with amazing timing and air of the noble about him. His comic lines, though few, were delivered with precision and he held poise and stature suited to a gentleman of those times (even if Holmes was a little bit of a rebel with his drug addictions). Diction superb, I didn't miss a thing. So nice to have him back in Manchester, playing near his home town.
Powell was matched in talent, by the wonderful Liza Goddard who gave an impressive performance as Mrs Mary Watson with secrets of her own to tell. Is she really who she says she is? Liza was extremely good in this role bringing the character to life as Mary is rarely seen/discussed.
Dr John Watson was played by Timothy Kightley. Displaying the bumbling side of Watson, Kightley played Watson extremely well and you likened to him straight away. A quite funny character at times with a great fondness for Holmes.
I think one my favourite scenes, was the two-hander between Sherlock and Mycroft (his brother) played very well by Roy Sampson... The scene worked well. And my other was the final scene but I won't give too much away and I'll let you see for yourselves. It is certainly thought provoking.
The rest of the company acted well and those who took on multiple roles, did so very well.. I applaud you all...
When being interviewed recently, Robert said "When you've got a brand new play you have no idea until the first night whether it works or not – absolutely none". Well, I can tell you now that it does, it really does... It's showing in Manchester until this Saturday, the 28th and I encourage you to get down to the Opera House to watch British Theatre at its best.
Reviewer: Hazel Bumby
Reviewed: 23rd July 2018
North West End Rating: ★★★★★