It is said there is a wounded child in all of us and if we ignore it, we suffer. In 'The Fishermen' we learn of the wounds which shape siblings Ikenna, Boja, Obembe and Ben. The world premiere of the stage adaptation of Chigozie Obioma's Man Booker nominated book was met with a palpable sense of anticipation by the sell-out audience at HOME and it lived up to the hype.
We are immediately introduced to the youngest brothers Ben and Obembe, who meet at the Omi-Ala River near their childhood home. It is through these young men, that we learn what has led to their profound sense of loss and grief about their family, particularly their elder siblings.
Gbolahan Obisesan has crafted a detailed drama full of playful idiosyncratic language where we meet other characters only through the reflections of the two younger brothers. To act such a drama is highly demanding. Michael Ajao (Ben) and Valentine Olukoga (Obembe) are quite simply outstanding.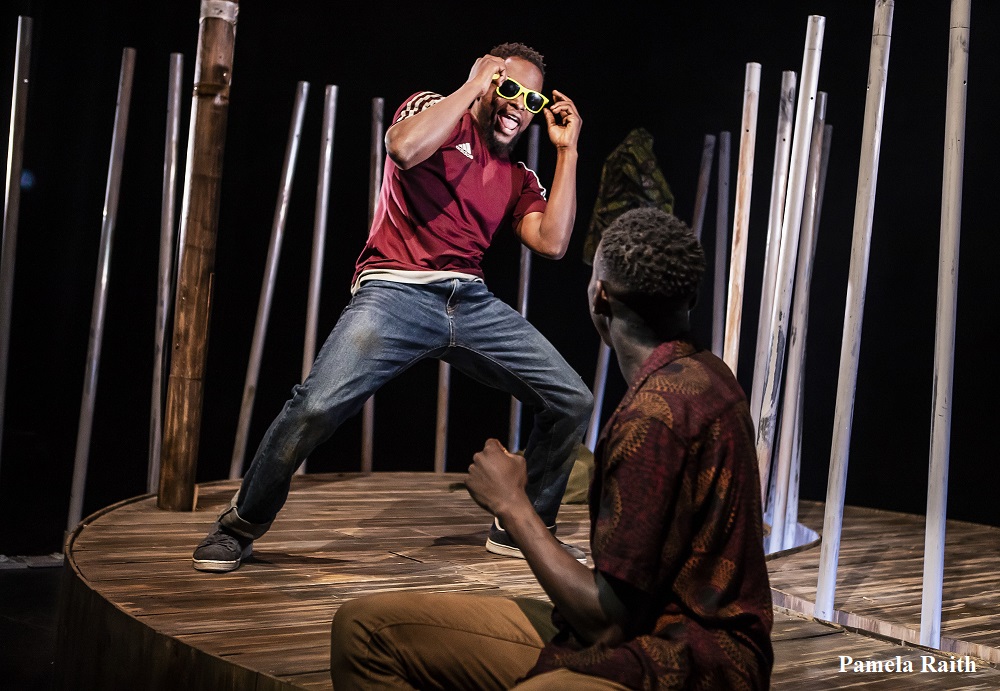 They seamlessly moved between characters with ease; completely captivating the audience. The interplay between these two young actors was refreshing and the stage consistently felt full of a powerful energy, much like the river they are reflecting by.
The staging always remained at the river but their memories was visually brought to life as we saw the home life and their demanding father whose departure allows the boys to escape to fish at the forbidden river. The hazy lighting allows a sense of memory and reflection to build; when moments of fear and violence occur they are punctured by intense lighting; the audience share the pain of traumatic flashbacks with the brothers.
The play, like the book, can be seen as a parable about the political upheaval in Nigeria in the 1990's. For me, this play captures the violence of childhood and how play can disintegrate into damage. Through the two actors, we witness the adventure of four siblings going fishing, deviating away from their father's western aspirations. We consistently hear and meet Mummy and Daddy; the sadness attached to the line 'Daddy went away' is heart-breaking. Their encounter with the 'madman' Abula taints the bond between the brothers; he predicts Ikenna will be killed by a fisherman. The audience are held captive by how this prophecy haunts Ikenna and ultimately breaks the bond between the brothers; we are reliving the trauma which refuses to leave the younger brothers.
This is quite simply a breath-taking production which captures the essence of the book in an innovative and exciting dramatic form, with two actors demonstrating absolute command of the stage. https://homemcr.org/production/the-fishermen/
Reviewer: Catherine ni Cier
Reviewed: 24th July 2018
North West End Rating: ★★★★★