There is a new musical in town and it had its first ever public performance this evening at Waterside Arts in Sale. It is a story about love, rejection and tennis all set in and around the first ever Ikea store opening in Sweden. Yes, Screw Loose could be in the West End soon!
This isn't any musical, it is one made up on the spot by the multi talented team at Showstopper: The Improvised Musical. The show opens with Sean McCann, our narrator for the evening taking a phone call from Cameron Mackintosh to learn a theatre has gone dark and he needs a new musical to fill it by 9:45pm this evening!
Through suggestions from the audience the Showstoppers (Dylan Emery, Pippa Evans, Phillip Pellew, Andrew Pugsley and Lucy Trodd) create the musical. I felt tonight the cast were slightly let down with the rather predictable suggestions from the audience and creating tonight's piece was less challenging than normal.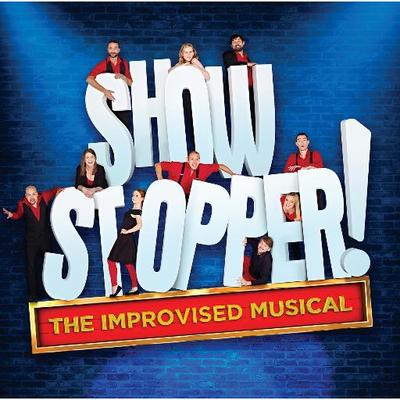 Ikea was chosen as the setting for the show after the audience voted on other suggestions including a nursery and the Mariana Trench. Musical styles were also suggested by the audience and these included 42nd Street, Miss Saigon, RENT, Grease, West Side Story and most predictably Hamilton. Finally, the title was chosen and tonight this came from yours truly and just like that Screw Loose The Musical was born.
The opening in the style of Miss Saigon gave way to a song called "One Last Time" with a RENT influence and the classic "Flat Pack Attack" all helping to tell the story of love set in the days before the first ever Ikea store opened.
At the end of the first half the audience are asked to tweet in suggestions for how the story should progress after the interval. This is where the people of Sale became a little more creative, however still rather predictable.
Songs including "Sauna of Love" and an underwater sequence from Starlight Express followed in the second half before the last big number, "Ace Up My Sleeve" in the style of Hamilton. For me I think Hamilton is the greatest gift Showstoppers have ever been given. As skilfully as they deal with anything that is thrown at them, you can't really go wrong.
"Come to Ikea" closed the show to a huge ovation from tonight's audience. I have to mention two unsung heroes on stage tonight. Musical Director Duncan Walsh Atkins and percussionist Kayleigh who had the tough task of keeping up with the cast as they made up songs on the spot.
Showstopper is an extremely clever and superbly executed concept that guarantees a brand new show every night they perform. The team are now off up to Edinburgh and I look forward to seeing them again when they return to the North West.
Reviewer: Paul Downham
Reviewed: 26th July 2018
North West End Rating: ★★★★