The stunning and versatile Hope Mill Theatre which is quickly becoming home to high quality musical premiers with Hair, Yank and Pippin premiering at the venue before moving to London also with its recent hit show Aspect of Love opened its doors to the new musical Closets.
The production has lyrics and script by Lloyd Eyre-Morgan, Jack Bennetts and Neil Ely, music by Ashley M A Walsh and choreography by the talented William Whelton. With a strong cast of nine and under the direction of Lloyd Eyre-Morgan Closets is based on the award-winning short film of the same name telling the tale of two teenagers from three decades apart struggling with their sexuality - Henry (Sam Retford) living in 1988 with Madonna posters decorating his single bedroom and a mother (Hayley Tamaddon) who ridicules and punishes him for being 'different' and Ben (Lloyd Daniels) with his Arianna Grande posters living in the present day of 2018 and a very open minded mother (Sophie Ellicott).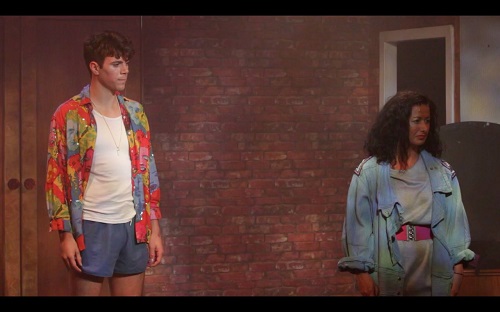 16-year-old Henry in conflict with his inner self and his mother's battles goes inside his Closet and unexpectedly time travels to 2018 and meets 16-year-old Ben living in his bedroom 30 years on dealing with issues of name calling and cyber bullying for being gay. Ben and Henry decide to run away from their lives by time travelling in the Closet taking them on an adventure to New York's Stonewall bar in June 28th 1969 where they meet the vivacious, caring and outgoing Florrie (Kim Tatum) who teaches the two youngsters the true meaning of inner strength to face the world of prejudice and ignorance.
The script cleverly allows the audience to see how attitudes have changed over the decades but still how far we have to go in regards to people's views on LGBTIs today, with the introduction of social media in the early 2000's the susceptibility of torment and ridicule has increased for youngsters and bullying doesn't stop when the school bell rings anymore.
With some truly heart wrenching scenes the audience is sent on a roller coaster of emotions where one minute you have tears in your eyes and the next you're belly laughing at the fabulous one liner's perfectly delivered by the colourful and caring character of Penny, Ben's modern mum.
The surprise of the evening for me was Hayley Tamaddon the ex-soap star because I have seen so many try to take to the stage and fail but have been used as the save crowd pullers to get bums on seats but oh my goodness this bombshell can definitely belt out a note. Her stage presence had me captivated as she had me truly absorbed and believing her own inner pain of a single mother abandoned and let down with dreams shattered, I cannot believe I have not seen her before as she clearly has a sterling resume of past musicals but I can guarantee you I will be seeking her out in the future.
The set design by Rhiannon Clifford perfectly captured the eras down to the finest details such as walkmans, alcohol of the 80's 'Campari', hideous bedding, crush velvet headboards to current day objects of iPads and mobile phones. The set worked really well as the crew were able to move the set without drawing attention to the scene changes and were versatile enough to cover all decades from 1969-present.
Special mention must go to the choreography by William Welton as the dance and movement was captivating, the talented cast had you mesmerised as they strutted their moves to some fantastic ballads old and new. There were over ten original songs in the musical written by the talented trio which had you listening to every poignant word, energetic songs like 'Weirdo', hilarious songs like 'Protection' and tear-jerking songs like 'Florries Letter' and 'A Mothers Love'.
The story goes through twists and tales but ultimately the two boys come out to their parents out of the closet and ready to live their lives as they wish supported or unsupported by their mothers.
A truly magical piece of magnificence which tells the tale of the struggles that people can face due to their sexuality, extremely worthy of the standing ovation and rapturous applause they received at the end of press night.
A must see but be prepared for an emotional rollercoaster during this stunning production with its incredibly talented cast.
"A stunning Production with an incredibly talented cast"
Reviewer: Katie Leicester
Reviewed: 16th August 2018
North West End Rating: ★★★★