Surely everyone is familiar with the story of Mary Poppins...the magical Nanny with THAT carpet bag who appeared out of nowhere and then disappeared again after she'd weaved her magic over the sad and slightly dysfunctional Banks family.
Mary Poppins in this Manchester Musical Youth (MMY) production is played by Kathryn Stephenson and she certainly weaved her magic over the show tonight. I don't believe this role could have been better cast. Her portrayal of Mary Poppins was, to coin a phrase, practically perfect in every way. She has a winning smile, a beautiful singing voice and an outstanding ability to cope with occasional glitches. She took everything in her stride and dealt with it – just like a capable Nanny should! I thought her characterisation was excellent and she was a joy to watch and listen to. She never broke a sweat, even during an awkward moment when there was a delay in a musical number beginning and she improvised wonderfully. It was clear that she has an excellent relationship with Jasmine Kennedy and Seb Downing (Jane and Michael Banks) and I felt she had taken them under her wing and was a reassuring presence to them. At one point, Seb was struggling with his pyjama top and everyone in the audience was willing him to get his arm in the sleeve: Kathryn spotted this and made helping him put it on a part of the show, as if nothing was amiss. Wonderful improvisation.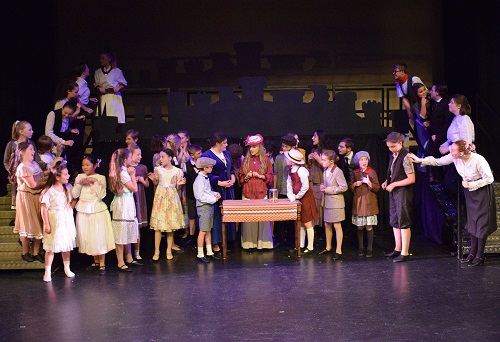 Bert the chimney sweep was played by Reuben Williamson who was full of confidence and chirpy cockney charm and who is also an excellent dancer. If you've never seen a chimney sweep do a balletic high kick, now's your chance!
Seb Downing as Michael Banks was cuteness on a stick. He was very cheeky, full of character and delivered some excellent lines: a classic being "she may be tricky but she's bloody good!" (there was no warning of such profanity!!) Given his tender age, I imagine this is Seb's first major appearance in a show and he should be very proud of himself.
Likewise, Jasmine Kennedy as Jane Banks did an excellent job and she and Seb were an endearing little double act with no precociousness in sight whatsoever.
I enjoyed the portrayal of Mr and Mrs Banks by Chris Bache and Harriette Robinson. I loved the fact that Harriette looked permanently worried – as Mrs Banks does - and Chris was a wonderful 'emotionally unavailable' father before throwing caution (and a kite) to the wind in the closing scene.
There are a total of thirty nine performers in this production and in true MMY style, everyone had a chance in the spotlight. I always wonder how they cope so well with the ensemble scenes, as to the untrained eye, it could appear to be chaotic but everything just works and works so well.
The high points of the show for me were "Supercalifragilisticexpialidocious", "Let's Go Fly a Kite" and "Step In Time". These were ensemble numbers which are the core strength of MMY productions, they are so much more than the sum of their parts. The sound is amazing. Everyone seemed to gain just a little bit more confidence as there really is safety in numbers. The choreography was effective and great to watch, particularly in "Step In Time" which had some tap dancing (always a winner) and I really enjoyed it.
A special mention needs to go to Hanna Cunningham who played Miss Andrew, Mr Banks's former nanny and also Charlotte Robinson, who played Mrs Brill. Firstly Hanna: she was so fierce and scary! I loved the scene between her and Mary Poppins which was a sort of Nanny "high noon". Very entertaining and so well done. Charlotte was wonderfully acidic and bitter and had some cracking lines which she delivered expertly to a great audience response.
I believe that the rehearsal time for this production has only been eight days.Directors Emily Clarke and Cameron Hall and everyone has done exceptionally well to produce such a challenging show. There were some delays and some of the scene changing took time but overall, it is a very entertaining show with lots of humour and some wonderful performances.
Catch Mary Poppins at Z-Arts on 1st September (matinée and evening performances) before she takes to the skies with her umbrella!
Reviewer: Nicky Lambert
Reviewed: 31st August 2018
North West End Rating: ★★★★