Representation is important. It's vital for children (and adults) to be able to look at the media, TV programmes and theatre productions and to be able to say 'they're like me' and know that they're not alone. But not only is it who we see but the stories that we are told. Rifco Theatre Company's ethos is to produce plays and musicals that celebrate and reflect contemporary British Asian experiences, culture and society. Their production Dishoom! written by Gurpreet Kaur Bhatti, is currently touring the UK.
Set in the summer of 1978, the show follows Simon (Bilal Khan). Simon's Bibi (Seema Bowri) is ashamed of his disability and confines him to a life of no independence, little pleasure and futile attempts to try and force him to walk. After his Mum's death many years ago, his Dad (Omar Ibrahim) spends most of his life hiding in the pub. Simon and his friends should be looking forward to leaving school, but each with their own family issues and the National Front looming on the streets, no one seems to have hopes of a bright future. That is until Simon's cousin Baljit (Gurkiran Kaur) comes to stay. She introduces Simon to the Bollywood classic 'Sholay'; inspired by the film's dynamic duo Jai and Veeru, Simon and Baljit discover their inner superheroes and set out to change the world.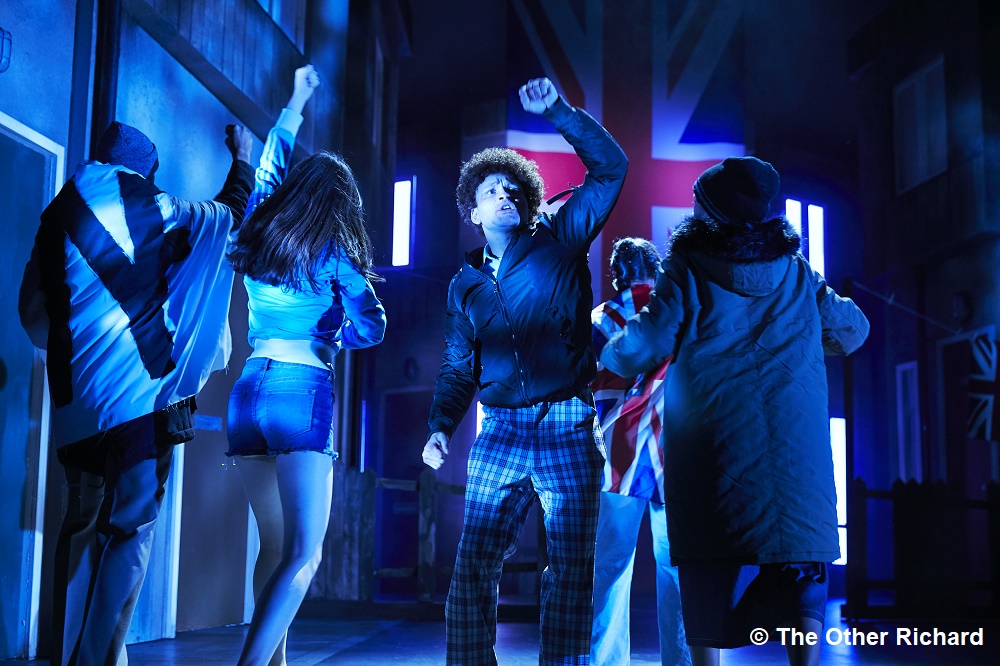 Even if you don't know 'Sholay' then it will not spoil your enjoyment of the show. The "superhero" moments were staged spectacularly as fantasy sequences with vibrant, bright lights designed by Rory Beaton, and accompanied by video-game-like sound effects and Bhangra music. Neil Irish's inventive set design was utilised fully throughout the entire performance with a street scene (two rows of houses on either side of the stage) folding out to become the inside of Simon's house, with slick scene changes.
The whole cast were exceptional and coped extremely well with demanding issues such as racism and prejudice. Despite the solemnity of the matters explored, there were many amusing moments throughout, and the cast provided some great comedy performances, in particular Bowri as Bibi. A special mention must be made to Kaur's incredibly strong performance as Baljit/Simon's Mum, and Kahn as Simon. The audience rooted for him and felt his anger and frustration trying desperately to escape the constraints Bibi had put in his way. Kaur and Kahn had a wonderful partnership and it was heart-warming to watch it develop throughout the show.
It was remarkable to experience so many issues being exposed in a single play, but there was never a time when it felt too eventful, every single part was necessary. Artistic director Pravesh Kumar's foreword in the programme tells us all we need to know '[Dishoom!] is significant because we are now living in a world that has not learnt from the past. It is a reminder that what is happening today has happened before. History on repeat'. Performing this story at this time holds a valuable moral, one that we can all hopefully learn from and keep sharing. Dishoom! is an absolute celebration of diversity and a truly special piece of theatre.
Reviewer: Becky Mottershead
Reviewed: 2nd October 2018
North West End Rating: ★★★★★