Based on an 18th century novel this lesser known ballet is rarely seen performed on stages out of London, so it's a real treat tonight for ballet fans in Manchester's audience at the Opera House.
A truly riveting tale of intensity, lust, greed, jealousy are bound together to combine this dramatic show. The under lying morale message is intertwined around the two protagonists, one a poor student Des Grieux (played tonight by Isaac Hernandez and the other Monsieur GM, (Fabian Reinmar) at the opposite end of the scale, rich and spoilt. And of course Manon the femme fatale played by Jurgita Dronina her debut in the role alongside Hernandez.
Does she settle for true love with the poor student or become seduced by riches?
The scene is set in the seedy backstreet's of Paris pre-revolution. Anything goes and souls are sold for a cent. Pickpockets, hawkers and coquettish ladies all out for what they can get with different styles of manipulation.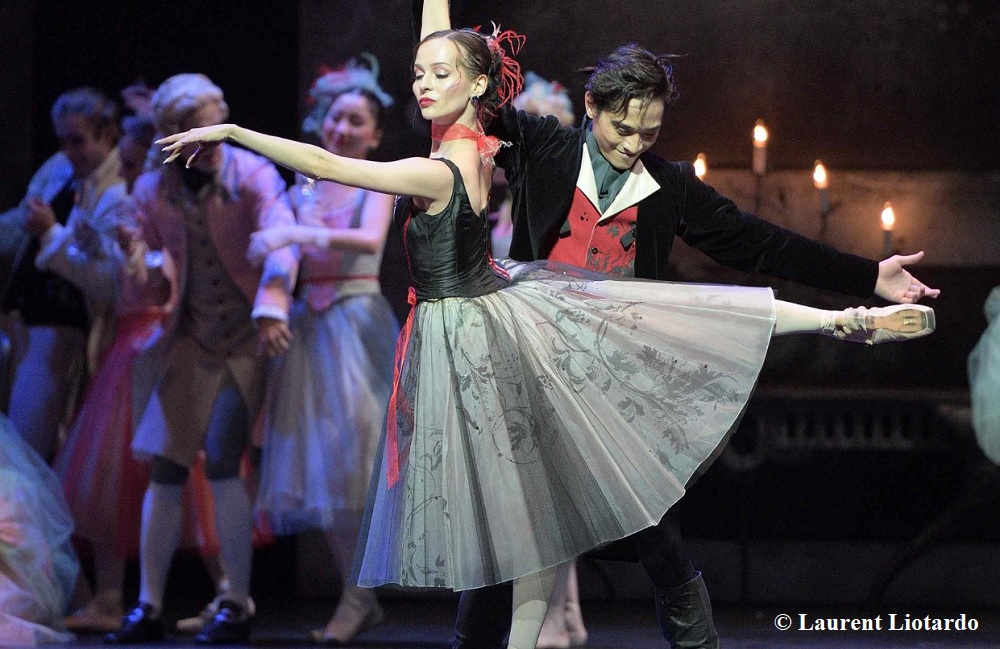 Of course these scenes make for fabulously imaginative costumes by Mia Stensgaard. Lovely little attentions to detail, ladies black gloves, dashes of red net splicing through the grey and more sombre tones of the night. Plus some intricate embroidery.
Manon is danced by Jurgita Dronina, her fluid movement give a delicateness to a resilient character, stunning with technical prowess, she manages to capture the depths of Manon's personality with flair. She seems well matched to Hernandez and their pas de deux, breath-taking.
There is everything in this ballet choreographed by the late Kenneth MacMillan: all the complexities and crudities of the human condition and relationships laid bare invoking a great deal of anguish but also comical moments when Lescaut (Ken Saruhashi) had the audience laughing with his stumbling debauchery.
In the sordid gambling den of Act II, a gigantic chandelier graces the set, whilst underneath courtesans throng in bustle-effect tutus, in a host of colours like a wonderful over indulgent candy box.
A contrast to Act III where the foggy marshes of New Orleans claustrophobic atmosphere signify tragedy. The swirling riot of courtesans has vanished, replaced by sombre looking bonnet wearing maids, divorced of all individuality and frivolity.
The finale is of course desperately tragic. Dronina and Hernandez do it great justice, keeping the audience transfixed with a haunting visceral quality to the last breathe. Choreography looks unforgiving and often dizzying at times to watch as Manon is spun from suitor to suitor like a tumbling dice.
The scenery is pared back and relies on the dancers to enthral. Apart from the larger props of the chandelier and a carriage.
Manon is a refreshing change for the North from the usual stock of popular ballet and although always enjoyable, it's really exhilarating to see one such as this.
The themes are very relevant to materialism around us and Kenneth MacMillan's authentic choreography shines through challenging dancers and audiences alike with a gentle ferocity.
Reviewer: Rachel Foster
Reviewed: 18th October 2018
North West End Rating: ★★★★