Aladdin...an everyday story of a wish-granting genie in a lamp, a strong independent princess and a flying carpet. Tonight the Disney film version was given the Manchester Musical Youth magic touch by The (MMY) Apprentices and it was thoroughly entertaining, very funny and was not without an oversized portion of talent.
The opening ensemble number was, as to be expected from any MMY production, totally engaging and rousing with the cast's enthusiasm pouring off the stage in bucket loads. They created a really lovely and powerful sound.
The Genie (Amileigh O'Hagan) set the scene for us and her confidence and stage presence was immense. She completely nailed this part with her assured performance, well measured gestures and delivery and she made this role completely her own.
Aladdin is played by Matthew Chang and I believe that this his first show. He is an extremely confident young man and an excellent performer with great stage presence. He delivered some of his lines with a maturity which was quite amazing. There were some occasional slight delays between scenes and Matthew covered this very well, staying in character and not simply standing and waiting. He is also an excellent prompter! His solo song "Proud Of Your Boy" was very touching and sung with real feeling (and I know his Dad was proud of him as I was sitting behind him!)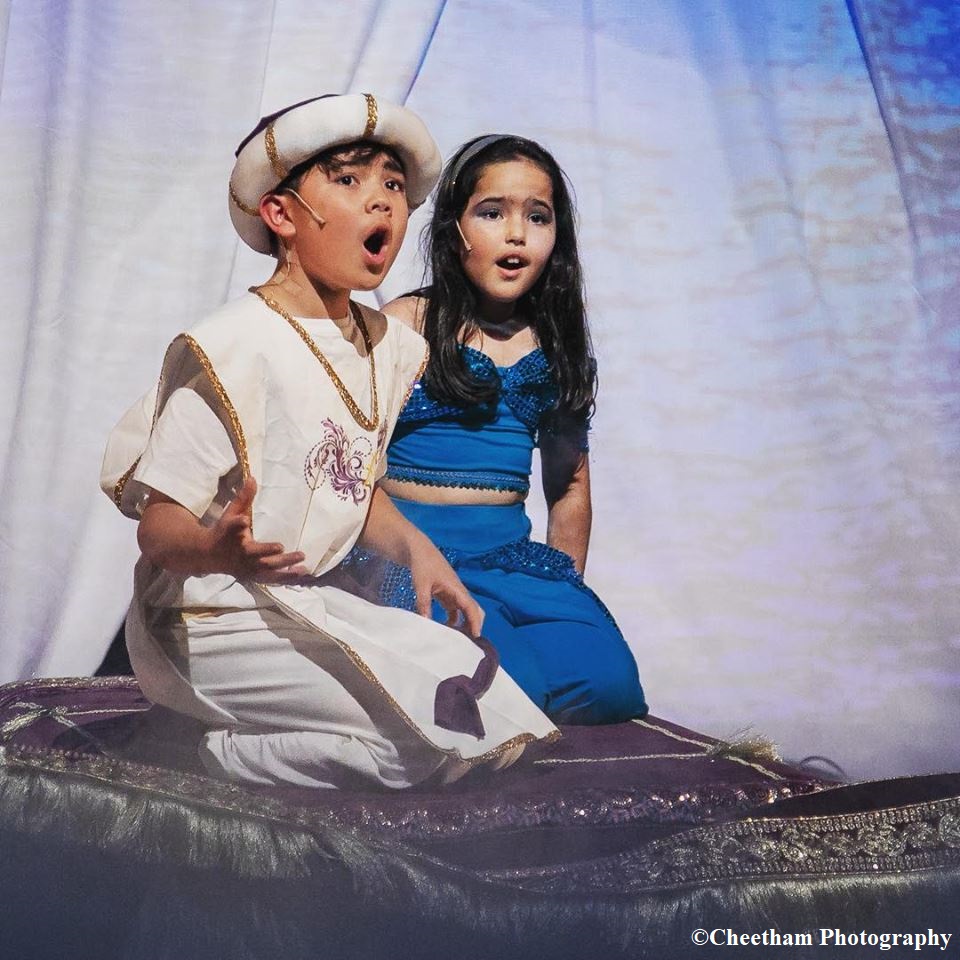 I did struggle a little at first to hear some of Aladdin's lines as Matthew seemed to run a few of his words together but I suspect this was nerves and I'm sure that after tonight it won't be a problem.
My absolute favourite characters tonight who I would have loved to see more of were Jafar (Joseph Graham) and Iago (Seb Downing). Jafar is the baddie you just can't help loving and Iago is his hilarious sidekick. Seb played the role in a very cheeky and funny way and his wide-eyed, expressive face was wonderful; he made me chuckle every time I looked at him. As for Joseph, he is absolutely the best baddie with a wonderful perma-scowl. He slid onto the stage in a creepy, insidious way (just like a fabulous baddie should) and he looked brilliant. I loved the way he delivered some of his lines and a lot of the comedy came from him tonight. Joseph and Seb made a perfect (slightly evil) comedy duo.
Zidan Charles as the Sultan looked fabulous (great moustache!) and had some funny lines which he totally did justice. Sarah Ali played his daughter, the Princess and she did look every inch a princess. I liked the feisty edge she brought to the role and her independent attitude. You go, Princess!
A trio of delights was Kassim (Iris Jones), Omar (Amelie Valentine) and Babkak (Laila Brookes). These young ladies were hilarious and naturally funny, knowing just how to play the comedy to maximum effect. Great dancers too!
This review would not be complete without mentioning the exceptional dancing talent of Reuben Williamson who played Prince Abdullah. He is future West End material without a doubt.
The charming moment of the night was "A Whole New World" when Aladdin and the Princess are flying on the magic carpet and the song ends with them holding hands.
What I found very noticeable tonight was that despite their tender years, all the performers remained in character the whole time when they were on stage and they've clearly been given excellent direction which they have followed well.
(I would have liked the music to be a bit quieter as it drowned out some of the speech and made it difficult to hear).
I would say this is another roaring success for MMY which can be chalked down to the exceptional encouragement and nurturing of these performers by the production team of Kimberly Holden, Dave Holden and Shannon Wild. It can't be easy to direct a large number of very young performers and keep their giddiness and nerves under control while turning them into strong and confident actors and I take my hat off to you all.
You don't need a genie to grant you three wishes for a great night out: just get down to Z-Arts on Saturday 20th October for a little piece of Arabian Nights magic. https://www.z-arts.org/events/aladdin/
Reviewer: Nicky Lambert
Reviewed: 19th October 2018
North West End Rating: ★★★★