Stephen Sondheim is the undisputed king of Broadway, for over sixty years he has written some of the most insightful, funny and challenging music and lyrics in the entire musical theatre canon. Since opening its doors in 2015, the name of Hope Mill has become synonymous with the ambitious and inventive in-house musicals it has produced. I am delighted to say that 'Putting It Together' further cements this reputation, Sondheim and Hope Mill are a match made in heaven.
This show was conceived in 1992 by Sondheim and actress Julia McKenzie as an anthology, acting as a bookend to the 1976 production 'Side by Side By Sondheim'. Set in an upscale west side Manhattan cocktail party on Christmas Eve, it is a story specifically designed to showcase over thirty Sondheim numbers, some familiar and some more obscure, as five characters' lives and loves intertwine. The idea of creating a new structure for songs that already have a life in another musical allows them to be performed in a way that is often very different from their original staging; 'Pretty Women' morphs into a tender love hymn in the hands of the two male leads, belying its origins in the more gruesome 'Sweeney Todd'. Inevitably some of the songs work better in their new setting than others, we get and entirely different perspective on the magnificent 'Being Alive' from Company when it is sung here as a quintet by the cast, whereas other songs feel slightly forced into the narrative.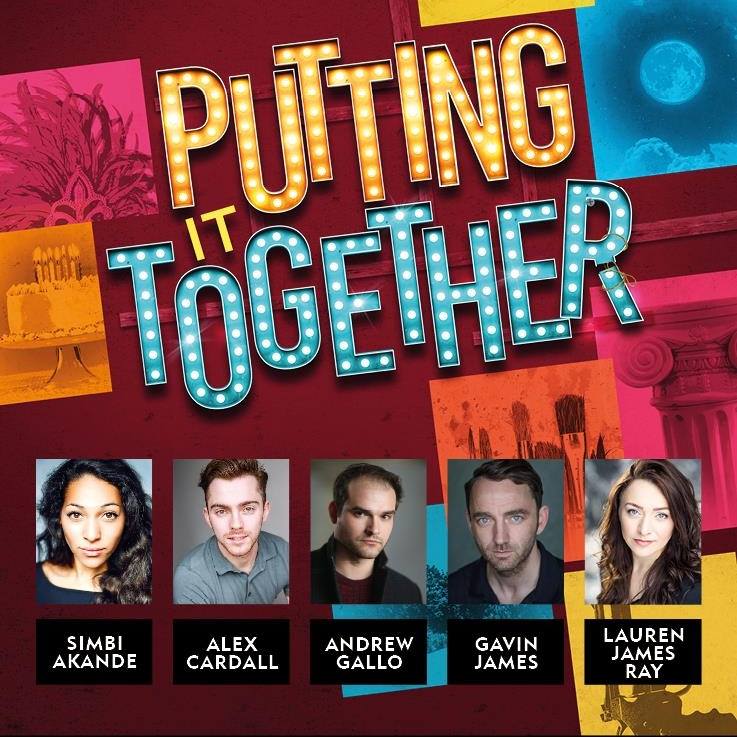 But if the structure creaks a little bit frankly who cares, when you can spend two hours listening to the most beautiful music and witty lyrics that the musical theatre genre has produced? The small cast of five (supported by the magnificent Michael Webborn on stage throughout as pianist) are fully employed as the nameless characters, each in turn being given the opportunity to showcase their breadth of talent.
Where else would Lauren James Ray have been able to sit at the piano, wholly convincing as a lush toasting 'Ladies who Lunch' one minute, quickly followed by playing a breathless bride to be in the superb 'Getting Married Today'? In a similar vein Alex Cardall gives a beautiful rendition of 'Marry Me A Little' from 'Company', then tangos with Simbi Akande and duets with Gavin James all within the space of the short second act. Cardall was totally believable and 'Live Alone and Like It' was a show highlight despite being a little known song from the movie Dick Tracy. Akande and James breathed new life into 'Hello Little Girl' from 'Into The Woods', James giving a louche insouciance to every number he was involved in. The pace is relentless as each vignette is interspersed with narrator Andrew Gallo giving a one word theme for the scene to follow, often followed by him stealing that same scene, as with 'Buddy's Blues' from 'Follies'.
Designer Natalie Johnson made full use of the Hope Mill stage and allowed the choreography of William Whelton to not feel limited by the tight space available. The decisions of Director Bronagh Lagan regarding the script and songs were inspired, the sex change of the character during 'Everybody Ought To Have A Maid' allowed this song to feel funny and fresh rather than sexist and dated when delivered by Gallo and James Ray. The pace of the show never lagged for a second.
Overall, this felt like an exquisite starter at your favourite restaurant; delicious and leaving you wanting more. Hopefully it won't be long before the talented trio of Joseph Houston, William Whelton and Katy Lipson tackle a full-scale Sondheim show in this innovative and wonderful space.
Sondheim plus Hope Mill equals a sublime evening of musical theatre.
Reviewer: Paul Wilcox
Reviewed: 26th October 2018
North West End Rating: ★★★★