The Orbit Festival at HOME was designed to bring together theatre makers from across the globe to explore the very essence of how we face the world, the stories we tell ourselves and what makes us who we are today. This sentiment is wonderfully showcased by Tangram Theatre and James Rowland's 'A Hundred Different Words For Love'. It is easy to see why it was the winner of The Vaults Festival Best Show Award, and why it completed a highly successful run at Edinburgh Fringe Festival earlier this year.
The one-man show follows James on a journey through falling in love to landing broken hearted: from the first meeting to the first date to the first argument and eventual break up. James tries to find the right words to make sense of love through his own relationship and through being the Man of Honour at his best friend Sarah and Emma's wedding.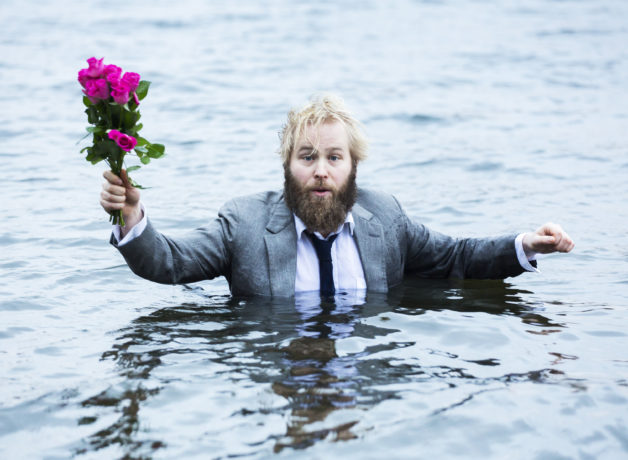 Tangram Theatre's style of breaking the fourth wall is established immediately as Rowland relaxes in the space as the audience arrive and occasionally chats to them in an almost stand-up comedy fashion. This continues throughout the actual performance where Rowland's laid back and open demeanour allows the story to appear spontaneous.
The set is minimal with just a piano and an amp set up, however this does not deter from the story at all. At all times the audience are completely invested in the characters and the world that Rowland has created due to his excellent story telling. Rowland even plays on this and gets the audience to close their eyes and use their imagination at times so the story is personal to each of them.
The piano is required for short musical interludes throughout; a pedal is used to cleverly set off a loop of the tracks to play underneath several of Rowland's speeches which adds an extra atmosphere and heightens the emotional impact.
Rowland shines seemingly effortlessly through the entire show. The story is incredibly well written, and executed brilliantly with style, wit and comedic timing. He alludes to the fact 'A Hundred Different Words For Love' is actually second in a trilogy of shows, and after seeing this play, I for one am eager to watch the other two and see more of James and his life.
An honest, heart-warming, life-affirming, laugh-out-loud show; presented by a true story teller.
Reviewer: Becky Mottershead
Reviewed: 30th October 2018
North West End Rating: ★★★★★