Say the name Lin-Manuel Miranda and the hit show Hamilton immediately springs to mind, or perhaps In The Heights, the latter of which, the always impressive Mossley Amateur Operatic and Dramatic Society (MAODS) produced 12 months ago at the George Lawton Hall. This year one of his lesser known works is the subject of MAODS's attention, Bring It On.
Bring It On is set in the highly competitive world of cheer leading and centres around Campbell (Ellie Birtles), Captain of the Truman High School who is forced to move school in her final year ending up at Jackson High School as a result of a redistricting decision. At Jackson, they don't have cheerleaders, but a dance crew! After befriending crew leader Danielle (Imogen Hart) Jackson High gets its first cheerleading squad and battle commences with Truman High and the rest of America at the Natinal Championships.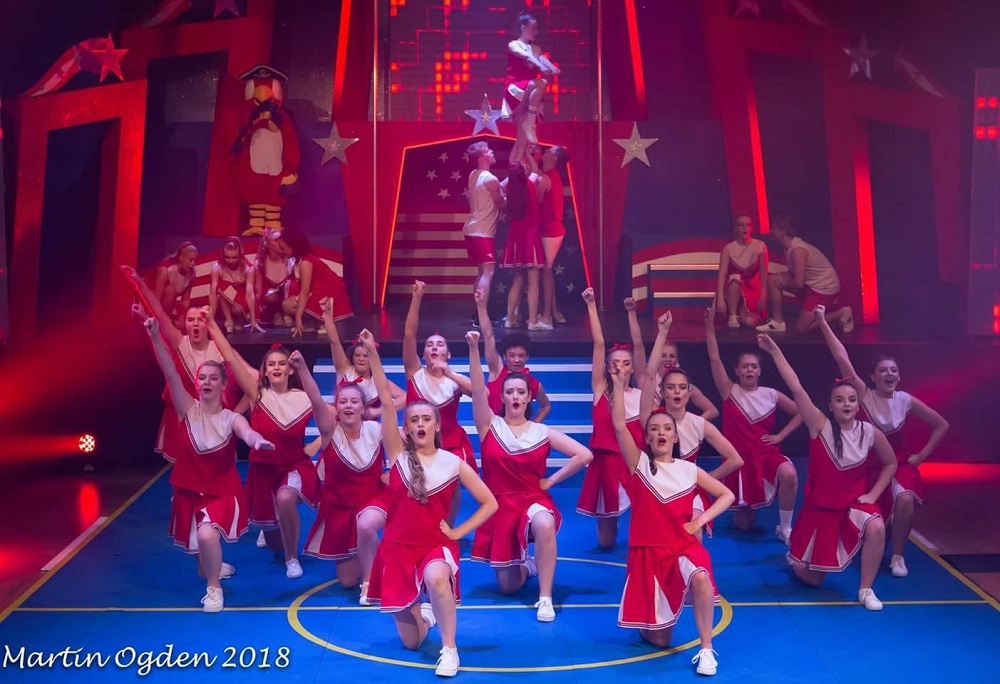 Birtles and Hart provide solid, powerful performances as these two strong women battle for the good over evil, but for me the star of tonight's performance by a country mile was Bridget played by the ridiculously talented Jordanne Woodward. Bridget was the squad mascot at Truman with dreams and aspirations of becoming a cheerleader, and her move to Jackson High may just give her this opportunity. Woodward gave a masterclass in comedy, I don't think there was one scene where she didn't have the audiences in stitches. Her attention to detail was fantastic from the way she held her hands to the constant fiddling with her glasses.
Macy Counsell plays Eva who becomes the new Captain at Truman after Bridget is forced to move. Counsell plays this bitchy role perfectly and will stop at nothing to get her way it would seem.
MAODS is awash with stunning young talent. Team Truman, Kira Richardson (Skylar) and Helen Claire Rose (Kylar), along with team Jackson, Katherine Farrow (Nautica) and La Cienega (Tashlon Ezekiel) provides support and such are their performances could easily grace any show in the lead role, all were faultless tonight.
Director Samuel Maurice plays Campbell's love interest at Jackson High, Randall, and as ever gives a solid performance.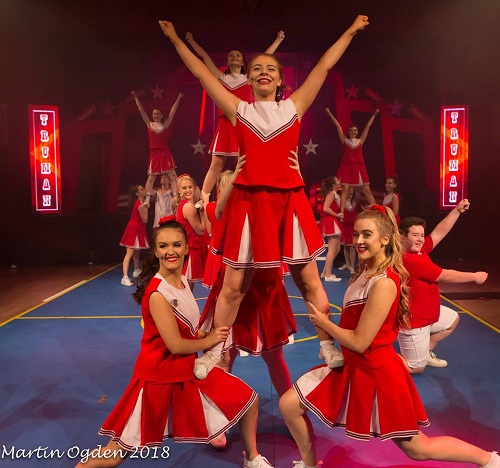 Emma Kelly and Kaireen McDonald have provided some of the most energetic choreography I think I have ever seen on a stage. I cannot begin to imagine how long it took to perfect the numerous routines seen tonight and the youthful cast rose to the challenge in unison. I do have to mention Lily Allwood who shone in all the dance numbers.
Vocally the entire company sounded good and the live band under the direction of Simon Murray made the score sound superb. Aaron Smith's lighting was on the whole impressive, although there were a few moments when a little more face lighting could have been used for me.
One of the things MAODS is famous for are their sets. John Buckley once again has designed and delivered a masterpiece, set on 4 levels including the George Lawton Hall floor, LED lighting and video walls come together to create a visual feast.
With a cast of 33, I cannot possibly name everyone, suffice to say each and every one gave their heart and soul in tonight's performance which exhausted me just watching it. You don't sadly leave the theatre with any specific song becoming stuck in your head, but what you do have is huge admiration for the talent, dedication and professionalism in the way this show was delivered.
Bring It On continues until Saturday including a matinee on the 8th at the George Lawton Hall in Mossley. https://maods.org/
Reviewer: Paul Downham
Reviewed: 6th December 2018
North West End Rating: ★★★★