An explosion of colour, sound and fun, all in one production written by Jackie Hagan. The young audience enjoyed an hour of fantasy escaping from their iPhone and Xbox's to enjoy having their imagination stimulated.
Red (Paislie Reid) is a young girl who has run away from home as her Dad has a new girlfriend. Christmas is coming, and her Dad wants to include his new girlfriend in their Christmas plans but Red doesn't see why they can't just be on their own as usual.
Red runs away to a forest and finds three Bears, Bear Hugs (Sara Cocker) whose passion is eating beans, Bear Grills (Marcquelle Ward) who fears humans and Bear Minimum (Ali Briggs) who loves to clean. Alexa (Sophie Coward) the virtual assistant, tries but fails to 'invoke the power of the disco' as everyone is too sad. There are far too many children neglecting their teddies due to them playing on their phones.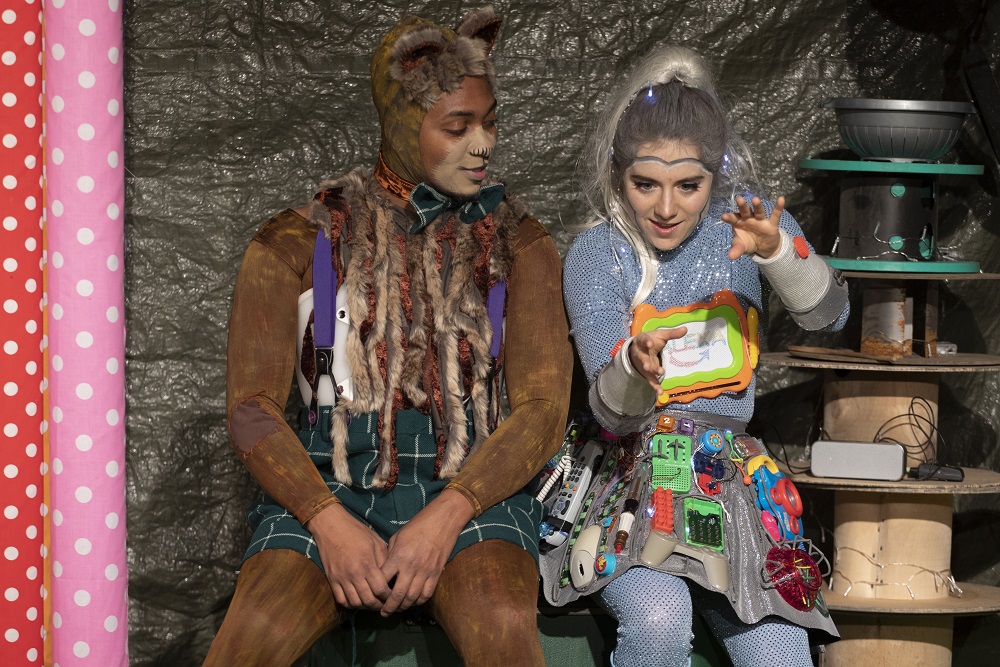 The writing is such that there is time to include the kids in the fun as the show moves on with games and audience participation using wit and imagination.
The whole show is 'Signed' for the hard of hearing with the actors learning their parts in 'sign' as well as vocally.
The set design designed by Katharine Heath has been well thought out making it fun for kids to watch whilst using the space to include the kids in the show to keep their interest.
The costumes added to the lively theme of the show and the glittering disco ball used to 'invoke the power of the disco' was a great touch.
The show ended with disco songs and dancing and lots of happy young faces!
This show is a must for parents with young kids who may need a distraction away from their digital world as a reminder of how to have fun without computer games or smart phones.
Well done Contact Theatre for producing this accessible show which is fun for all ages and to Hope Mill Theatre for creating a warm inviting atmosphere for families to visit.
Reviewer: Caroline Worswick
Reviewed: 13th December 2018
North West End Rating: ★★★