"Sassy, Sexy and Sensational"
Since the original show was spawned in 1973 at the Royal Court Theatre (Upstairs), London The Rocky Horror Show has gained generations of theatre-goers who have been seduced by its mix of horror-comedy and science-fiction script, backed with some iconic songs such as 'The Time Warp' whilst dressed up in glam-rock, glittering corsets and eye-catching lingerie has become an institution that encourages glamour, silliness and having a damn good time.
Despite it being a cold and wet January night it came as no surprise to see ladies in the audience dressed in French maid outfits, glittery top hats and dazzling tailcoats whilst the Manchester chaps were tightly packed into their Fran N. Furter attire amid the sea of black clothing, high heels and wigs.
The atmosphere was electric and full of high anticipation even before the curtain rise as the colourful audience prepared themselves to let loose on the 2019 touring cast of Richard O'Brien's Rocky Horror Show with the infamous heckles and well-rehearsed contributions hurled towards the stage such as 'slut' and 'asshole' whilst armed with torches.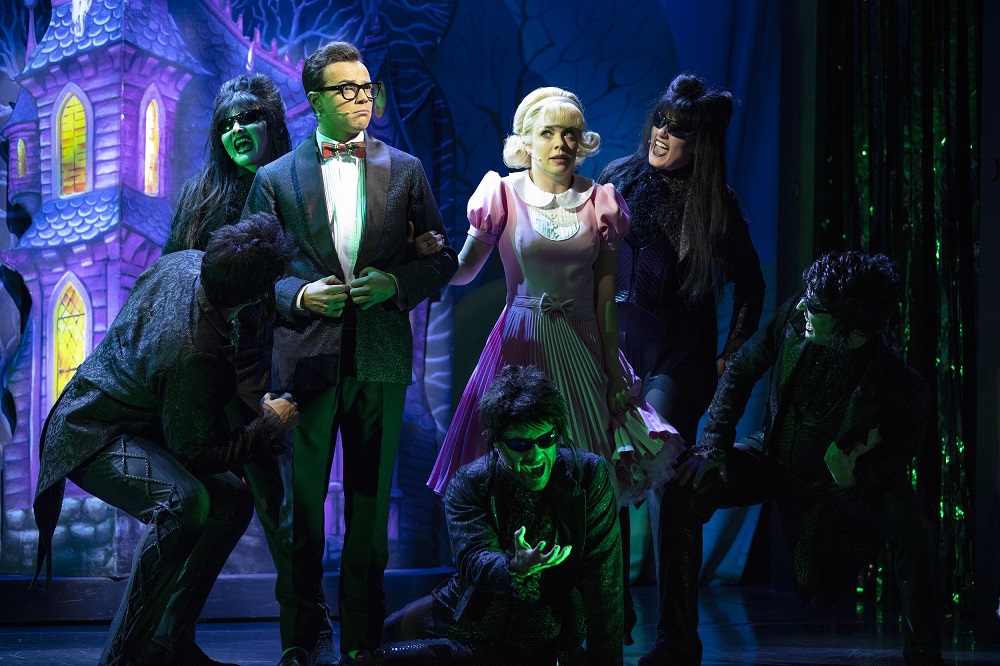 This unbelievable 45 year old Rocky Horror production shows absolutely no signs of ageing as it continues to entice the old and the youth of today through its doors with its bright, bold and extremely risqué script that bursts into life from the beginning through to the finale.
If you are a Rocky Horror Virgin and don't know the story then here's a brief synopsis; newly engaged high school sweethearts Brad Majors (Ben Adams) and his straight-laced fiancée Janet Weiss (Joanne Clifton) are on their way to visit their old science teacher Dr Scott (Ross Chisari) are struck with a flat tyre during a storm at night on a dark unlit road in the middle of nowhere; the only thing in sight is a light shining in the distance from a strange looking castle and obviously they decide to go over and knock on the door to ask for help and here is where they meet Frank-N-Further'(Stephen Webb) , his butler Riff Raff (Kristian Lavercombe), Magenta (Laura Harrison), Columba (Miracle Chance) and a household of wild characters. Innocence is lost and Frank N Furter's castle provides a place for self-expression and a new creation 'Rocky' a stunning muscular man with blonde hair and a tan is made in just seven days and in his seven hours post birth is chased by a transvestite, witnesses a murder, has sex and is invaded by an alien takeover.
With the fabulous original musical arrangement by Richard Hartley the audience is electrified and exhilarated by classics such as 'Over at the Frankenstein Place', 'Sweet Transvestite', 'Touch-a-Touch-a-Touch-a-Touch me' and many more where the audience sing a long and participate making this show a unique cult following and interactive production, even an old critic like myself was up on my feet doing the 'Time Warp' which clearly was a favourite with the audience as they strutted their stuff and gyrated to the rehearsed moves.
Director Christopher Luscombe has done a magnificent job of creating the 2019 version of this sassy, sexy and sensational show whilst Casting Director Stuart Burt has provided the show with the perfect cast of these iconic larger than life characters making it a must see show of the year.
Both Adams and Clifton are sublime with their interpretation and transformation of Brad and Janet from refined, boring and straight-laced to downright wild and uninhibited is splendid.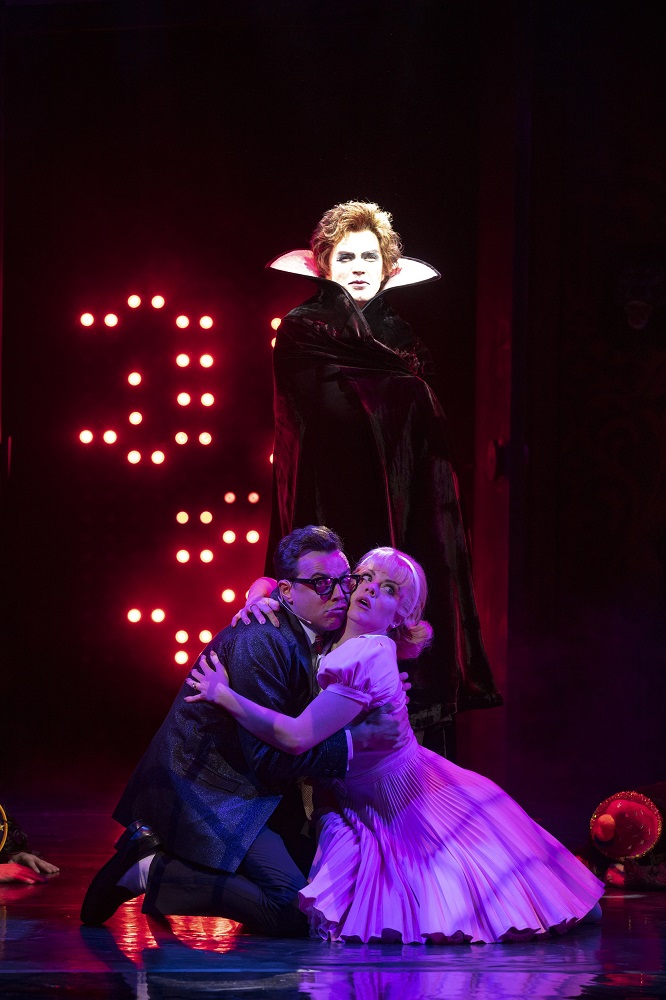 Ross Chisari takes on two roles Eddie and Dr Scott and did an exceptional job especially in the role of Eddie which was originally performed by Meatloaf as this is a hard act to succeed, however he created his own interpretation and executed this exquisitely.
Another double role was performed by the extremely talented Laura Harrison as Magenta and the Usherette who wowed the audience with her awe-inspiring phenomenal vocals as she effortlessly belted out 'Science Fiction - Double Feature' at the start and the final scene.
Credit also goes to Kristian Lavercombe as Riff Raff, Miracle Chance as Columbia, Callum Evans as Rocky with his remarkable physique and his spectacular gymnastic feats, narrated throughout by Beverley Callard all complementing the leads perfectly.
But the star of the show as always was Frank N Furter played by Stephen Webb with his sassy sexy sensational appeal as the ever tremendous Transvestite from Transylvania, Webb strutted his stuff proudly adorning his fishnet stockings, tightly fitted silky knickers, basque, tattoos and pearl necklace. Webb is the successor to a string of high profile professional actors and singers who have captivated the audience by their deviance and decadence over the years and to be honest I have to congratulate him as he was seductive, desirable, alluring, provocative and tantalizing, everything a perfect Frank N Furter requires and he played the role with such determination and was absolutely 'funtastic'!.
Hugh Durrant's set design was fresh and exciting with its reel of film unspooling above the stage which cleverly housed the band, his Hammer Horror gore-infused Gothic interiors with red wallpaper and the monochrome laboratory all creating a distinctive and dynamic acting space for the cast.
The lighting design by Nick Richings enriched the scenes with the use of creative colourful lighting over the stage with its effective trickery, lightning bolts and laser beams.
Sue Blane's costume design ensured the stage was full of sexiness, sassiness, glitz and glamour whilst true to form contrasting with Brad and Janet's vintage formal wear.
Nathan M Wright brings the high-energy score to life with his sensational choreography for the cast as they all appear to be having fun as they oscillate rhythmically following the set sequence of steps whilst singing the catchy lyrics of the show.
The Rocky Horror Show continues to be a crowd pleaser mixing everything a musical offers combined with sexiness, naughtiness and damn good entertainment. Well done to the cast and crew of 2019 tour which continues through the year in various locations in the UK ending in Richmond in November. https://www.rockyhorror.co.uk/tour-dates
Verdict: Rocky Horror isn't for the faint hearted as it's risqué, rude, racy, titillating and outright naughty but so much fun………….
Reviewer: Katie Leicester
Reviewed: 10th January 2018
North West End Rating: ★★★★★