The audience is welcomed to the 'Living History Museum of Hearts and Minds' via an eerie video introduction recording that gave me the same uncomfortable feeling as watching an episode of Black Mirror. Set in the not too distant future, Cuts of the Cloth explores the very real state of Islamaphobia via the experiences of writer and sole performer Hafsah Aneela Bashir.
The concept is brilliant and narrative extremely complex so there is a lot to unpack from the 60 minute performance but we are guided through the nightmarish journey from dealing with day-to-day Islamaphobia on the streets of the UK all the way to her being enslaved in this living museum as an exhibit, her family torn apart, where she is to give seminars on her culture and exemplify 'the Muslim realignment program' targeting radicalisation.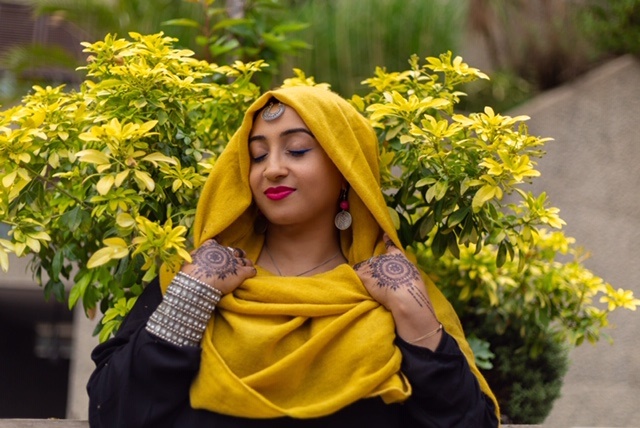 Each of the 'seminars' invokes a memory, through which we are led via a mixture of soundscape, video recordings and a series of objects into Bashir transporting us through each one, sadly tinged with racism at every turn. There is a tale of a holiday to a Greek Island where she is detained, pregnant, after enduring a storm on the sea and I felt seasick myself it was so real and traumatic.
Bashir adeptly tackles these issues, creating a tapestry of modern politics, foreign policy, history and future of war as lucrative business for the west, intersectional feminism, the objectification of women, the refugee crisis and the overarching oppression of Muslims in the west. This is whilst all the time shedding light on Islam as a peaceful religion and giving insight into its practices.
There is a lot resting on the shoulders of one performer, but Bashir maintains everyone's attention throughout, commanding utter silence. There were a couple of very minor technical hiccups that made me think it would be worth a larger team developing Cuts of the Cloth, and it would be worth it – because this was some incredibly important work from Bashir and very smart commissioning from HOME for Push Festival 2019.
Reviewer: Jo Flynn
Reviewed: 18th January 2019
North West End Rating: ★★★★