Jersey Boys the smash hit musical is making its way around the UK and tonight it's The Palace Theatre in Manchester. Opening with a set that looks like the back streets of New Jersey, all metal grills and staircases by designer Klara Zieglerova and a bounding street dance routine, called Ces Soirees that looks more present day with a French rap star and backup group, which was a little confusing.
However this soon changes as you see the shadows of the Four Seasons at the back of the stage. Then what follows for fans is a rollercoaster of hit after hit, 34 I think at last count, of the distinct sound that has captivated audiences of all ages for decades.
Book Writers Marshall Brickman and Rick Elice have put together a unique story as they have listened to each band member's account of the time, which could vary quite dramatically and cobbled it all together, and it works.
Tommy DeVito played tonight by Peter Nash is the wise guy lynch pin of the band. And is played well as the fast talking, quick witted, rough round the edges kind of guy. Franki Valli himself is played by Michael Watson, his voice is astounding and amazingly similar to Valli's falsetto style.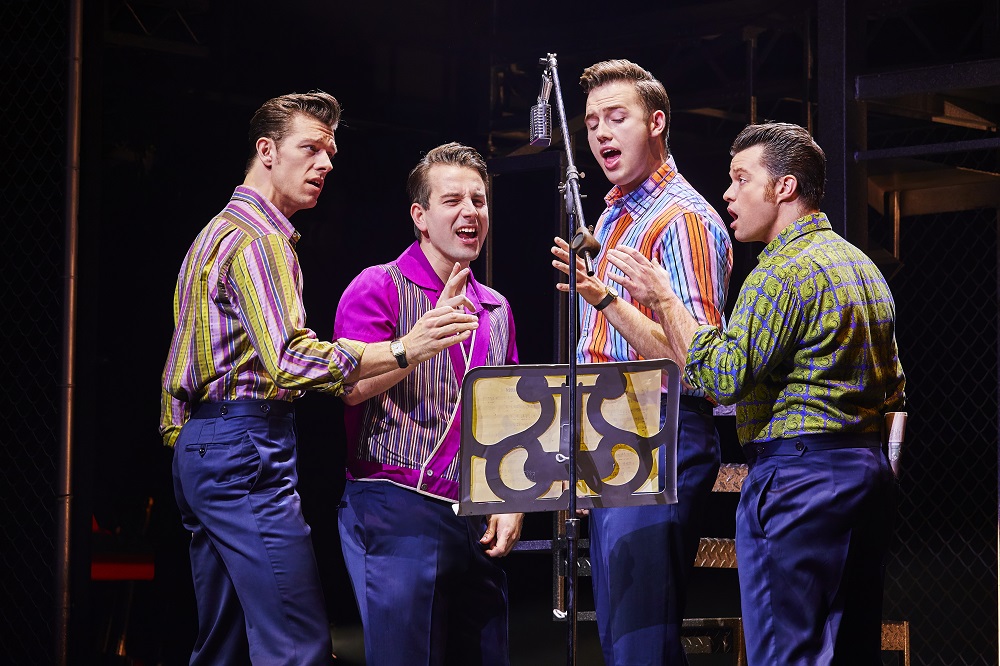 A screen plays at the back of the set that lets you know where the band are in their story. The Silhouette Club and other salubrious joints are named and one wonders how close they are to the real thing, did they actually exist? Props hurtle across the stage as fast paced as the show and the songs. The hectic humour keeps pace too with a real New York attitude. Singing 'My Mother's Eyes,' to one of the mob is a memorable moment.
Bob Gaudio the keyboardist played by Declan Egan really stood out in terms of getting the cheeky character bad boy down to a tee. Just after he comes on stage the band blast out 'Cry for Me,' which is an electrifying point of the night as you get to see them together for the first time it seems. The boys' harmonies are fantastically powerful and the audience can't get enough. Sometimes I felt though they needed a bit more swagger in their characters although the vocals were second to none the eyes of the cast looked a bit blank.
The big numbers are fantastic; Walk Like a Man was particularly good (gold glitter suits and perfectly synchronised moves) and you got to find out the stories behind them. Also it gave a comprehensive understanding of how bands worked in the sixties, with quartets suddenly becoming popular.
Lewis Griffiths played by Nick Massi had the slick moves down and swagger and his character was strong and his baritone vocals brilliant.
One thing you can't take away is you can see why Franki Valli and the Four Seasons' music still delight audiences today and has stood the test of time.
Reviewer: Rachel Foster
Reviewed: 30th January 2019
North West End Rating: ★★★★