I was very fortunate to go along to Home last night to spend the evening witnessing sheer genius!
1927 have developed their own style crafting magical theatre productions incorporating synchronised performance to live music using animation and film with live performers. Their shows have been seen in 40 countries. 'The Animals and Children Took to The Streets' premiered at Sydney Opera House and has been a huge success for them. They are currently working on new productions and aim to stimulate creativity by collaborating with young people.
The play is set in Bayou on Red Herring Street in a tenement block called Bayou Mansions. The name of the building hides the reality of living in this cockroach ridden, sleezy, stinking building occupied by curtain twitching nosy neighbours, perverts and out of control children.
Agnes and daughter Evie Eaves arrive to live in the block with a naivety that makes it inevitable that their outlook on life will be forever changed. Agnes believes in her ability to change the unruly children by making creative pictures from pasta bows and paste! The Caretaker who runs the apartment block is tired of being trampled on by the great unwashed in the building and has been gradually saving his wages each week so that he can buy a ticket out of there.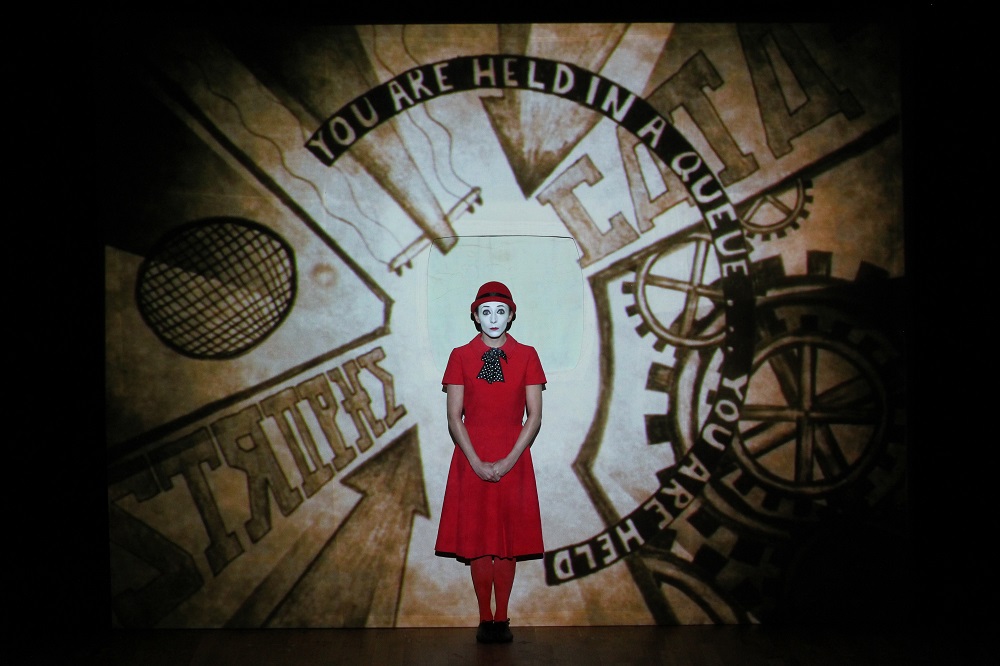 The story unfolds with the absorbing range of characters being performed by three very talented performers, Felicity Sparks, Genevieve Dunne and Rowena Lennon. The ladies with their twitching curtains give us some of the best lines that are laugh out loud funny and the way the characters are incorporated into the animation of the building (designed by Paul Barritt) which in turn delivers rhythmic oratory via the ongoing live music is truly mesmerising and I believe unique to this company.
The demands on the performers are both physical and mental as timing is key to the play's success. Due to their professionalism and the connection with the very clever creativity that has gone into this production it is seamless in its execution.
A great deal of thought has also gone into the costume design by Esme Appleton and Sarah Munroe, it lends itself to the backdrop of the artistry of the scenes.
This play will appeal to all age groups and I am sure would inspire children to become interested in all aspects of theatre and art. I have rarely seen such a well put together piece of theatre that you simply cannot fault. Huge congratulations go to 1927 for producing this masterpiece and I will be interested to see further productions in the future.
This production is being performed at Home, Manchester until Saturday 16th February 2019 and is suitable for children over age 11. I urge you to see this remarkable show as it is not like anything you will have seen before.
To book follow this link https://homemcr.org/production/animals-children-took-streets/
Reviewer: Caroline Worswick
Reviewed: 7th February 2019
North West End Rating: ★★★★★