This piece from late in Arthur Miller's career isn't one of his stone cold classics but even a rarely performed work like this is wiser and more humane than most playwrights can manage at their peak.
This production's director Professor David Thacker, from the nearby Bolton University, formed a close personal and working relationship with Miller when he directed The Last Yankee's UK premiere back in 1993 starring the incomparable Zoe Wanamaker. After that Thacker directed All My Sons, An Enemy of the People and A View from the Bridge for Bolton Octagon so we are in very safe hands here in Miller land.
This four hander revolves round two men visiting their wives in a psychiatric hospital where they are being treated for depression and addiction to prescription drugs. Blue collar Leroy Hamilton is a descendent of the American founding father - now the star of a hit musical - working as a carpenter as he tries to make sense of why his wife Patricia, and mother of his seven children. is in hospital.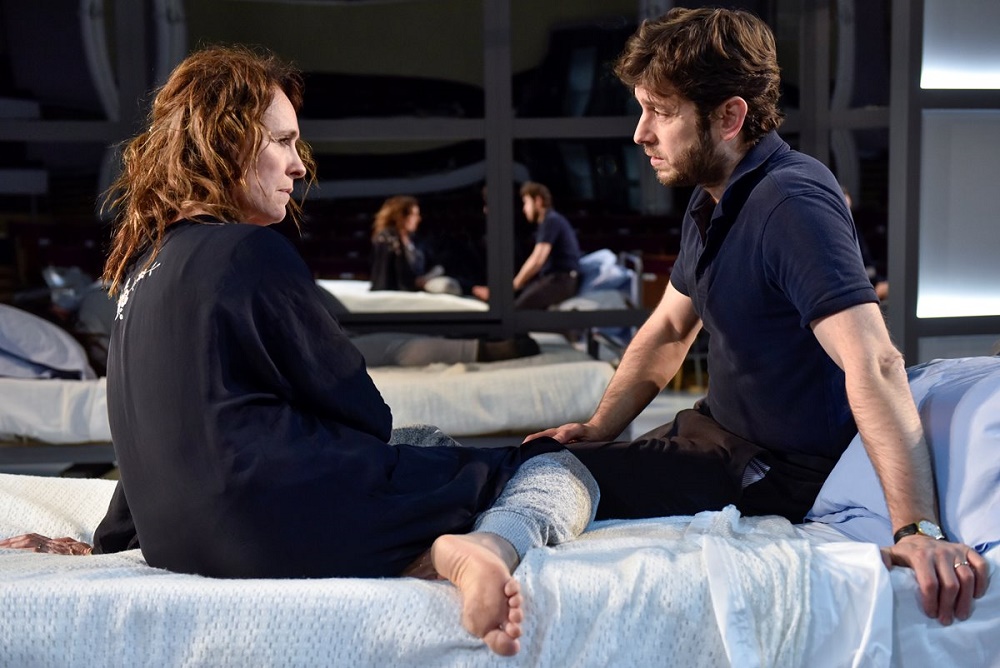 Successful businessman John Frick is also struggling to understand why his wife Karen who seems to have everything she needs is marooned on the same ward as Patricia.
Both men find themselves in the same waiting room in the short opening act as they try to make sense of their new situation. Thacker wisely gives David Ricardo-Pearce as Leroy and Patrick Poletti's John plenty of space to work in a masterclass of writing and nuanced acting, which makes the point that mental illness doesn't care about social standing or wealth.
The institutional feel of this temporary theatre deep in the bowels of Bolton's public library adds to the hopelessness of Ciaran Bagnall's sparse set complete with a reclining patient who says and does nothing throughout.
Thacker has assembled a top quality cast with BAFTA winner Juliet Aubrey playing the spirited Patricia who is coming to the end of her third spell in hospital, and has an important revelation for her husband who is on the brink of giving up. She could have quite easily gone over the top with such a big character, but instead subtly lights the small stage up trying to raise the spirits of the befuddled Karen, and her bittersweet sparring with the equally impressive Ricardo Pearce who finally admits he is struggling to understand her illness is electric. What they discover through Miller's words is that despite depression being the third wheel in their relationship they love each other.
Not so for Karen, and another old hand Annie Tyson brings real depth to this less showy role as her character wanders round in a chemically induced fog, and Miller hints at a greater malaise than depression. When she does a tap dance on the ward for her unsympathetic husband it is full of such pathos and pain it is utterly gut wrenching. Poletti manages to find a sliver of humanity in the self-made, but not self-aware, businessman who is so far outside his comfort zone it is painful to watch.
Miller's greatness is not a word or a pause is wasted. As Thacker acknowledges our understanding of mental illness has changed for the better since The Last Yankee was first performed, which only adds to the power and grace of this version that will strike a chord with those who have lived with depression, or anyone like the desperate husbands who has tried make sense of something that is simply out of their control.
The Last Yankee is at Bolton Library Theatre until Saturday 16th March. To book www.boltonoctagon.co.uk or 01204 520661
Reviewer: Paul Clarke
Reviewed: 4th March 2019
North West End Rating: ★★★★★