For over a century people have been coming from China to make new lives in the UK and From Shore to Shore is their story.
Mary Cooper spent two years talking to the British Chinese community in West Yorkshire to fashion this interlocking tale of three people who came to Leeds through very different routes and have come to this restaurant to share their stories.
For decades the venerable Ozzie Yue has been almost singlehandedly flying the flag for British Chinese actors on our TV screens, and plays community elder Cheung Wing who survived the privations of Japan's invasion of China in 1937 eventually migrating to open a Yorkshire takeaway.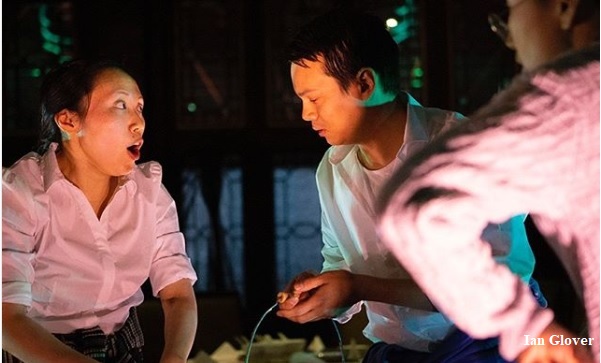 He uses all those decades of rich experience in a dignified and subtle performance tracing the journey of a self-made man who lost everything in a war before being enslaved and came to these shores wanting something better for his children who all went to university. As he drops the line 'I know what it is be starving so I know what it is to fed' in one Britain's best Chinese restaurants it is one in the eye for those who ignore the sacrifices migrants make to create new lives.
But tonight this multi lingual production is also a chance for some of the best young British Chinese actors to showcase their talents under the guidance of experienced director David K S Tse.
The cast perform in the centre of a dining room surrounded by an audience with bellies full of delicious Chinese soup, and Luna Dai steps into this unforgiving arena as PhD student Yi Di fleeing her demanding parents back home. She skilfully shows the pressures created by China's One Child policy, and her struggle to work out if she is Chinese, British or something else. There has been mutterings that setting this in a Chinese restaurant panders to cultural stereotypes, but Cooper's stories make the point this community is now so much more now as the second and third generations take a different route to the original migrants.
Michelle Yim convinces in the tricky role of Leeds born and bred Mei Lan sent to live with an unforgiving grandmother in Hong Kong before coming home to deal with racism, domestic violence and her mother's gambling addiction.
The supporting cast effortlessly switch multiple roles bringing some light and shade to the stories, with Matt Lim particularly impressive as the young Cheung Wing and Yi Di's gentle husband Bob.
From Shore To Shore does raise the question why we so seldom see British Chinese actors in high profile TV roles, and judging by the firepower on show here there really is no excuse to keep ignoring our third biggest BAME community.
For some in this country it us all closing our borders and fearing the 'others', but From Shore to Shore is a timely reminder that xenophobia only corrodes the diversity that makes us great.
Reviewer: Paul Clarke
Reviewed: 12th March 2019
North West End Rating: ★★★★