Very often I find that going to see the stage play that's been adapted to a popular film is usually far better than the film; there's more emotion and I find it easier to understand a character when it's right there in front of me; this is definitely the case for Glengarry Glen Ross which after sell out runs on the West End, this Sam Yates' production of David Mamet's Olivier Award-winning play has returned for a UK tour and I was lucky enough to catch it at Manchester this week.
The play set in Chicago follows four real estate salesmen who are always in competition with each other for higher bonuses and access to high profile clients, it's a ruthless cut throat world and their desperation and willingness to do whatever it takes is obvious from the very beginning, this then leads to a web of lies tumbling down before your eyes and although the first half of the show is slower than some would like set in a Chinese Restaurant but it gives you the set ups and different working relationships between each character; it also sets you up for a stellar edge of the seat experience in the second half when you find yourself in the office where all the lies and deceit rear their ugly head and their worlds come tumbling down, it's truly gripping!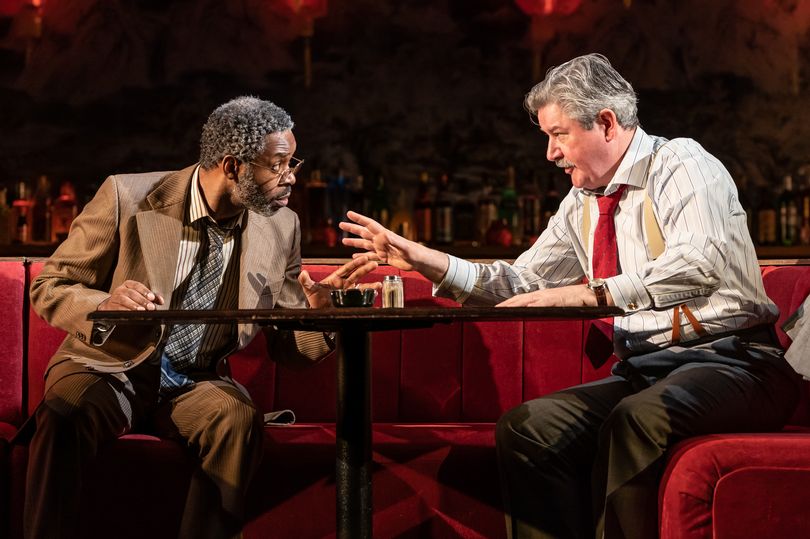 In a dialogue-heavy play like this one which script can't be faulted, the cast are always going to be one of the most important factors and they deliver in bucket loads.
The lead 'Ricky Roma' is played by Nigel Harman and although he's not got the most convincing American accent throughout - he plays the character to perfection in everything else.
Shelley 'The Machine' Leven is played by Mark Benton who plays a salesman you almost have pity for, the talented George Aaronow is played by Wil Johnson and Dave Moss is played by Denis Conway.
Benton for me was one of the best performers on the night with an outstanding performance.
The staging is as you would expect from a production that had a West End run with lots of attention to detail and an amazing transformation from Chinese restaurant to ransacked office in the space of the interval.
This production of Glengarry Glen Ross is so captivating and full of emotion; it could be the best production yet!
Verdict: It's an easy sell with such a talented cast!
Reviewer: Max Eden
Reviewed: 25th March 2019
North West End Rating: ★★★★