Ever since Artistic Director Sarah Frankcom announced that the Royal Exchange would be staging what many, including me, consider to be the finest piece of musical theatre in the entire canon, there has been a sense of frantic anticipation in the Mancunian air. The entire seven-week run had sold out before even a preview performance was staged, and those who are fortunate enough to have tickets should prepare for an evening that will leave them breathless and emotionally raw by the end.
I will dispense with a plot summary, there cannot be many people with even a passing interest in musical theatre who are not familiar with this tragic 'Romeo & Juliet' love story, set amongst the squalid tenements of post war New York.
The Royal Exchange's famous round stage is wide and bare on arrival, made bigger by the removal of the front three rows of seats. Denuded of any props, the set (by Anna Fleischle) consists only of high metal frames with transparent walkways, wheeled onto stage or lowered from the central roof space.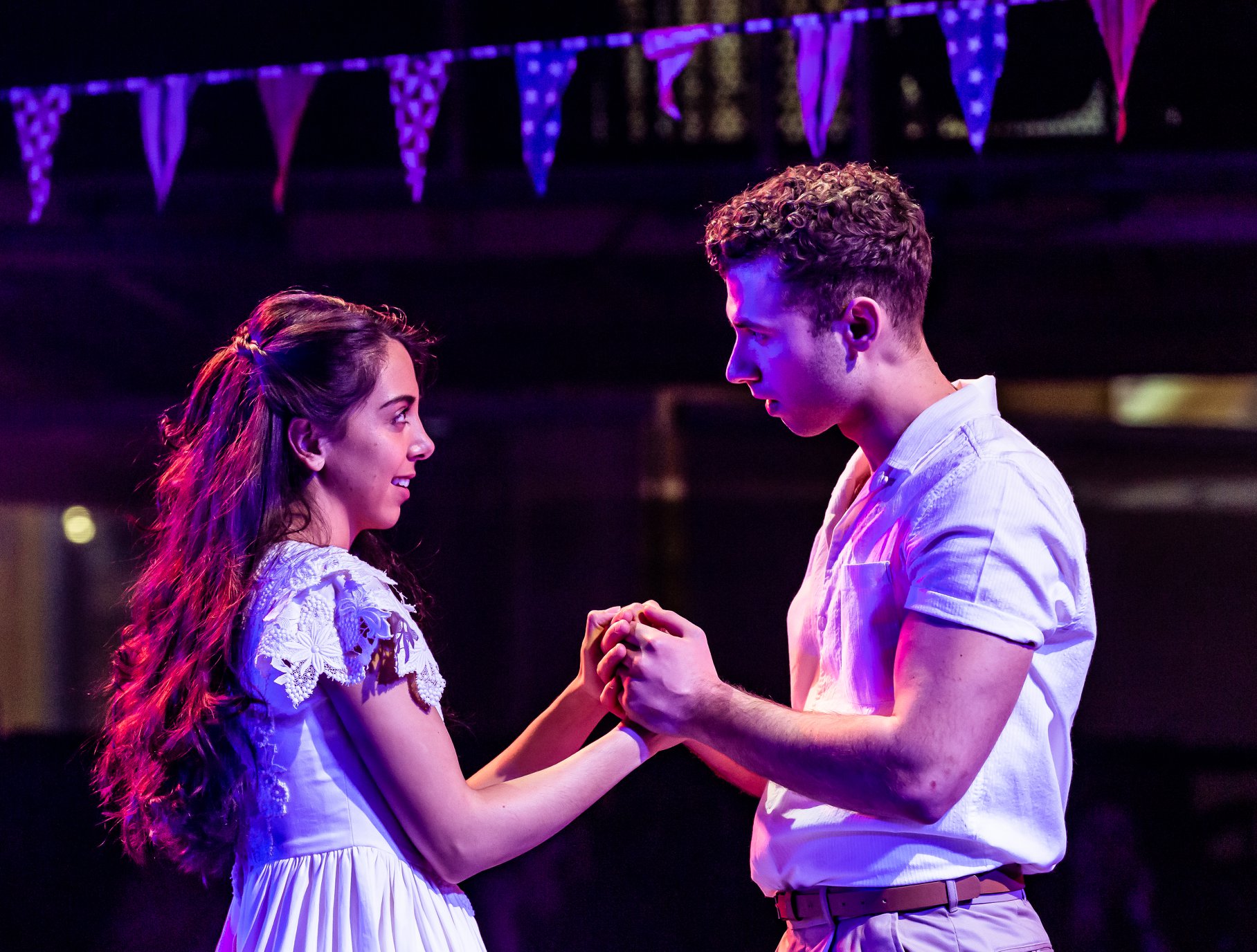 The simple staging allows clears site lines throughout the intimate space, but more crucially allows room for the cast to move freely and quickly in a show to which choreography is central. Choreographer Aletta Collins has abandoned the original dance sequences of Jerome Robbins in order to fit this unique space and has succeeded beyond measure in creating a freshness which chimed perfectly with the energetic young cast. Classic musical theatre standards such as 'Cool' were given a muscular desperation, with 'Somewhere' beautifully re-imagined as a plaintive immigrant plea by the entire ensemble. Balletic arcs are mixed effortlessly with athletic fight scenes which felt all the more visceral in such an intimate space.
An eleven-piece band led by Musical Director Mark Aspinall played the famous Bernstein score to perfection, allowing the delicate lyricism of Sondheim to shine through and bringing the audience unanimously to its feet at the finale. The well worn familiarity of the classic Laurents/Sondheim/Bernstein story, was mitigated by the well judged direction of Frankcom, adding clever pugilistic humour into 'Officer Krupke' and both elegance and menace into 'Dance at the Gym' and 'Rumble'. Frankcom has added 'West Side Story' to the long list of American classics she has produced at this theatre, she will be sorely missed when she departs Manchester in the Autumn.
Tony (Andy Coxon) and Maria (Gabriela Garcia) are ideally cast as the star crossed lovers, with Garcia's frail physicality in stark contrast to her soaring soprano voice and wonderful in duet with Coxon during 'One Hand, One Heart'. Anita (Jocasta Almgill) has a knowing, sultry sexiness and adds volcanic anger during 'A Boy Like That' ; Michael Duke brings pulsating raw energy to the role of Riff before his untimely demise. However, this is a special piece of theatre because every member of the cast inhabits their role with clarity and conviction; the Royal Exchange is an arena that tests an actors ability to maintain focus, and I have rarely seen such meticulous work by a whole company.
From the opening bar, this is a perfect piece of theatre and I loved every second. It succeeds in adding vibrant new choreography to a sublime score and is performed with passion and conviction by an immensely talented young company. I'm glad I've already booked to see it again, it's undoubtedly a highlight from this, or any other, year.
Reviewer: Paul Wilcox
Reviewed: 11th April 2019
North West End Rating: ★★★★★