When I think of iconic 80s movies; one flick is always near the top of my list - that film is Dirty Dancing and now I don't just have to keep playing the VHS on a loop as it's now been adapted for the stage and there's no excuse to stay in the corner because it's smoking hot and full of passion.
Kira Malou plays Frances 'Baby' Houseman with an almost nostalgic quality and fully embodies the character we all know and love from the film, Malou is joined by Michael O'Reilly as Johnny Castle who each night has to fill the boots of the amazing Patrick Swayze and he does just that. O'Reilly has the character down to a tee with a stellar performance which left many in the audience swooning for him very early on in the show, and the screams during the topless scene must have been heard at the Take That Concert up the road at the arena!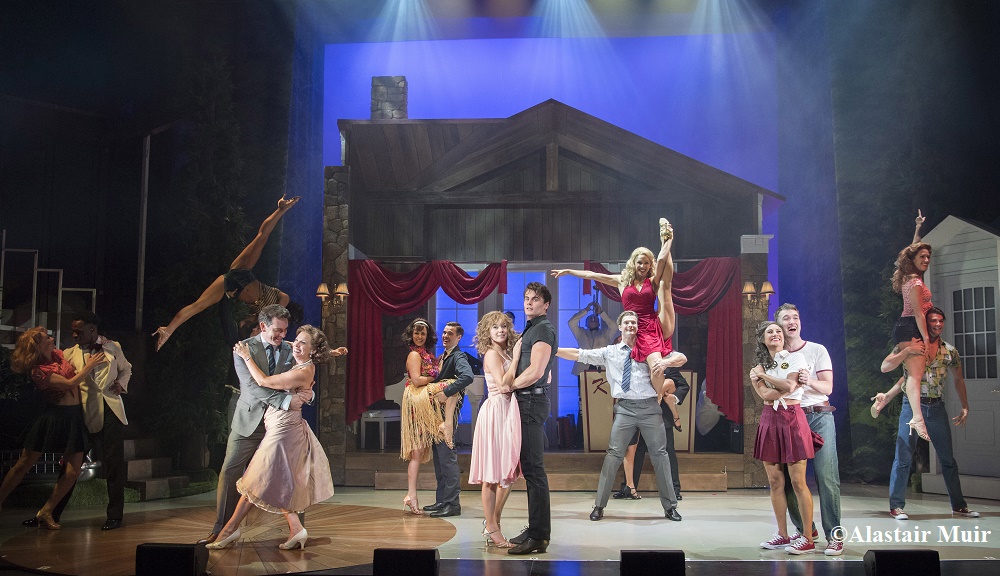 This Dirty Dancing stage adaptation stays very close to the film in terms of dialogue and scenes but is tweaked by writer Eleanor Bergstein to get the most out of the story being told on the stage as opposed to the big screen, it's adapted seamlessly and is never clumsy or cumbersome like some film to stage adaptations I have seen, it's slick and very easy to follow.
The stage design by Roberto Comotti is quite simplistic with revolving scenes moving in and out and it uniquely sets the scene of a 60s Summer Camp and lets the cast be the stars of the show, both Malou and O'Reilly are part of an outstanding talented cast which also includes the extremely talented Simone Covele as Penny, Colin Charles as Singer Tito and Alex Wheeler and Sian Gentle-Green as Billy and Elizabeth who are really noteworthy in this cast.
One of my favourite bits about the movie was always that memorable soundtrack so I was so happy to hear all the songs we know and love performed in the stage show, numbers like 'Baby Do You Love Me', 'Hungry Eyes' and of course, no Dirty Dancing story would be complete without '(Ive Had) The Time of My Life' and not to give anything away about being in corners or anything but the accompanying routine on stage to this is flawless and is sure to give you goosebumps.
And that for me is what makes this production so entertaining and passionate - it's the dancing, the talented cast deliver awe inspiring routines one after another which are better than you'd find on any series of Strictly Come Dancing, plus don't even get me started on the chemistry on stage between Baby and Johnny, it's insatiable and such great castings!
A lot of thought, energy and time has clearly gone into this stage adaptation and because of that - they've brought Dirty Dancing to the stage packed full of energy, talent and razzmatazz. It's electric from start to finish.
Verdict: Go have the time of your life, it a lot of Fun!
Reviewer: Max Eden
Reviewed: 23rd April 2019
North West End Rating: ★★★★★