Originally written as a vehicle to display the talents of Jane Horrocks, "The Rise and Fall of Little Voice" is no easy piece of theatre to stage requiring as it does an actor who can mimic famous singers, more mood changes than a room of hormonal Kardashians and a set you have to set on fire every night.
Well, two out of those three is no mean achievement for Guide Bridge Little Theatre and they almost pulled them all off. Kate Shaw in the titular role, is an actor with a deft touch most of the play, but a flash of anger when required. Whether it was a conscious decision not to try to impersonate the required stars too closely, I know not.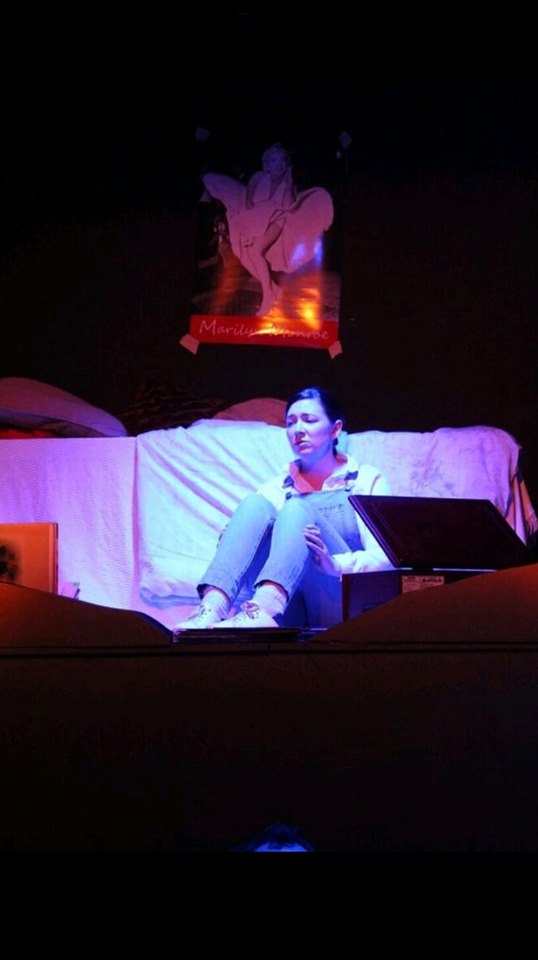 Part of me thinks they did try because there was a very creditable Lulu impression and a good Gracie Fields, the rest, well, the songs tell you what you need to know. Part of me thinks they consciously didn't go for accuracy because of the lack of any physical style (a wave of the arms, the point of a finger usually achieves a good Bassey in my experience).
Kevin Siddall is obviously an actor of great experience who plays the backside off Ray Say the sleazy impresario. Great comic timing and poignancy when trying to win LV round. Mike Lawlor as Mr Boo and Jennifer Saville as Sadie both contribute to the production but I take issue with the portrayal of Billy. By giving him an awkward stance for quite a long time in his opening appearance the part was presented as, well, to use an old phrase "not all there". This is not the case. Billy, like LV is different to the people that surround them, but they know their own mind LV in the love of her father and her records and Billy in his love of the lights. Matthew Hutchinson had quite a lot of work to do later in the play but he didn't miss a beat.
It is however to Stella Hutchinson as Mari Hoff the evening belongs. Rarely have I seen an actor manage the words Jim Cartwright gives her with such mastery. There is an almost Shakespearian rhythm to the characters speeches and in the hands of Ms Hutchinson the colloquialisms make perfect sense. She truly does chew the scenery, and at times spits it out and goes back for more.
There were some jolting sound and lighting cues but the denouement was ingeniously achieved and the audience in the full house, clearly had a good time.
Reviewer: Phillip Edwards
Reviewed: 22nd May 2019
North West End Rating: ★★★★