In an era of Pride festivals and open acceptance of gay marriage, we are reminded that society has not always been so open minded.
'All I See is You', is set in 1967 when gay and bisexual men could face up to a maximum of life in prison before homosexuality was de-criminalized. Now any historical homosexual crimes can be pardoned. It took until the 2000's before gay men could serve in the Armed Forces, adopt children or get married (still not allowed in Northern Ireland).
Bobby is a working-class lad working in Woolworth's when he meets Ralph who has hopes of being a teacher. Bobby has always known he was gay but tries to hide it. Ralph is less accepting of his 'condition' but when he meets Bobby, he is pierced by cupids' arrow and he can no longer turn away from his feelings.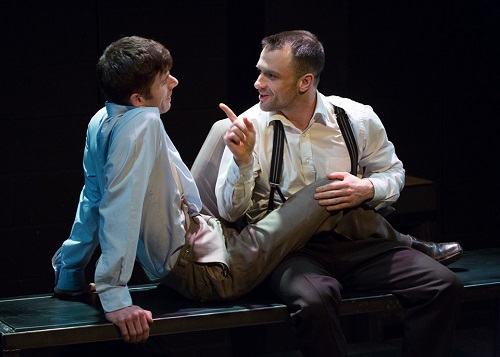 The script so aptly demonstrates the torment of unrequited love during the 1960's when this kind of love was not accepted. The reaction from their own families, work colleagues and peer group as they struggled to come to terms with their own homosexuality and the attitude of others.
The whole play was performed on a bare stage, so the script and performances had to stand up on their own. This topic could quite easily become over-sentimental but there was some very well-timed comedy interspersed which gave light relief.
The performances from Ciaran Griffiths (Bobby) and Christian Edwards (Ralph) did not falter. They held the audience with their very likeable characters allowing the story to flow – we laughed, felt their pain and sadness, but also shared the sheer joy of their love and desire for each other.
The excellent direction from Ben Occhipinti meant that the tension and feelings of the characters never left the stage. The use of lighting on the otherwise bare space helped to punctuate the scenes moving between individual soliloquies seamlessly. 60's music helped to remind us of the era of the play with some smooth dance moves from Ciaran.
Writer Kathrine Smith has skilfully communicated this heartfelt story and is a poignant aide-memoire. Her comedic timing and the excellent casting make this play a sheer joy to watch.
Once again, the Hope Mill Theatre have played host to another wonderful production. May they continue in this vein!
The play is touring the North West and runs from Monday 27th May 2019 to Saturday 1st June 2019 at Hope Mill Theatre. See the Hope Mill Theatre website for tickets https://hopemilltheatre.co.uk/events/all-i-see-is-you/
Reviewer: Caroline Worswick
Reviewed: 27th May 2019
North West End Rating: ★★★★