It's Big, It's Bold and it oozes nostalgic fun from start to finish!
Club Tropicana - The Musical stopped at Manchester Opera House and dazzled audiences with a fun filled show which is not to be taken too seriously; quite like the 80s itself.
Set in a holiday resort in Spain, the musical follows the guests and staff of the infamous Club Tropicana as all sorts of wild and over the top capers always occur; especially when a runaway bride appears at the Check in desk to get away from her wedding drama only to discover her jilted groom is staying at the same hotel as well.
The staging and set takes us right back in a heartbeat with dazzling neon lights and colours which blend in with your leg warmers getting you all set for an immersive experience back in time.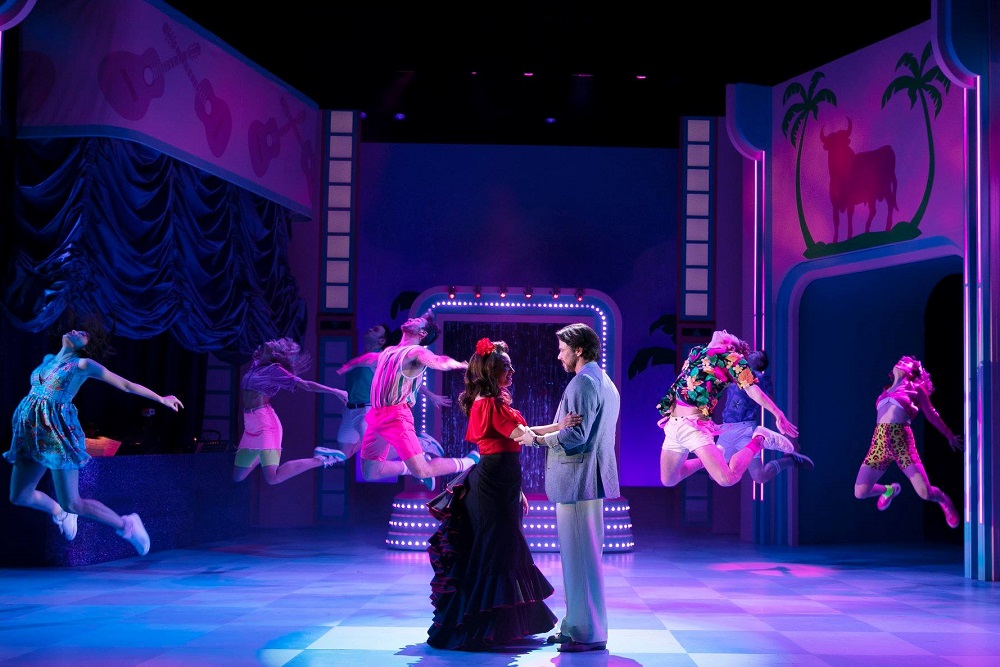 The script could have been written back then too as it's very cheesy but yet its packed with lots of gags; most hit the spot, a couple wouldn't have made it into a Carry On movie but somehow manages to work in this setting. Writer; Michael Gyngell has also careful woven a selection of the best hits from the decade into the show including big feel good songs like 'Girls just wanna have Fun', 'Fantastic Day' and 'Just Can't Get Enough', all performed on stage with lots of energy, big smiles and great dancing routines. Choreographer; Nick Winston manages to capture the era so perfectly in the routines; it's authentic and is sure to make you reminiscent of your own 80s memories, with the cast putting everything into each number!
That's why the star studded cast for me are what make this show; Joe McElderry as the overly enthusiastic Club Rep; Gary leads the group showing audiences that he's not just a great singer; he's also an impressive comedic actor with lots of on stage energy. Karina Hind and Cellen Chugg Jones play the 'will they won't they' bride and groom; Lorraine and Olly with superb stage presence and on stage chemistry which befits their characters.
The roles of the Hotel staff provide great sub plots and keep you entertained even if the plot isn't the juiciest. Staff members Robert played by the talented Nye Rees and Serena played by former Sugababes Singer; Amelle Berrabah have a secret crush on each other which plays out throughout and then there's the Spanish Housekeeper 'Consuela' played by the fantastic Kate Robbins. Kate brings the biggest laughs on the night with her portrayal which features a raft of 80s impersonations from everything from pop stars to Prime Ministers - it's a joy to watch Robbins who steals the show with a truly stand out performance. It's my first time seeing her perform and here's hoping for many more, a true professional!
Club Tropicana is everything you want out of an 80s Musical - it's got the feel good soundtrack, the cheesy script and a cast that work their socks off to deliver a fun filled show, it's no Shakespeare, but he's not really what the 80s is about, this however is the ultimate 80s experience.
Verdict: The Ultimate feel good 80s Experience, where's my leg warmers?
Reviewer: Max Eden
Reviewed: 3rd June 2019
North West End Rating: ★★★★★