Many people are searching for the yellow brick road, a magic path out of the heartbreak of their lives. The idea of a magical escape is pervasive and if your life is full of darkness and danger then it becomes a dream, something on which to hold.
The Wizard of Oz threads its way through this play. The song, 'If I only had a brain' plays at the start and it is referenced in different ways throughout. Dorothy's magical land is a place of escape for sisters Pink and Rolly.
At the start of the play pregnant Rolly has just come out of prison and has come to live with her sister. Pink's bedsit is made up of a mattress, ripped sofa, a battered telly and a CD player to blast out The Spice Girls. The floor is covered with hay that could be used to create a scarecrow.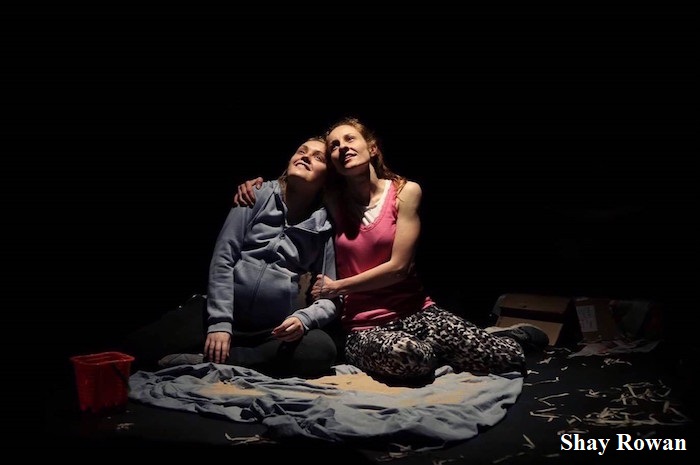 They live on the margins of society, taking drugs, trying to find a way. It is kitchen sink drama without the kitchen. It reminded me of Mike Leigh and I was told the play was originally conceived, like his films are, through improvisation.
This two-hander worked thanks to sparky dialogue and sparkling performances. Writer Vivienne Franzmann cleverly created a unique language for these women. They created a way of speaking in their own little world. Children are pups, they don't say, they tell, and they swear a lot. This is not a criticism, if they didn't it would be false, and this play is true.
Liz Simmons plays Pink with fizzing intensity. Her portrayal of this damaged woman is so real and so moving. The character is in search of a home and she was able to give her a strength, a defiance, despite all the things life had thrown at her.
Rolly, played by Stacey Harcourt, goes on a journey through the play. She is like a child at the beginning, wanting to learn and become something. At the heart of this performance is an emotional intelligence, a focus, that pulled you in with its honesty.
The director, Kim Burnett, gave the piece pace and verve. She clearly realised that the play needed humour so that the light could highlight the shade. Two handed plays are difficult to stage. It is hard to maintain the energy with just two characters and it is a credit to the director and the actors that this play never dragged.
What struck me whilst I was watching was that this play is a political play without being overtly political. At its heart it is a human drama about lost souls looking for escape. Yet you know that lives are lived like this and yet they remain hidden. It is wonderful to see a play that puts the outsider, the marginalised, centre stage.
This is thought provoking production is well worth seeing.
Somewhere over the rainbow way up high...
Reviewer: Adam Williams
Reviewed: 25th June 2019
North West End Rating: ★★★★