Z-Arts tonight welcomed back Manchester Musical Youth for their traditional July offering which this year is the classic Oliver! I cannot imagine a better show for this company to take on with their larger than most casts, and they did not disappoint.
I won't bore you with the storyline, I have yet to meet anyone who hasn't heard of Oliver! This production was cast perfectly with some superb partnerships as well as a few stand-out performances.
First up was Mr Bumble (Charles Edwards) and Widow Courney (Sarah Barron) who brought comedy to their roles I have not seen before in previous productions of Oliver. They bounced so well off each other and had the audience in fits of laughter during their parlour scenes. Likewise, Harry Warburton and Mio Serracino-Inglott as undertakers Mr and Mrs Sowerberry has superb chemistry during what can be described as the slapstick scene of the night enriched by Joe Atherton's performance of Noah Claypole.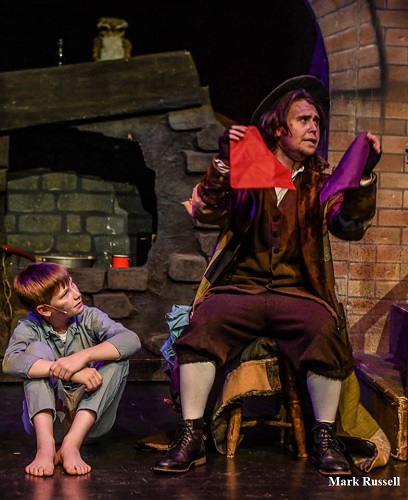 Taking the title role the aptly named Oliver Lamont portrayed the innocence we have come to expect from Oliver and his interactions with Reuben Williamson as Dodger were convincing. Both have superb voices shining in their respective solo numbers.
Dale Porter as the menacing and unstable Bill Sykes was quite honestly frightening every time he stepped onto the stage. Louise Gamon as Bet gave a great supporting role alongside Nancy.
There were two stand-out performances tonight I cannot fail to mention. The first being Max Lawrence playing a role that could have been written for him, Fagin! It is clear Lawrence has worked hard on the characterisation of this part with the flexing of his fingerless gloved hands and facial expressions. Not once did he slip out of character, even when stood in the shadows. A truly superb performance.
For me however, the show stealer tonight was Lucy Johnson as Nancy. With killer vocals and convincing emotions ranging from pure joy to horror she lit up the stage and consistently gained the biggest ovations of the evening. Her performance of 'As Long As He Needs Me' was worth the ticket price alone. I will be watching out for Johnson in the future, highly impressive and memorable and surely destined for the professional stage.
As with all Manchester Musical Youth productions the ensemble numbers did not disappoint. With the plentiful cast they managed to recreate the hustle and bustle of London, especially in the 'Consider Yourself' and 'Oom Pah-Pah' numbers. A few cast who caught my eye in these numbers were Belle Parr, Caitlin Reeves and Leela Malan to name just 3.
The staging was simple but effective with smooth transitions between scenes and some good lighting. I would have like to see the backcloth lit more during the daytime scenes as it felt a little left out at the back of the stage.
Director Dave Holden has delivered a good solid show here which the cast seemed to be enjoying throughout. Add this to the superb 12 piece band housed behind the stage under the usual competent direction of Kimberly Holden and the slick choreography from Sarah Binns and Sarah Bartlett and you have another MMY success.
Oliver plays at Z-Arts until Saturday and you can grab the last tickets here https://www.z-arts.org/events/oliver/, this production will leave you wanting more!
Reviewer: Paul Downham
Reviewed: 17th July 2019
North West End Rating: ★★★★