Associate writer Sarah Nelson first penned 'PROM! The Musical' back in 2010 for Oldham Theatre Workshop's youth group, and it has been revived for 2019. With original music by James Atherton to accompany Nelson's quirky premise, the show garnered much acclaim. I was lucky enough to watch the show, featuring another stellar young cast on the opening night at Oldham's fabulous Coliseum theatre.
There's nothing like seeing a brilliant piece of new writing and this performance just blew me away with its fresh and vibrant energy, not dissimilar to how I felt when watching SIX the Musical for the first time in Edinburgh. This musical is begging to have commercial producers take this show on board as it will be a hit wherever it goes.
Set in two schools, in parallel worlds, 'PROM!' is a re-telling of a well-known fairytale and blends the musical styles of High School Musical, Harry Potter and Everybody's Talking About Jamie, to create an upbeat explosion of magic and music on stage. Accompanied by a handful of professionals, the fifty-strong cast were incredibly talented young performers, who created an extremely slick production quality.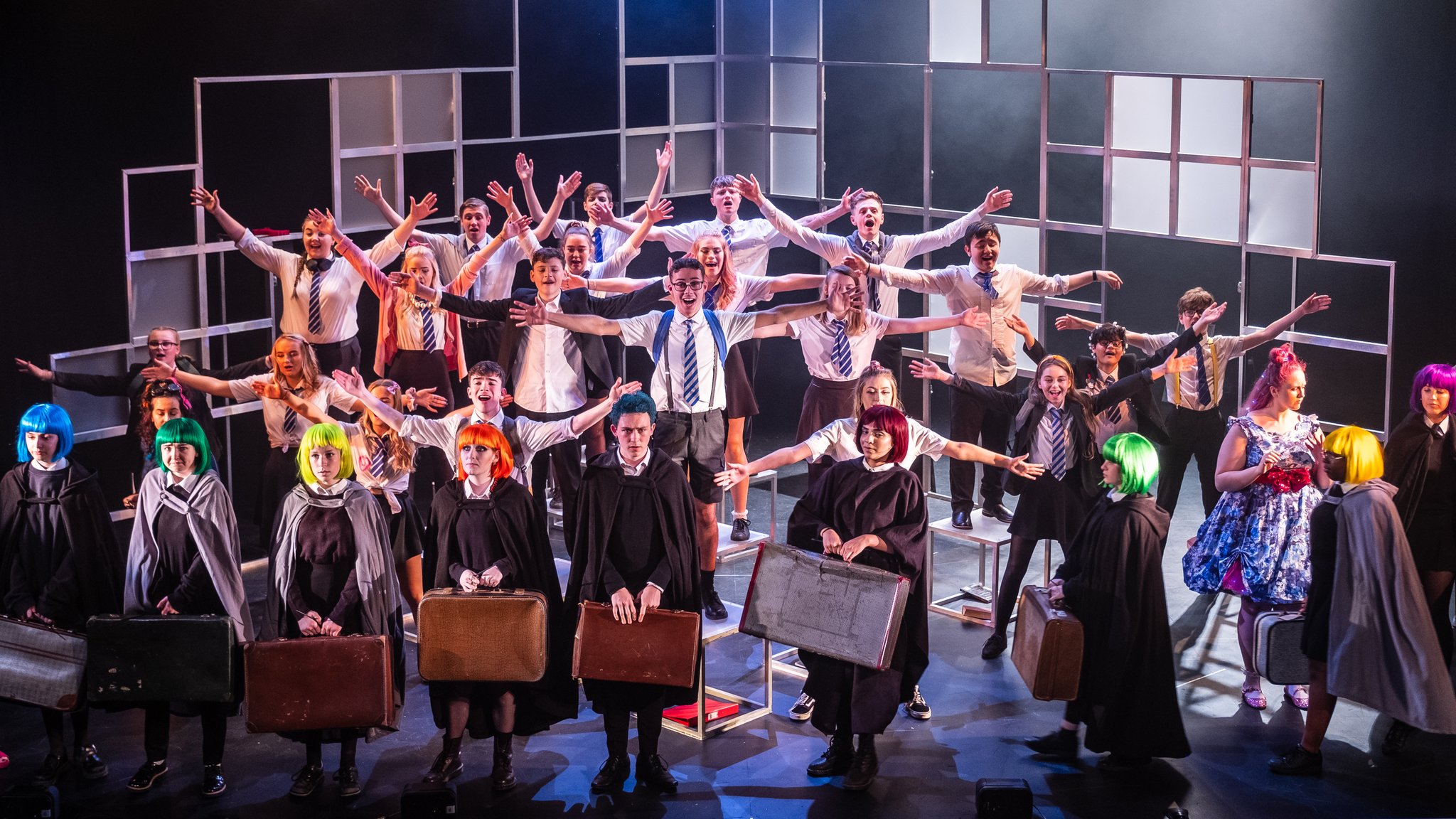 The elements of High School Musical which were prevalent throughout were the school groupings: every school has them, from the princesses (aka the Extensions) to the nerds (The Dweebs). These cleverly created their group dynamics, whilst sustaining effective individual characterisations and there wasn't a performer on stage who dropped their presence or energy levels throughout the entire show (which was a lengthy 140 minutes, but it flew by). Noteworthy mentions of performers must go to Millie Gibson and Ella Marshall, as the horrible sisters Lisette and Noushka. With brilliant timing and characterisation, I hated these horrible sisters . . . and that's exactly what they were looking for!
Leading the students of Delawick Academy as the unassuming heroine of the story was Esther, played by Georgia Conlan. Conlan has the voice of an angel and carries a hefty proportion of the musical numbers in the show but one of my favourite moments was her first song about her father. Conlan is certainly a name to watch in future and proved very early on in this production that she is a brilliant young performer with such empathy for the role, but just got stronger and stronger as the story unfolded.
Artistic Direction of this production by James Atherton was another element I adored. The set design featured an imposing silver and white cubist-style backdrop and the cast were choreographed to manoeuvre cubes around the stage to cleverly create locations from the prom dress shop to the classrooms of both high schools. Choreography from Atherton and Romina Thornton ensured everything about the use of the stage and the confidence of the cast in its use, created a skilful professionalism throughout. The lighting rig was also better than I have seen in most provincial theatres and I was really impressed by the impact of this on the production quality as a whole. One of my favourite moments using elements of design was the dramatic arrival of the students from the magical world of Defixus Academy, into the real world of Delawick. The choreography and lighting of this sequence was wonderful.
As much as I wax lyrical about the production, once again, my bugbear in youth theatre productions is vocal projection and the use of radio microphones. This production sadly didn't escape this problem, with missed cues and some quieter voices difficult to hear but I'm hoping this was just opening night teething problems. This production really is worth seeing as not only is it brilliantly written and produced, these young performers deserve every accolade they can get. PROM! The Musical continues until Saturday 27th July.
Reviewer: Johanna Hassouna-Smith
Reviewed: 24th July 2019
North West End Rating: ★★★★