This is my third time watching the inspiring tale of legendary Yorkshire cyclist Beryl Burton but a more stripped-down version does breathe new life into Maxine Peake's words.
Peake started her career in the Octagon's Youth Theatre, and she was in the audience tonight, so no pressure at all on the four strong cast who as they note are telling the story of probably the greatest British sportsperson you've never heard of.
A cast that are not only expected to act and cycle on static bikes recreating Beryl's greatest races, but drag all their props on and off the bare stage of the cosy Library Theatre, which is one of the Octagon's temporary homes as it completes a multi-million pound refurb.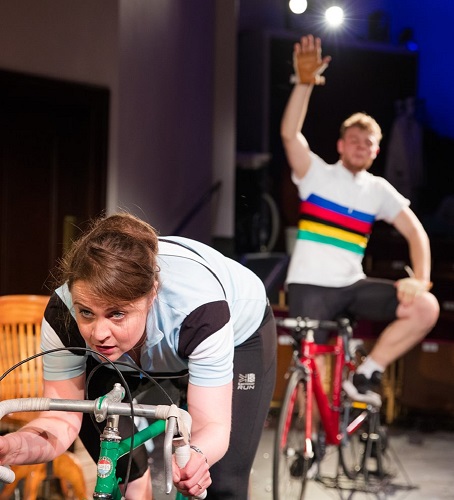 Here's some facts about Beryl – best British all-rounder for a staggering 25 successive years, seven world titles and when beating all the men in a gruelling 12 hour road race set a record that stood for 50 years. And all achieved without any of the high-tech bikes, clothing, corporate sponsorship or energy supplements of today's star cyclists, as we find out Beryl riding a heavy road bike used cold rice pudding in a baby's bottle as her energy boost.
But Peake is also interested in exploring an intelligent woman who was struck with St Vitus's Dance during her 11 plus exam harnessing that disappointment, and her obsessive competitive streak, to as she says 'make her mark.' There is doubting Peake's class as an actor, but she is a good wordsmith leaving plenty of room for the audience to decide if Beryl was getting on her own back on the system, or was a supremely driven competitor backed by her loving husband/mechanic Charlie who just would never give up.
Former RSC director Kimberley Sykes cleverly uses the intimate space introducing contemporary music, and including the audience in the action. One of two of the meta in cast jokes and sight gags should have stayed in the rehearsal room, but she gives her cast plenty of room to develop each of the many characters they have to play.
Vicky Binns brings all her years on the Weatherfield cobbles to bear capturing the light and shade of the huge sacrifices this often difficult competitor was prepared to make, and expected others to do too. Her cycling technique is pretty believable too. Binns has genuine chemistry with another old hand Chris Jack as her soulmate Charlie who injects warmth and humour into a decent man ahead of his time.
I was surprised to see this was Matthew Heywood's professional debut as he was assured and funny in his wide range of supporting roles. He is certainly one to watch for the future working well with the more experienced Flora Spencer-Longhurst, who neatly takes Denise Burton from beloved only child to a fierce rider who eventually beats her mum in a road race causing national scandal as Beryl refuses to shake her hand.
In the modern age Beryl Burton would be a household name living in a mansion rather than her life back in the sixties and seventies as a tough farm labourer who was so hard up that she had to ride her bike from her terrace house in Morley to take part in competitions in London.
Beryl never won an Olympic medal as criminally women were not allowed to ride in the games until 1984, when she was 47, although Vicky Binns makes you think she would probably had a chance of a medal even at that age such was her will to win.
Beryl is Bolton Library until Saturday 19th October. To book 01204 520661 or www.octagonbolton.co.uk
Reviewer: Paul Clarke
Reviewed: 23rd September 2019
North West End Rating: ★★★★