The term regeneration has predominantly positive connotations, summoning up images of gleaming skyscrapers and pristine townhouses replacing decrepit terraces and run down tower blocks. But what happens to the displaced communities that are left behind in this rush towards gentrification? With the skyline of modern Manchester cluttered with cranes and developers eagerly swallowing up all available space, 'Tinned Up' is a timely and humane examination of the cost that the drive towards profit extracts.
Brook Street on the dilapidated Langworthy Estate in Salford is one such community; home for over 40 years to Shirley (Karen Henthorn) who has watched all her friends and neighbours slowly disappear until she alone remains, surrounded by empty houses and the metal shutters of the title. She is fighting a battle on two fronts with the council, firstly to retain the right to stay in her home as developers move in, but also a wider community battle to save a local park threatened with closure.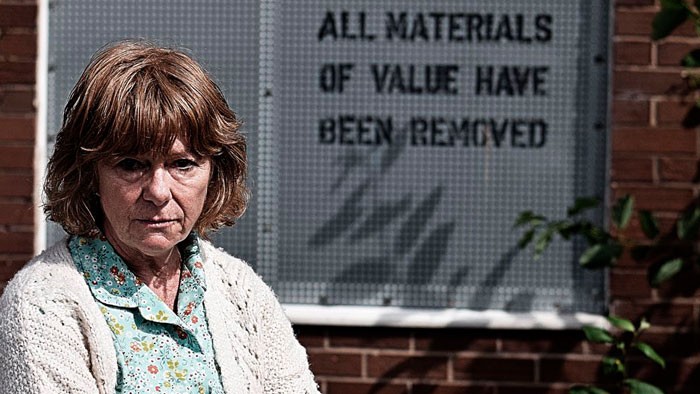 In both these endeavours she is aided by 'the committee', Daz (Keaton Lansley) a local scally whom Shirley has informally adopted; Joy (Liz Simmons) a struggling single mum; Sue (Amy Drake) an ex neighbour with pretensions of social superiority; Beryl (Lynn Roden) her foul mouthed and combative best friend and Bill (Steve Garti) the seemingly sympathetic local councillor. Each of these disparate characters are drawn to Shirley in her principled stand and their motives and stories are explored.
Moston born Chris Hoyle's superb ear for dialogue imbues the characters with a three dimensional quality where lesser writers would have merely drawn crude caricatures. The script is peppered with swearing and local slang, instantly recognisable to the audience and lend authenticity to the piece. In parts, reminiscent of Paul Abbott, Danny Brocklehurst and Phil Redmond, Hoyle has a bright future ahead if he continues with writing of this quality.
Director Simon Naylor has brought the script into stunning life as conversations between characters run into and over each other in a lifelike and naturalistic style, rather than a theatrical or stilted manner. None of them are merely ciphers for any political point that the writer or production wish to make and we are educated in their issues without ever being lectured at or patronised.
I would have liked to see more inventive use of the one room set and the scene changes on the opening night were slightly stilted and lacking in inventiveness. Also, the secondary storyline of the park was (ironically) underdeveloped and disappeared from the narrative completely in the second act, but this didn't detract from the narrative arc too much.
Without exception, all the actors portray their roles with total conviction and drive the audience to want to understand their stories and discover their fates. Henthorn inhabits Shirley and is the glue that binds the production together, she is both tough and tender. Notable support is given by Keaton Lansley as stoner Daz and Lynn Roden as Beryl, especially in a riotously hilarious penultimate scene involving Ouzo, space cakes and Tom Jones!
The final scene brings the bittersweet story to a fitting conclusion and as the lights fade you realise the story's resolution has been staring you in the face all along, Shirley is 'Goin' Nowhere....' We have learned that the price of regeneration not just in the value of bricks and mortar, but the loss of community and a sense of home.
Verdict: The true cost of regeneration explored. Both hilarious and humane.
Reviewer: Paul Wilcox
Reviewed: 24th September 2019
North West End Rating: ★★★★