Every once in a while; a musical comes along which blows your cotton socks off. &Juliet is that Musical!
This new Musical based on Shakespeare's most famous love story of all time has a delicious modern twist which entertains and empowers in equal measure. It asks what if Juliet's ending was really just her beginning and takes us on her journey after Romeo with a razor sharp script, a talented cast and features a soundtrack of pop anthems from the past two decades which make the whole thing seem fresh and modern. This isn't Shakespeare, it's better.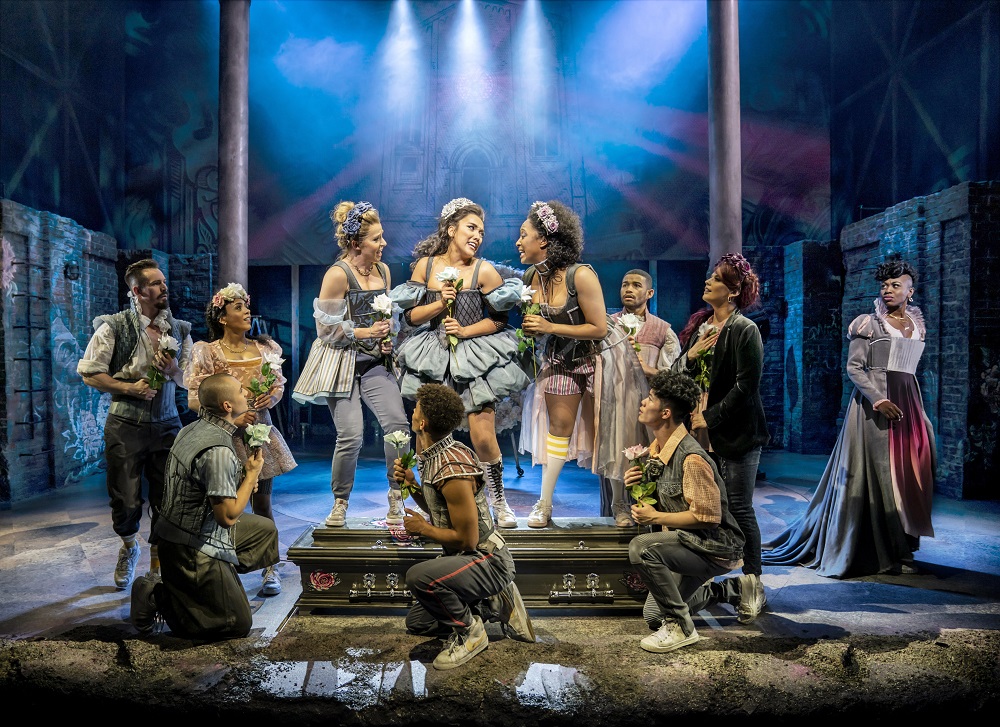 Everything is bigger, bolder and more dazzling. The Impressive set design by Soutra Gilmour features lots of beautiful moving props, neon signage and urban graffiti which nicely translates this subject matter into the present day aided by a script which covers political issues of today and minority rights issues which go hand in hand with this tale of love and freedom. Paloma Young's costumes cleverly echo both Tudor and current trends with ruffles and corsets Accessorised with leather jackets and tight jeans but it's the people in those costumes that makes this production extra special.
The cast have bucket loads of energy and keep the show feeling quick paced and entertaining.
The title role is played by Miriam Teak Lee who delivers a powerful performance as Juliet throughout with pitch perfect vocals and an infectious bubbly persona.
Jordan Luke Cage's Romeo delivers lots of humour to this production, in particular a wickedly funny performance of 'It's My Life' in the first half which I don't want to spoil but it's not to be missed.
Shakespeare and Anne Hathaway played by Oliver Tompsett & Cassidy Janson have a great on stage chemistry and Melanie La Barrie in the role of Nurse will give you all the feels during her solo number.
This production has heart, humour and heat throughout, that's definitely helped by its instantly recognisable musical numbers; all pop megahits written by Max Martin. There's everything you'd expect to hear on a millennial's MP3 player with Britney Spears, Backstreet Boys and Katy Perry's hits all featured in the show but they are reworked and revamped to fit in a theatre environment and I have to say I was sceptical when I first heard about this musical - I expected another run of the mill jukebox musical with it not quite fitting the subject matter. I never should have doubted, the musical numbers all fit in cleverly and although we all know the words to every song, it still seems fresh like the first time hearing them. That's partly thanks to the rearranging and partly thanks to killer vocals from all who graced the stage, every song, every note - performed perfectly.
This is a musical experience not to be missed; it's wonderfully different from the rest and will make you roar with excitement at the prospect of seeing it again!
Verdict: This show will take the West End (no, actually the world) by storm!
Reviewer: Max Eden
Reviewed: 1st October 2019
North West End UK Rating: ★★★★★