Hope Mill Theatre celebrated its fourth birthday earlier this week and in that short time has firmly established a reputation for staging innovative versions of new and little performed musical theatre. The decision to revive Mame as a professional production in the UK for the first time in 50 years is their biggest challenge to date, it paid off handsomely last night as the audience witnessed the joyous rebirth of this life affirming story.
Mame Dennis (Tracie Bennett) is a socialite in 1920's New York, she lives life to the full and her motto 'Life's a banquet, and most poor suckers are starving to death' sums up her attitude to life and love. We first meet her after her brothers recent death; she has agreed to bring up his young son Patrick (Lochlan White), despite the objections of her conservative lawyer Dwight Babcock (Hugh Osborne) to her dissolute and unsuitable lifestyle. What follows is a rollercoaster of highs and lows in the life of Mame, as she gains and loses fortunes and husbands, always maintaining her optimistic fortitude throughout.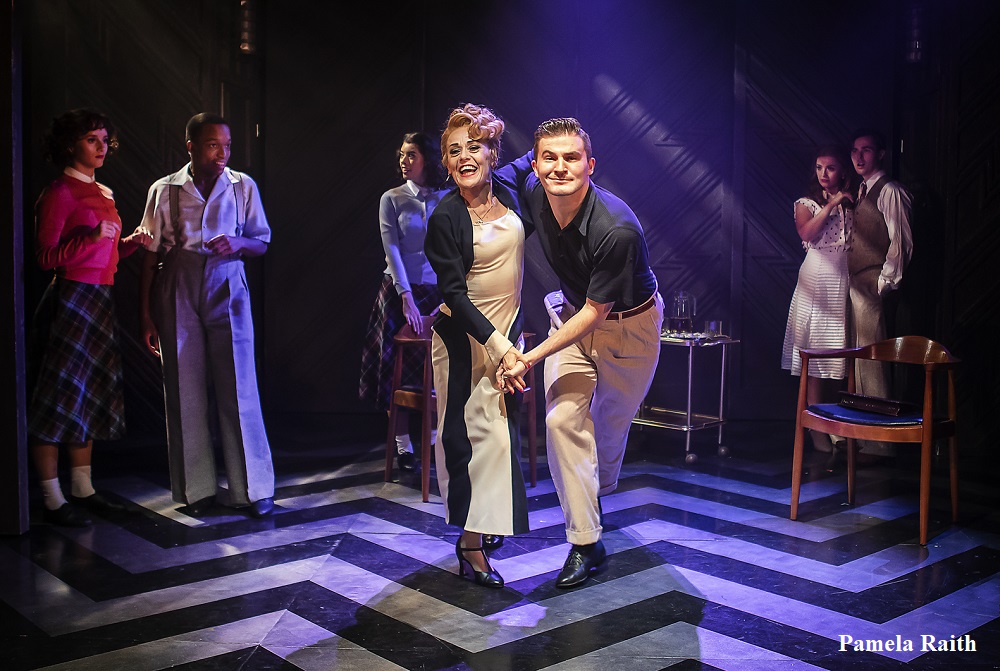 Following in the footsteps of Angela Lansbury and Ginger Rogers into the role of Mame, Hope Mill scored a huge coup with the casting of Tracie Bennett. I last saw her on the huge Olivier stage at the National Theatre in 'Follies', but to witness her work up close in such an intimate space was a real privilege. The double Olivier and Tony winning actress is simply astounding as the eponymous heroine, her tiny bird like frame belies the ability to become the force of nature that is her character, with stunning vocals and comedic physicality both employed liberally throughout. The variety of emotion employed in songs as different as 'Open a New Window' and 'If He Walked into my Life' showcases her range perfectly and had the audience by turns, stamping their feet and shedding a tear.
There are superb foils for Bennett amongst the rest of the cast; Tim Flavin as Beauregard plays her southern gentleman husband with 'Clark Gable/Rhett Butler' suavity; Jessie May transforms from dowdy secretary to vampish siren (Gooch's Song), then to pregnant screwball as Agnes; also both Lochlan White and Chase Brown add innocent and folksy charm as the younger and older Patrick respectively. However, it is Harriet Thorpe as Vera who has a tendency to steal most of the scenes she is in. As the embodiment of the theatrical 'grande dame', Thorpe clearly has a ball being drunken, narcissistic and rude with everyone she encounters. Her duet with Bennett on 'Bosom Buddies' in the second half was an absolute stormer, the juxtaposition of the tiny Bennett and the voluptuous, diaphanous Thorpe adding to the hilarity of the barbed lyrics.
With songs by Jerry Herman (Hello Dolly), you know you'll be getting big, bold brassy tunes throughout and Mame provides them in spades. From the opening 'It's Today', the score is peppered with meaty fare for the cast of twenty to feast on. The seven piece band, led by Alex Parker perform the jazz and ragtime with equal dexterity, surrounded by an Art Deco influenced set (Philip Whitcomb) complete with curved staircase, that screams 1920's New York.
Having a tight space to work in at Hope Mill, Director/ Choreographer Nick Winston has worked with Whitcomb to make some clever modifications to the set. By adding depth to the stage, the necessary space is created to allow the choreography to breath and the ensemble demonstrate great skill and grace in such a confined environment. Undoubtedly this show has the potential to expand into a larger venue and this aspect of the show would benefit in that event. However, what may be lost in scale is compensated for by the sheer brio and vivacity, with energy pulsing off the stage to feed the audience throughout.
Mame may have languished unperformed for half a century because its message of unremitting optimism and enjoyment of life was seen as too simplistic and the story wasn't layered enough for a modern audience. In the complex, divided and harsh world we currently inhabit, this simple hope is very welcome indeed. With Mame, Hope Mill have their biggest success to date, a joyful spectacle guaranteed to leave you smiling.
North West End UK Verdict: Mame is a joyful answer to our troubled times. Bennett blows the roof off Hope Mill.
Reviewer: Paul Wilcox
Reviewed: 3rd October 2019
North West End UK Rating: ★★★★★