Just in time for Halloween, Whitefield Amateur Operatic & Dramatic Society take on the rock-horror musical that is Little Shop of Horrors. It's fair to say this production of Howard Ashman & Alan Menkin's horror-musical about a bloodthirsty plant is both weird and wonderful. Staying true to its roots in Skid Row, Los Angeles. Whilst on holiday recently in California I accidentally ended up in Skid Row and can confirm that poverty is rife in that part of downtown LA.
If you've never seen the musical you may be familiar with the 1986 movie starring Rick Moranis and Steve Martin.
Ciaran Rafferty takes on the lead role of loveable geek; Seymour. One day he creates a new plant called Audrey II, played by bluesy voiced Dominique McClafferty, who won't stop growing and has a taste for blood.
However, it is Sophie Lord in the role of Audrey who steals the show for me. She begins as a mousey shy girl who is being beaten by her boyfriend, however she blossoms throughout the show and delivers the standout moment of the show in delivering a pitch perfect rendition of 'Suddenly Seymour'.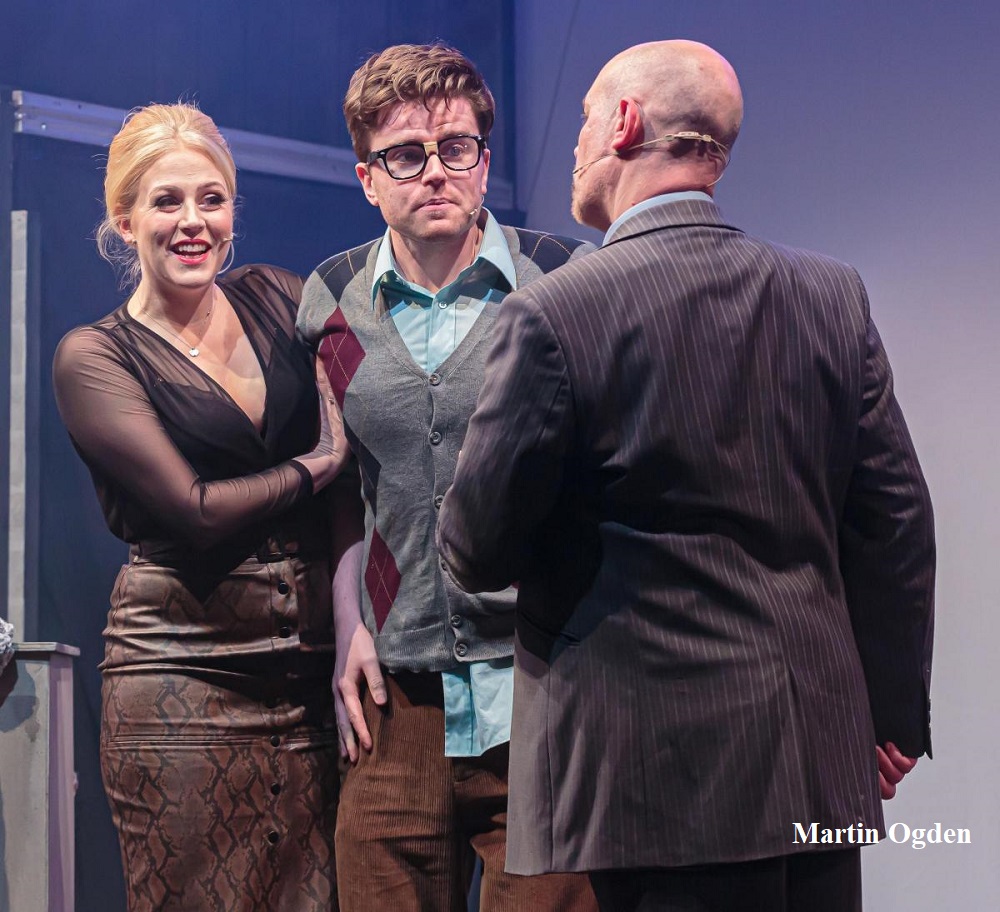 Special mention also needs to go to Steven Cheeseman in his portrayal of the deranged dentist. His commitment to character was something to behold.
The stage at The Met isn't the biggest and given the show had a large ensemble I feel the set sometimes crowded the stage. I'm a firm believer in less is more. However, given how intimate the venue is at Bury Met you are so close to the stage you almost feel like you're in the flower shop.
Having said that the production itself is of a very high quality for an amateur dramatic society. There were a few sound issues, which I'm sure the sound designers are beating themselves up about already. However, they manage to pull it back, and credit must go to the cast for carrying on despite an awkward situation.
The choreography was ok, not the most creative I've seen. I did notice at times the urchins and street girls were slightly out of sync with each other. So perhaps they could do with some more rehearsal time.
Whitefield AODS have a reputation for putting on very high quality productions. Two years ago I was fortunate enough to see their production of Sister Act and was blown away. It's a shame that there were a few niggling problems with Little Shop of Horrors tonight. However I'm sure these will all be ironed out before the next performance. Continues until Saturday 19th October https://themet.org.uk/event/little-shop-horrors/
Reviewer: Brian Madden
Reviewed: 16th October 2019
North West End UK Rating: ★★★