It's 1985, and rock star wannabe, Robbie Hart, is New Jersey's favourite wedding singer. He's the life of the party until his own fiancée leaves him at the altar. Shot through the heart, Robbie makes every wedding as disastrous as his own. Enter Julia, a winsome waitress who wins his affection. As luck would have it, Julia is about to be married to a Wall Street shark, and, unless Robbie can pull off the performance of a decade, the girl of his dreams will be gone forever.
I will be honest, the story is not very inspiring and the music isn't very memorable, but it is the energy and talent on stage at Hyde's Festival Theatre tonight that makes this show very watchable indeed. Nick Ward leads this exceptional cast as The Wedding Singer, Robbie Hart. Ward owns the stage which he is on for the majority of the show and gives, for me, an award winning performance.
Every leading man needs a leading lady, and for this show Ward has three! Annabelle Taylor certainly makes an impression as Linda who jilts Robbie via a letter at the altar. Taylor's vocal and dance ability shines through in this role. Kate Shaw plays Julia with a measured approach and has created a totally believable character with some superb vocals.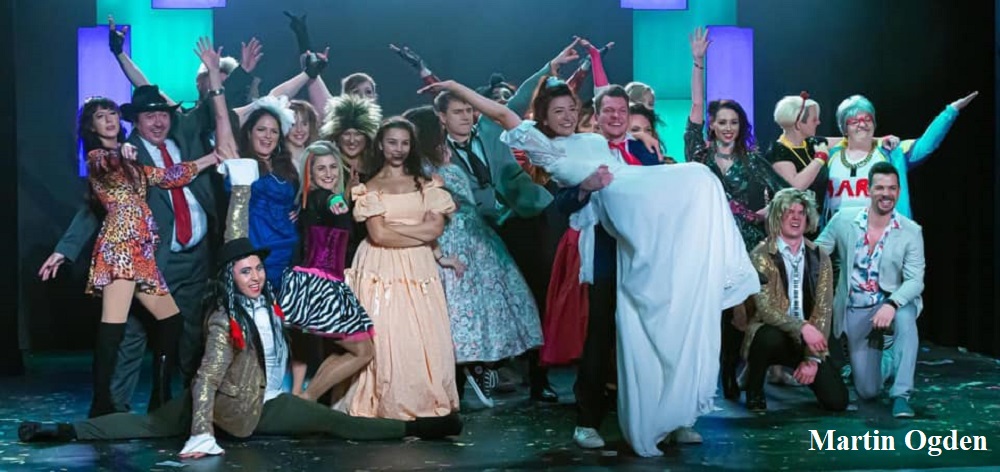 The third and final woman in Robbie's life is Rosie, his Grandmother played by the amazing Kat Bond. This gift of a comedic role was greeted with the biggest laughs of the night from the audience, both the keep fit routine and the rap in act 2 were comedy genius.
There was not one weak link in this sizeable cast, at times filling the small stage at Hyde to capacity. Other noteworthy performances came from Sam Maurice as millionaire sleaze Glen and powerhouse vocalist Bethany Heywood playing Holly.
A hard working stage crew should also be commended in keeping the shows pace flowing throughout with many scene changes. Also the sound team have done an amazing job, probably the best I have heard at the Festival Theatre.
The PAP team, Paul Lawton (MD), Amy Walker (Choreographer) and Paul Wilson (Director) have clearly had a ball creating this high energy show which sends you home with a smile on your face. Given the chance and I'd return to see this show again in a heartbeat.
Reviewer: Paul Downham
Reviewed: 30th October 2019
North West End UK Rating: ★★★★