What an utter shambles and disappointment!
Reading so much praise for last year's show, and after seeing 'Dragons Den,' after paying £100 for 4 of us, our expectations were high on arrival at the impressive tent marquee. A bit miffed at having to pay the £5 car park, we were eventually ushered inside the tent and told to sit 'anywhere where your bracelet colour corresponds.'
It was immediately obvious that sight-lines were an issue, with a small 'stage' area and circular tables rammed in for maximum capacity. A good view was promised from every seat, but that would have been an impossibility - especially, as it transpired, the company sold more seats than were available!
The queue to the advertised gin bar snaked its way through the tables, which was an access nightmare. It seems that as many people as possible had been shoved in, with no forethought of performance viewing.
50 minutes of queuing for a £10 pizza, with a serving staff rushed off their feet, struggling to cope with orders and eventually running out of food. There was no 'Dick's Smokehouse' as advertised. Not a brilliant start to the evening, let alone uneven carpeting causing clear trip hazards.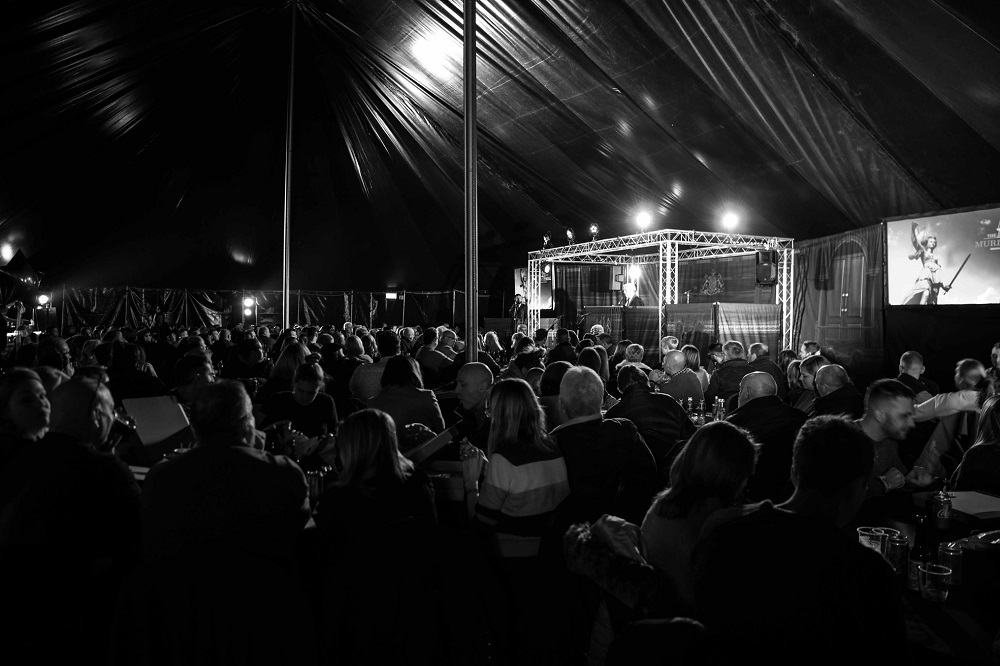 When the 'show' eventually did begin ("In 2 minutes," - actually 20 minutes later) at 8pm, many of the audience had already left. Our table of 12 jurors has dwindled to 4 as people, who had turned up for 6:30pm, had had enough of waiting.
It appears £65+ VIP tickets, promising food, prosecco, table service and best seats were not honoured and guests received NONE of the promised.
Lighting was ridiculous: blinding and a health and safety hazard in a rammed room, with wires trailing under carpet as trip hazards. The one 'Exit' safety sign was hanging from a thread.
The instructions of how the evening would work were largely missed over the intense and unnecessary music for 'atmosphere.' Something about 'going online and finding Section 10 evidence.' Where? Not clear. (Found on returning home). Also rushed instructions about 'electing a Foreman' which people largely ignored. This included health and safety information - which, in a tent next to a petrol leaking generator, was quite important!
The "actors" clearly had no rehearsal time for this performance. As a reviewer of amateur theatre for a well-known local publication, this 'professional' outfit has to be one of the worst performances I have ever seen in my life. Period. It wasn't even hammy at best, it was just awful. With stumbling over legal terminology ('perpetrator'), forgetting lines, getting details of the case wrong and eventually resorting to using a script. Amateur hour at its very, very worst. A really very poor effort which, at many times, was laughable for all the wrong reasons.
Even the legalese in the script was, at times, incorrect. (A law uni graduate and law A-level student in our party). The script itself was poor. An 'exciting twist' at the end of Act 1 was clearly an idea of 'well, what else can we do with this dead-weight of a show?'
Sound problems hampering performance did not help either: no thought to the noise of generators over quiet mics - and one mic which, mercifully, kept cutting out.
Many people had already left mid-show, causing the actors much confusion during a mass-exodus. The judge called 'order' to the perplexed actors, who had clearly lost the audience by this point. The most exciting part of the evening was when a hapless audience-member tripped over in front of the stage with his food.
By the interval, we'd had enough and it was time to cut our losses and go. Along with about 40 other people...
'Heated tent.' Not at all. The generator was obviously broken as it was leaking petrol all over the car park upon exit: it was freezing inside the tent. One photo released on Facebook has shown 7 degrees. The company claimed it was heated, but then issued a statement saying there was a problem but they told people to 'wrap up.' Even with scarf, gloves and a winter coat, sitting for two hours waiting for something to happen was not on.
Microphone levels had not been set and were inaudible, especially over generator noise. It was RIDICULOUS that pens and paper 'to take your essential notes' had to be bought for £3! The one pack of printed evidence on the table for apparently 12 jurors was not thought out.
A great concept, VERY badly executed. What made it even worse is the awful follow-up from the company so far: complaint emails ignored; countless negative reviews deleted; fake positive reviews posted by the company members and reviewers being blocked on social media sites by the company.
You'd be better going to the Crown or Magistrates court, for free, and watching the proceedings of a real trial from the audience gallery.
Reviewed: 5th January 2020
North West End UK Rating: Unrated