At 2am on 8th July 1981, chaos erupted in Moss Side. Rioters attacking Police, fuelled by their unhappiness due to racial tension and unemployment being at a post-war high. The riots lasted for two days and only ended when the Police moved in using dispersal methods previously used in Northern Ireland by the Royal Ulster Constabulary and the British Army. Our government was being tested, riots broke out in other major cities, followed by the miners strike and then the Broadwater Farm riots in Tottenham in 1985.
Until 1981, we did not have a heroin problem. There were approximately 3,000 addicts, but by 1985 this had increased to 300,000.
With this political backdrop, Ed Edwards' play uses the riots as a starting point for our timeline and interweaves our characters Mandy and Neil into the narrative.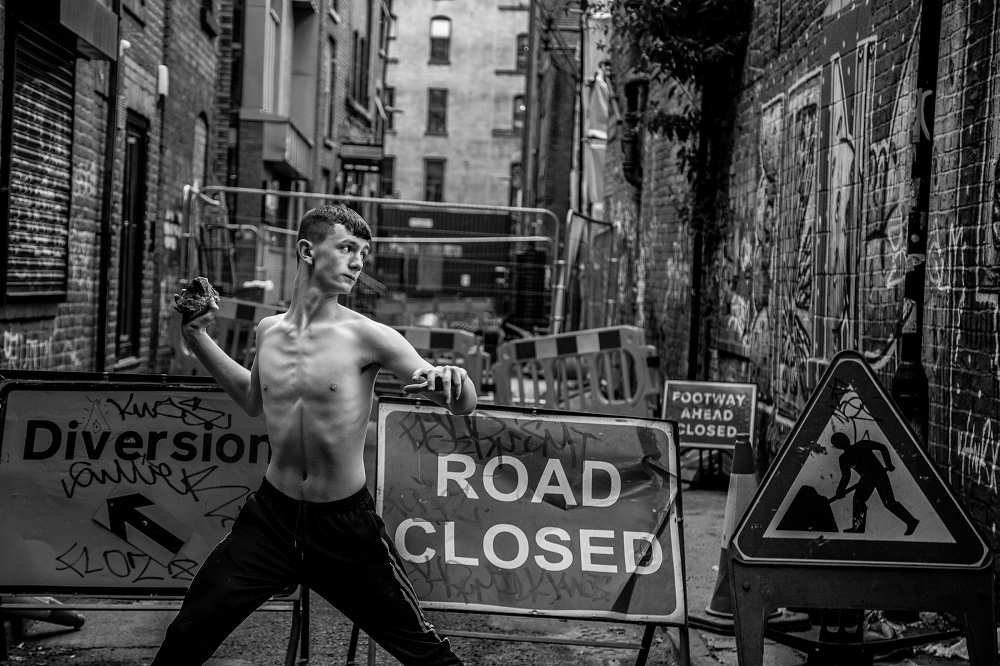 Mandy (Eve Steele) and Neil (William Fox) meet for the first time on the night of the riots in Moss Side, when Neil, a twelve-year-old boy is involved in the riots and Mandy, age six, is being led away by her Mother. The play jumps to different periods in their lives to show how the explosion of drugs in the inner cities, blights their lives as drug addiction takes hold. Using his own experiences of drug addiction, Edwards paints a picture of the desperate measures the two addicts will go to, to buy their drugs. Living an existence of shop lifting and stealing to fund their drug habits, they drift in and out of each other's lives, always precarious, but still caring about each other in their own way.
With a bare stage, the writing must stand up on its own. It moves at a fast pace, and all credit to Steele and Fox, they deliver their lines and never miss a beat. There are multiple characters within the play, all handled by Steele and Fox, and it is a credit to their acting skills that they manage to pull this off without, for the most part; the aid of props.
The length of the play is about right at 70 minutes, as it requires concentration to follow the story, due to its rapid-fire nature. Political facts are interspersed with the story of Mandy and Neil, and they provide the human-interest part of the tale. It saves the play from being simply a political drama, and draws on our empathy; to have some hope that they will battle their demons. It is packed full of northern humour to help lighten the subject matter.
This is very much a Manchester based tale, and I would strongly recommend taking a trip to the theatre to see it. This play is a marriage of good writing and excellent delivery.
To see this play at Home, you will need to hurry along for the last night 28th January and you can buy tickets on their website https://homemcr.org/production/the-political-history-of-smack-and-crack/
Reviewer: Caroline Worswick
Reviewed: 27th January 2020
North West End UK Rating: ★★★★