Manchester based theatre company, LipService, comprises Maggie Fox and Sue Ryding who have been performing together for over thirty years. They seem to specialise in comedy spoofs and tonight's show promised a mix of murder and trains – always a favourite with crime fiction aficionados.
The show begins under the guise of a presentation talk and model railway demonstration by Derek and Geoff (Maggie and Sue) who are model railway enthusiasts. As part of their talk and demonstration, they are running several model engines, ranging from a good old-fashioned steam engine to a modern pendelino. This is done with Geoff and Derek seemingly going "upstairs" where they are filming the engines live and projecting them to the audience.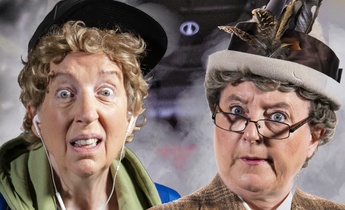 Geoff and Derek could actually have their own show. The characterisation was hilarious, and they put me in mind of Morecambe and Wise....if Morecambe and Wise had been model railway obsessives. Derek's face had me in stitches: his expressive narrow-eyed looks and nods and to the audience had everyone laughing. Having met a few train enthusiasts in my time, I found their portrayal to be spot-on, with miniscule attention to detail, right down to the consternation caused by the lack of authenticity of the doorknob on the toilet door of the pendelino!
Two model figures are within the train: a Miss Marple-esque character and a young man. We are then privy to what is going on in the model railway carriage between the two characters, with Geoff and Derek (in projection) being involved at various points when it's time to change the engines.
The show is made up of various vignettes, with central themes of murder and trains. "Briefs on the Counter" was very funny but more of that later.
I was a bit lost at first and couldn't quite work out what was going on when we started seeing the characters in the railway carriage. It then all became a bit surreal when the young man's game which he was playing on his phone actually became real and he and the Miss Marple character became part of the game. This lost me completely and I felt it was a bit too silly and sixth form and went on for longer than it should have.
"Briefs on The Counter" was my favourite part: obviously a pastiche of "Brief Encounter" and the characterisation, dialogue and delivery was perfect and hugely funny (or should that be terribly, terribly funny).
Throughout the show we were told the tale of Geoff's father who went to a railway convention in 1956 and never came back and all Geoff has to remember him by are a pair of red Y-fronts. The Y-fronts featured throughout the show, most particularly in a skit of "The Railway Children". All a bit bizarre but funny.
The little touches, such as the "shhhhh" noise (made by Maggie and Sue) of the train doors, were the things I really found funny. Some of the humour and dialogue put me in mind of Victoria Wood which is never a bad thing.
Maggie and Sue are likeable, hilarious and clearly extremely talented. They made the atmosphere feel warm and funny and both of them gave a five star performance. I'm sorry to say I felt the writing was weak in parts and let them down slightly and they weren't always showcased to their maximum because the script was deficient in a few areas. That said, I enjoyed the second half more than the first but maybe that was because I'd become used to the rather weird twilight zone I was in! This truly is a zany, madcap show, full of British eccentricity.
The production itself was executed very professionally: a simple enough set but an interesting use of moving screens to make train doors and I did enjoy the physical comedy of the train window. The films used in the projection were excellently done and the accompanying soundtrack was very fitting for the murder mystery theme.
"Strangers on a Train Set" will be at Sale Waterside until Saturday 1st February before it departs for its next station stop.
Reviewer: Nicky Lambert
Reviewed: 30th January 2019
North West End UK Rating: ★★★★