It is worthy of note that Charlie Chaplin and Stan Laurel toured North America, sharing a room, as young men with Fred Karno's troupe of performers for two years. That not much has been noted of this sparks the imagination. The pairing seems like a rich vein for writers hungry for stories of Hollywood icons.
Laurel often spoke of Chaplin, praising his genius. Charlie appears intriguingly to have been silent on the subject of Stan, making no mention of him in his autobiography. There is little factual material to draw from in attempting to gain any understanding of their relationship.
Facts however are not the stuff of The Strange Tale Of Charlie Chaplin And Stan Laurel from Told By An Idiot Theatre Company. They make it clear that the play has not been endorsed by the estates of either of the screen legends and the events in it are fictitious. Told By An Idiot do not endeavour to present reality.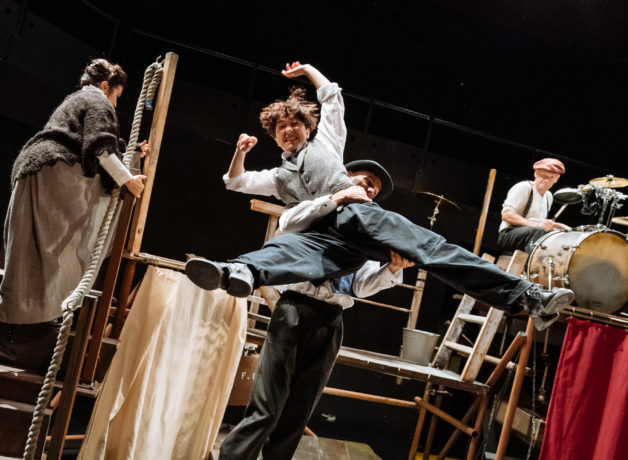 Their aim is to tell stories in innovative ways like this imagined interpretation of the association of the two stars expressed largely through physical comedy and mime.
This is not really a singular tale but rather a collection of fragments from the lives of the two men. It is not expressed in the form of a chronological narrative but randomly shifts to different periods opening with their voyage to the United States. Apart from a few brief vocal interludes this mainly plays out as a silent movie with captions. Appropriately, there is live piano accompaniment provided expertly by Sara Alexander (who also plays Chaplin's mother) featuring original music composed by Zoe Rahman.
Amalia Vitale plays Chaplin, beautifully recreating the essence of his screen persona. Jerone Marsh-Reid is Laurel, adeptly conveying Laurel's innocent charm. The ebullience of both is infectious. That Marsh-Reid does not shine as much as Vitale is not his fault. The play focuses more on Chaplin than Laurel and is even presented in a way which favours the comedic style of The Little Tramp. We are given much less of Laurel's life than of Chaplin's although Stan's first encounter with Oliver Hardy is included. Hardy is memorably portrayed by Nick Haverson who leaves us in no doubt as to his versatility, also playing Fred Karno and other characters with admirable gusto.
There is a palpable sense of an audience settling into and embracing the piece once its erratic style becomes apparent. The lack of insight into the relationship of the two stars does not prevent this from being a rewarding experience.
Paul Hunter has written and directed a slice of true theatre which is engaging and unpredictable. This is not so much strange as entrancing.
Reviewer: Chris Hughes
Reviewed: 4th February 2020
North West End UK Rating: ★★★★